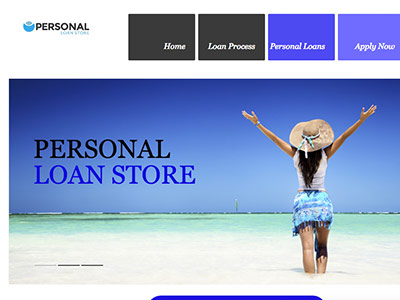 Author The Personal Loan Store. Screenshot of The Personal Loan Store website.


[Accessed April 17, 2018]
The Personal Loan Store - Tailor-made loans
At The Personal Loan Store, we have become the short-term loan leaders in New Zealand. We rise above our competitors by giving Kiwi's a tailor-made loan.
Our short-term loans are designed to fit each client's individual financial needs. We are transparent in our transactions with our clients before you sign the loan contract we will show you all the fees involved as well as the total cost of your loan.
Quality products and services
Our short-term loans have competitive interest rates with flexible terms. Our online loans pay out quickly, helping you cover that unexpected cash emergency without delay.
We support responsible lending practices. We continue to grow in our popularity and over the year we have become one of the be choices for clients in need of a short-term loan.
Loans at your fingertips
You can easily apply for a loan by visiting our website and filling out the quick application form. No queues, no endless paperwork. The loan application can be done from anywhere with an internet connection.
We pride ourself on our outstanding client service. If you have any questions or need guidance don't hesitate to contact us. We aim to make the loan application process as simple as possible.
The Personal Loan Store Services
With us, you can qualify for a short-term loan from $300. The maximum amount will be set by how much you can afford.
To finish the fast loan process, you will need to send us a copy of your ID, proof of address and a 3-month bank statement. It's as easy and a simple as that. As soon as you have sent us these documents we will promptly contact you with the outcome of your loan application.
Short-term loans
Our short-term loans come with lower interest rates and flexible repayment terms. A loan tailor-made around your specific financial needs.
Our short term loans pay out quickly. To speed up the process make sure your supporting documents are ready before you apply for a loan. Our loans are paid out within hours after approval.
Our application process is quick and easy
Whether you are a new client or existing client looking for a short-term loan, you can count on us to make the process as fast and streamlined as possible.
We continually upgrade our systems and stay current with new technology to bring you instant cash loans in the fastest time. Our loans payout on the same day, helping you cover that emergency expenses quickly.
The Personal Loan Store – Short-term loan
Loan Type

Short-term loans
Benefits of The Personal Loan Store
Short-term loan calculator
The personal Loan Store - Same day loans
Your short-term loan will be paid out directly into your bank account typically within 2 hours after you have been approved.
We understand that when a cash emergency occurs, you have no time to waste, that's why we have one of the fastest loan services in New Zealand
Payday loans
A payday loan will give you an advance on your salary, this loan can be used to cover cash emergencies or help you better your monthly cash flow. These loans are usually repaid the next time you receive your salary.
To qualify for a loan you must:
Be at least 18 years old
Be permanently employed
Be able to supply a 3-month bank statement
Have a valid ID or driver's license
Contact the personal loan store if you need a short-term loan in a hurry. Our good and bad credit loans have low interest rates and flexible repayment options. We will design your loan features around your specific lending needs.
Customer Reviews & Testimonials
"
Getting the loan that you need is very important which this company understand really they do they helped me get the best loan for my pocket.
Geoffrey S
— Auckland —
The application only takes a few minutes and I was able to have my answer soon.
Lee J
— Wellington —
They have taken the time to inform me that the application had an error in it and that I should please come into the branch and they will help me to sort it out as soon as I get there.
Pagan M
— Queenstown —
The Personal Loan Store Contact
Contact Number
E-Mail
Website