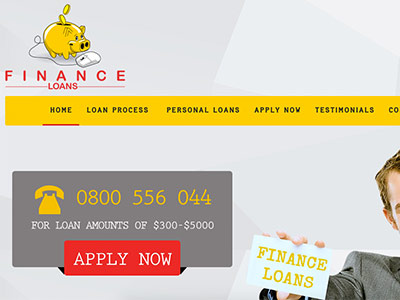 Author Finance Loans. Screenshot of Finance Loans website.


[Accessed April 17, 2018]
Finance Loans - Convenient online loans
Finance Loans was established in the year 2000, and since then we have provided many Kiwis with short-term loan solutions.
We understand that when you have a cash emergency, you need a loan without delay to help you cover the expenses.
This is where we come in, at Finance Loans, we have streamlined the process to help you get the money you need as fast as possible so that you can cover your cash emergency immediately.
You can join many satisfied customers
Our customer care is at the core of our business. Our highly professional and motivated team is passionate about helping you get the instant loan you need.
We are transparent with our clients and we will always show you the total cost of your loan as well as any fees that apply before you sign the loan contract.
We have many satisfied customers that recommend us to their family and friends, you too can become one of these satisfied customers.
We always aim for positive online loan application results and we will not keep you waiting for the results.
Finance Loans Services
We are a proud New Zealand owned lender. The fact we are completely owned and operated by locals enables us to fully understand the personal loan needs of our Kiwi clients.
We offer an experienced and personalized service, specifically designed for New Zealanders and their short-term needs.
Whatever you need the loan for, we will design a loan around your financial and lifestyle needs.
Loan options
With Finance Loans you can find both short and long-term quick cash loans, whatever you choose we will give you the best deal on it.
We pride ourselves in offering quick and easy loan services.
Our clients have a number of loan options, such as secured and unsecured short-term loans to choose from.
Our interest rates are competitive and we will let you choose the best repayment term, according to your income structure.
Your loan can be repaid, weekly, bi-weekly or monthly.
Finance Loans – Short-term loan
Loan Type

Short-term loans
Benefits of Finance Loans
DEBT CONSOLIDATION Loans
Holiday Loans
HOME Improvement Loans
Wedding Loans
Secured Loans
UNSECURED Loans
Vehicle Loans
Short-term loan calculator
Apply for a loan with Finance Loans today.
Finance Now is a reputable New Zealand lender that is completely owned and operated by local Kiwi's.
This helps us to understand the needs of our clients better. We will design your online loan features around your financial needs
Unique short-term loan solutions
Most loans that are offered to clients are long-term loans that make you sign complicated contracts that try to lock you into a loan agreement for many years.
We offer short-term loan solutions that will help you cover those unexpected emergency cash expenses without long repayment contracts. Our short-term loans carry the benefit of competitive interest rates and flexible repayment options.
Apply Online
If you visit the Finance Loans online platform, you will easily find an online loan calculator where you will be able to specify the details of your loan.
This includes the total cost of your payday loan, loan term and interest rates and fees. We support responsible lending and we will be transparent in the dealings we have with you showing you all the costs before you sign the loan agreement.
When you have a cash emergency or need help managing your monthly cash flow, contact Finance Loans for an affordable short-term loan.
Customer Reviews & Testimonials
"
They have helped me to become free of debt when they offered me the best loan and I took the loan best decision I have ever made because now I am debt-free.
John S
— Auckland —
If you ever need reassurance or need to be told that your loan is the correct loan for you then gives them a call and they will help you out.
Paul J
— Wellington —
They have helped me over the phone and within a few minutes I was able to apply for my loan they are very accommodating
Jaclyn C
— Auckland —
Finance Loans Contact
Contact Number
E-Mail
Website