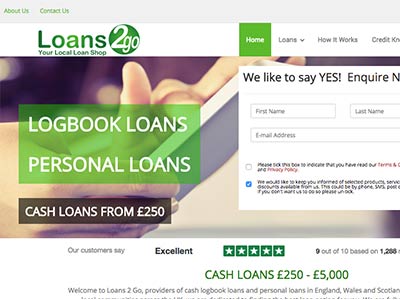 Author NZ Loans 2 Go. Screenshot of NZ Loans 2 Go website.


[Accessed April 17, 2018]
NZ Loans 2 Go - Quick reliable loans
NZ Loan 2 Go has been providing loans to a number of New Zealand citizens for many years. We know how difficult it is to be in a tight financial spot and having no one to turn to.
As such, we have made it easy for everyone to come and apply for credit whenever they are in a crisis. Our short-term loans are suitable for everyone and can be done for anything.
What we want to achieve is giving clients peace of mind knowing that their issues are dealt with. In essence, that is what we are here for.
Fast and easy credit process
We have made our quick loan application easy, so that clients don't have to go through the process of standing in long queues and having a pile of documents in hand. Instead, we have modernized the system to be online so that everybody can have easy access.
The process doesn't take more than 10 minutes to complete and everything is self-explanatory. If there is a question you don't understand, please feel free to contact us and we will explain everything to you in more detail.
Reviews from our loyal customers
We have received many compliments from our clients and we couldn't be happier. To have people continually give us a pat on the back has been one of the reasons why we continue delivering such a great personal loan service.
We are nothing without our clients and we are grateful for having people who we form such an extraordinary partnership with.
NZ Loans 2 Go Services
The first step is of our credit process is that the client will tell us how much he would like to borrow. At NZ Loan 2 Go, everything is done at the discretion of the customer.
After he has told us how much he would like to borrow, the following step is the client telling us how much he can pay based on the amount of money he asked for and at what intervals. It could be weekly, forth monthly or monthly.
Document submission and verification
The second step is submitting documents. The documents have to be recent documentation that has your credentials in plain sight. The documents will vary from client to client as every payday loan application is different.
However, what we normally require is a recent payslip, three month bank statement, your proof of residence, ID and driver's license. All these documents should clearly state your details in full capacity and correspondence.
The money will be deposited into your bank account
Once we have checked all the necessary documentation and we are satisfied, we will approve your loan application. The client has to read the terms and conditions and sign the loan agreement prior to sending the money.
Signing your name on the electronic dotted certifies that you agree with every term and condition stipulated on your credit contract. Depending on which bank you use, the short term loan will reflect on your bank account within one hour of your loan approval.
NZ Loans 2 Go – Short-term loan
Loan Type

Short-term loans
Benefits of NZ Loans 2 Go
PERSONAL Loans
SHORT-TERM Loans
CAR Loans
Second Mortgages
DEBT CONSOLIDATION Loans
FAST CASH Loans
Short-term loan calculator
NZ Loan 2 Go rewards their customers
With so many happy faces at NZ Loan 2 Go, we are not surprised that we keep getting an immense amount of credit applications.
It could be people who have heard of our services from media platforms or from a friend of a friend. While we on the friend topic, an existing will be awarded $50 for referring a new customer to NZ Loan 2 Go. Where are you going to get such an easy way of being $50 richer? Nowhere!!
A loan payable on your terms
The instant cash loan that you apply for can be paid off at a period that is suitable for you and your budget. There is no need to make drastic measures are your monthly expenses to try and fit your loan in, you can ensure that your budget isn't altered.
By doing this, the client has control over his loan and we just sit back and watch you take charge of our own financial plan.
What if I pay the loan earlier?
Should you have sufficient funds in your bank account to settle your short-term loan before time, you are more than welcome to do that.
We will not charge you any fees for fulfilling your financial obligations earlier. We encourage early payments. To us, this shows us a level of commitment from the customer and we wouldn't have any problem loaning such client money the next time they apply for it.
What if I pay my loan late?
In the event of having financial difficulties with your loan, you have to notify us as soon as possible. We urge clients to not wait until it is too late to inform us. By telling us in time, we may be able to reverse the direct order that is meant to debit money on the scheduled date.
The customer will have to pay for dishonesty fees and a frequent activity of this nature could ruin your entire record. It is for this reason we advise our clients to not take out a bad credit loan if they aren't certain they will have the money to pay for it.
Customer Reviews & Testimonials
"
The speediest service that you will ever find in the whole of New Zealand I will always recommend them.
Greig D
— Auckland —
They have the best customer service that is why I will continue to take out loans with them if I will ever be needing loans again,
Alex D
— Queenstown —
They understand you and they don't ask questions they do not judge and that is why is the company is for me and I will never be leaving.
Kyle B
— Nelson —
NZ Loans 2 Go Contact
Contact Number
E-Mail
Website
Physical Address
43 Mandeville Street, Level 1

Riccarton

Christchurch Region

8011

New Zealand
---
Postal Address
PO Box 36, 606 Merivale, Christchurch, 8146, New Zealand
Opening Hours
Monday

08:00 – 16:45

Tuesday

08:00 – 16:45

Wednesday

08:00 – 16:45

Thursday

08:00 – 16:45

Friday

08:00 – 16:45

Saturday

Closed –

Sunday

Closed –