Short-term loans up to $1,000
Low-interest up to 227%
Repayment up to 45 days
In-page navigation
---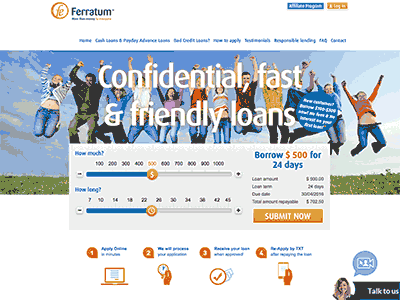 Author Ferratum. Screenshot of Ferratum website.


[Accessed April 17, 2018]
Ferratum - Flexible short-term loans
We are a financial services provider that has heard all the customers' queries and we have listened to them. As such, every client who takes a payday loan with us for the first time will not pay any interest.
This is a great benefit for first time members who are looking for credit but don't have money to pay for the interests. Ferratum has seen that this is what most clients struggle with and has gone above and beyond ensuring that they are catered for as far as their financial needs are concerned. We are a credit provider that cares for their clients.
Arrange another payment date
Unlike most credit providers, we are willing to listen to you when you face the financial difficulty that may make it slightly difficult to pay off your short-term loan on time. As such, we allow our clients to change their payment date to a period that will be more suitable for them. We are not only being fair to our customers, but we are also showing them that we care for them even in their time of need.
Borrow money for a maximum of 45 days
Our quick loans have to be paid out in 45 days. Although we often encourage our clients to pay out their loans earlier if they can, their credit needs to be paid out in 45 days.
What is the maximum amount of money can a client borrow?
Customers can borrow up to $1000 on credit. We often encourage our clients to never borrow more than they need.
Ferratum Services
Clients are first advised to choose the amount they want to take on credit.
By using a credit calculator, you will have a clearer perspective of the amount you have to pay at the end of your loan period.
Complete the online Ferratum application
After you have chosen the loan amount you need to lend from us, you can then complete an online loan application. The application needs to be fully completed with your personal details, employment information as well as your salary information. Furthermore, we need to be able to determine your affordability so we can conclude which credit plan is the right one for you.
Assessment and verification on your loan decision
The next step is where we have to verify your loan application by ensuring that your supporting documents correspond with the information in your loan application. If your information is not identical, we may give you a call or send you an email to send us identical documentation as this is the only way we can approve your short term loan application.
The money will be deposited into your bank account
Once we are satisfied with everything we have requested from you, we will require that you accept the loan terms and conditions as well as the agreement. The instant cash loan will then but into your bank account on the same day. The money may reflect the next following day if the loan application was approved later in the day.
Ferratum – Short-term loan
Loan Type

Short-term loans

Interest Rate

227%

Loan Amount

up to $1,000

Repayment

7 days to 45 days
Benefits of Ferratum
UNSECURED Same Day Loans
FAST CASH Loans
QUICK PAYDAY Loans
INTEREST-FREE Loans
INSTANT Loans
Short-term loan calculator
Ferratum - The leaders for short-term loans
After you have paid your current loan, you are more than welcome to apply for a new loan. Seeing that you are an existing member, it will be a slightly easier process now that we have all your information on our database.
Therefore, the more you work towards paying us well, the easier it will be giving you a personal loan. We are always looking for customers that want to create a long and effective relationship with us.
Our latest blogs and financial articles
We have a series of financial management articles that have helped a number of our customers. These blogs have tips that teach clients how to be more money conscious so that they create a good credit for their future payday loan queries.
The last thing you need is to be rejected when you are looking for a loan due to the fact that you couldn't handle your credit well. Seeing that you may never know when you might require credit, you need to ensure that your record is always up to standard and in good financial standing.
Confidentiality is a top priority
We value the privacy of our clients. As such, we will never notify your employer about your loan relationship with us. The only time we will contact your workplace is when you have given us no reason but to do because we couldn't reach you for payment.
We would like to maintain a good relationship with our customers by respecting their wishes as far as confidentiality is concerned.
Who can apply for a loan at Ferratum?
Clients need to be above the age of 18 years if they want to apply for a short term loan with us. Furthermore, they need to ensure that they have New Zealand permanent residency as well as a New Zealand driver's license.
The customers also has to ensure that they have a mobile phone where we can contact you and an account number where we will deposit the money once your loan has been approved. If you don't meet the above mentioned criteria, we will unfortunately be unable to assist you with your loan.
Customer Reviews & Testimonials
"
You can get up to $3500 on a short term loan and the best part is that you can apply within minutes.
Lee S
— Wellington —
I got my loan faster than I even blinked when you need a company that cares I am glad to have found them.
Katherine J
— Auckland —
Well if my friend had never mentioned them to me I would have never found out about their great loan deals. I am eternally grateful!
Ricky J
— Queenstown —
Ferratum Contact
Contact Number
E-Mail
Website
Physical Address
132 Hurstmere Rd

Takapuna

Auckland Region

0622

New Zealand
---
Postal Address
PO Box 33-1009, Takapuna, 0745, New Zealand
Opening Hours
Monday

09:00 – 17:00

Tuesday

09:00 – 17:00

Wednesday

09:00 – 17:00

Thursday

09:00 – 17:00

Friday

09:00 – 17:00

Saturday

Closed –

Sunday

Closed –