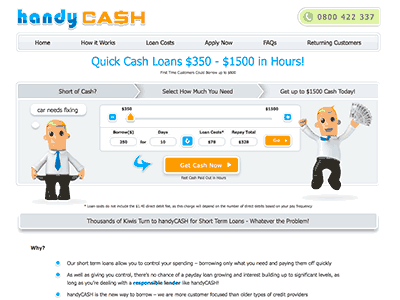 Author handyCASH. Screenshot of handyCASH website.


[Accessed April 17, 2018]
Handy Cash - the short-term loan specialists
The Handy Cash brand is part of First Stop Money and the parent group PAID international. At Handy Cash, we specialize in convenient short-term loans.
Our management team has the combined experience of over 50 years and this enables us to bring our clients the best service and quality loan products.
We put our customers first
Our company's core goal is to give clients the highest level of customer service to maximize customer satisfaction. We offer a dedicated service to our clients and over the years we have served many clients in New Zealand with quick cash loan solutions.
We understand that cash emergencies can happen at any time and that's why we work hard to get you the short-term cash loan you need in the shortest possible time.
Simple, fast loans
Visit our website and fill in the quick online loan application form. We have simplified the loan application process to ensure that you get the money you need hassle-free. Our loan applications are 100% online and can be done from anywhere with an internet connection.
We are always updating our processes and technology to ensure that we stay up to date in the financial industry. Over the years we have become a popular name when it comes to short-term credit providers.
handyCASH Services
At Handy Cash, we use modern technology to help you get the cash you need fast. Visit our easy to use the online platform and apply for a short-term loan.
Cash emergencies can strike at any time. Did your car break down? Need a plumber urgently? With our personal loans, you can resolve your cash emergency quickly and regain control over your finances.
Customer service
At Handy Cash, we focus on our customers and their individual financial needs. If you need additional information, guidance or have questions, you can contact one of our friendly professional service agents.
The will be able to guide you in making the best financial decisions. We use up to date modern technology to give our clients the fastest and most convenient service.
Apply for a loan today
Time is of the essence when you need a short-term loan and we understand this. The loan application will only take a couple of minutes to complete, and once you are done, you will be contacted promptly with the outcome of your loan application.
As soon as you have been approved for a loan we will deposit the loan amount into your bank account ready for you to use to solve your cash emergency. For maximum convenience and customer satisfaction, we are able to pay out your loan on the same days as you applied for a loan.
handyCASH – Short-term loan
Loan Type

Short-term loans
Benefits of handyCASH
SHORT-TERMs Loans
PAYDAY Loans
Cash Loan
INSTANT Loans
Short-term loan calculator
Handy Cash – Fast, convenient short-term loans
We pride ourself on our transparency and we will show you the total cost of your loan upfront before you sign the loan agreement.
Our service agents will make sure that you are informed and have everything you need. They will explain the loan details as well as terms and conditions.
Short-term loans
A great benefit of our short-term loans is the shorter repayment period, you won't fall into long-term debt and also save on interest.
At Handy Cash, we are more client-centred than other credit providers and we ensure that every loan, we give out has received a personal touch from us. Your loan will be tailor-made around your criteria and individual financial situation.
Competitive rates and fees
A big benefit of our loans is our low application fees and competitive interest rates. Our competitive interest rates make our loans more affordable. We will give you the option to choose between variable and fixed interest rates and you can also choose your repayment structure according to your income structure.
Do I qualify?
To qualify for a loan you must be a citizen in New Zealand over the age of 18 and have a permanent income. Visit our website and apply for an online loan. Our loan payout on the same day to offer you maximum convenience.
A credit provider you can trust
We are transparent in all of our transactions, fees, interest rates and the total cost of your loan will be discussed with you before you sign the loan contract.
At Handy Cash, we support responsible lending practices and therefore we will only allow you to borrow a loan amount that you can afford. We strive to help you reach your financial goals without occurring unnecessary long-term debt.
Handy Cash is a reliable and trustworthy credit provider. When cash emergencies strike visit our website and apply for a short-term loan.
Our instant cash loans are so fast that you could have your loan amount, paid into your bank account on the very same day. Let us help you regain control over your finances today!
Customer Reviews & Testimonials
"
If you need a company that will be there for you then look no further and they will help you get the small loan that you need.
Jethro S
— Queenstown —
The application is quick and easy and you will have your cash in no time at all. They are always there for you.
Martin L
— Auckland —
The loans are worth taking I have taken a loan out and it was worth it, I chose to pay it back as soon as I could best decision ever.
Jackie C
— Christchurch —
handyCASH Contact
Contact Number
E-Mail
Website
Physical Address
Tauranga

Bay of Plenty Region

3110

New Zealand
---
Postal Address
PO Box 22, Seventh Avenue Mail Centre, Tauranga, 3140, New Zealand
Opening Hours
Monday

11:30 – 20:00

Tuesday

11:30 – 20:00

Wednesday

11:30 – 20:00

Thursday

11:30 – 20:00

Friday

11:30 – 20:00

Saturday

Closed –

Sunday

Closed –