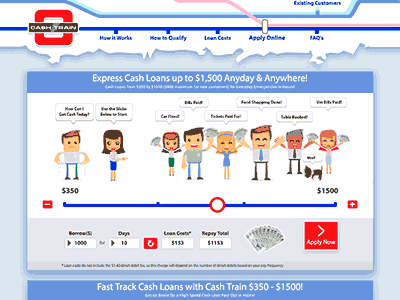 Author Cash Train. Screenshot of Cash Train website.


[Accessed April 17, 2018]
Cash Train - apply for a loan 24/7
At Cash Train, we form part of Australia based PAID International. First Stop Money Pty Ltd trades under the Cash Train brand and we are the market leaders as providers of short-term loans in New Zealand.
In partnership with our parent company, we serve over 5,000 clients every month with tailor-made loan solutions.
We pride ourselves in our fast yet transparent online loans. We will make sure that you know the total cost of your loan as well as the terms and conditions before you sign the loan agreement.
24-hour loan services
You can apply for our loans from anywhere at any time. We understand that cash emergencies happen at any time and that's we don't restrict you to office hours.
The management team at Cash Train has over 60 years of experience in the financial industry. We have an excellent reputation that we have built up since we were established in 2003.
Apply for a loan
Visit our website and fill in the quick application form. The online loan application will only take you a couple of minutes to complete.
We will promptly get back to you about the outcome of your loan, but while you wait, you can read through the valuable information on loans, loan options and repayment terms we have available on our website.
Cash Train Services
Our company mission is to help you get a quick cash loan without any delays. These quick cash loans can be used for any type of financial situation and emergency.
We use our extensive experience to simplify the loan application process and to shorten the loan turnaround time. We will let you know the outcome of your loan application and once you have been approved, we will pay the loan amount into your bank account, ready for you to use to solve that cash emergency.
Loans with benefits
When you take out a loan with us you can choose your repayment terms, loan amounts, and pick between variable and fixed interest rates.
If you find yourself in a position to make an extra payment or to repay your short-term loan early you can do so without occurring any penalty fees. If you change your mind about your loan you can contact us within 24 hours and repay the loan without fees or interest rates.
Quality services and loan products
The speed and convenience of our personal loans will be hard to find in the financial industry. We pride ourselves on getting you approved for a loan and getting the money deposited into your account in the shortest possible time.
Our loans carry competitive interest rates and transparent repayment terms. The total cost of your loan will be shown to you up front before you sign the loan agreement.
Cash Train – Short-term loan
Loan Type

Short-term loans
Benefits of Cash Train
PAYDAY Loans
SHORT-TERM Loans
INSTANT Loans
Short-term loan calculator
Cash Train the fastest way to get a short-term loan
No matter what your cash emergency is we have a short-term loan to help you pay for it.
Our short-term loan has attractive interest rates and we let you choose your repayment terms according to your income structure.
How do I apply for a loan?
If you are a New Zealand citizen of at least 18 years old and you have a permanent income you higher than $1,300 you can simply visit our website any time day or night and apply for a short-term loan.
Fill in the quick application form and we will let you know quickly about the outcome of your loan. As soon as you have been approved for an instant loan we will deposit the loan amount into your bank account.
We support responsible lending practices, and we will only allow you to borrow a loan amount that you can afford.
Loan approvals within minutes
After you have filled in the loan application you will know the outcome of your loan within minutes. Our website will help you explore and compare loans that we have available and as soon as you have been approved, you can sign the loan agreement and you will receive your loan amount instantly.
At Cash Train, we are proud that we have one of the fastest payday loan services available. If you encounter a cash emergency, simply visit our website and apply, our loans are paid out fast and they are affordable.
Customer Reviews & Testimonials
"
The service is great and they always keep you informed.
Jennifer J
— Queenstown —
If you are looking for a company that cares for you then this is the company they will help you and they will be there through all of the steps that you take.
Mark J
— Auckland —
They have helped me to understand my loan and how it works and now I have a better understanding and no more issues
Peter A
— Christchurch —
Cash Train Contact
Contact Number
E-Mail
Website
Physical Address
147 Cameron Road

Tauranga

Bay of Plenty Region

7140

New Zealand
---
Postal Address
PO Box 22, Seventh Avenue Mail Centre, Tauranga, 3140, New Zealand
Opening Hours
Monday

12:00 – 20:00

Tuesday

12:00 – 20:00

Wednesday

12:00 – 20:00

Thursday

12:00 – 20:00

Friday

12:00 – 20:00

Saturday

Closed –

Sunday

Closed –