Short-term loans up to $1,000,000
Low-interest starting from 13.9%
Repayment up to 5 years
In-page navigation
---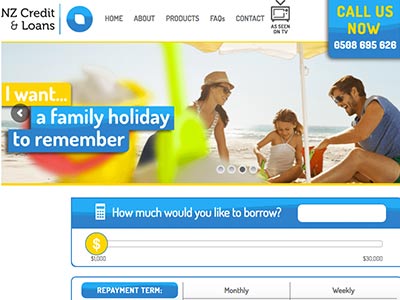 Author NZ Credit & Loans . Screenshot of NZ Credit & Loans website.


[Accessed April 17, 2018]
NZ Credit & Loans - Quick loan approvals
When we opened the shop, we wanted to be a financial services provider with a difference. Taking nothing away from banks and how they operate, we thought we might change a few things at NZ Credit & Loans.
We will never ask you to submit a number of papers that we won't even have time to look while you applying for a loan. Instead, we will ask you a few short questions and if you pass all tests, you get your money. Just like that!
Bad credit customers are welcome to apply
Nobody likes having a door shut to their face due to being a bad credit customer. Further to that, there is nobody who has let their financial situation play out until they realized that they were not on good terms with the credit and started making arrangements to pay.
It will be good news for the bad credit payers to know that NZ Credit & Loans don't have any issues assisting people with a bad credit history. In fact, we treat them with the same respect as we would any of our customers and offer them affordable bad credit loans.
Testimonials and words of praise
We have a testimonials section on our website where our clients have the right to complain, compliment or we need a little bit of work. We appreciate all the constructive criticism and we listen to clients because they are the primary source why we opened a business of this calibre – to deliver affordable short-term loans to the people of New Zealand.
NZ Credit & Loans Services
As much as we want to help each and every client that comes to us for help, we can't. We always have to assess a customer's financial background and establish if they have enough money after they have paid off all their expenses on a monthly basis to pay for the short-term loan that they are applying for with us.
If we find that they don't, we will not be able to pursue the loan process any further. Therefore, it is important that customers evaluate their financial standing before they opt for taking a loan with the most ridiculous interest charges. Any loan option they opt for should be a plan that is within their financial means.
NZ Credit & Loans online application
Clients should fill in the online application form if they are interested in getting a quick loan with us. The application is basically a questionnaire that you will have to answer about yourself, your workplace, your salary dates and your bank statements. There isn't anything out of the ordinary that will shock you on the application, everything is straightforward.
NZ Credit & Loans verification
After you have submitted your online application, there are certain documents that you will have to send for my attention. Failure to do so will delay the process and actual approval of your instant loan application. We need to be able to establish if the information you filled in on your online application form corresponds with everything that is in black and white on these attachments.
NZ Credit & Loans – Short-term loan
Loan Type

Short-term loans

Interest Rate

13.9 – 39.95% p/a

Loan Amount

up to $1,000,000

Repayment

6 months to 5 years
Benefits of NZ Credit & Loans
PERSONAL Loans
DEBT CONSOLIDATION
Wedding Loans
CAR Loans
HOME Reno's
Holiday Loans
Property Finance
Short-term loan calculator
NZ Credit & Loans - We are transparent
We will deposit your money in your selected bank account if everything has been approved.
However, clients need to sign for the contract and understand everything that is stipulated in black and white on the agreement before the online loan can be deposited into their account. The last thing you need is not agreeing with some of the terms that were stipulated on the contract after the money was already utilized. Ensure that you understand everything that you are signing for as a client before the money is sent to you.
What if I skip a payment?
If you skip a payment, you will be liable for dishonesty fees. Furthermore, this may give you a financial blow on your credit rating. If you think there might be months where you might not be able to pay off the loan, rather don't apply for credit.
What will be my weekly or monthly repayments?
There is no stipulated figure as they differ from client to client. However, this will be derived from how much money you earn in a month, how much money is budgeted for your debts and how much money are you left with after everything has been paid out. Only after such figures have been calculated can we then determine how much your repayments will be.
When will I get the funds?
Depending on what time of the day the loan was approved, you may get the payday loan on the same business day. If not, the money will be deposited on the following business day.
Finding the right lender is our job
We always ensure that we get our clients the best lenders and not someone they will not be able to agree as far as the finances are concerned. We don't rest until we get you the best broker.
Can I apply if my credit rating is not good?
It will depend on how bad your credit rating is. However, you can still apply for our short-term loan option and we will take it from there.
Customer Reviews & Testimonials
"
Whenever I find the need to get information about my loan all I ever do is call and one of the customer care.
Frank D
— Queenstown —
They are always there to help and advice when my computer gave me grief and I was in the middle of doing my loan I went to them and they helped me out.
Jonny S
— Christchurch —
If you are looking for the best customer service then you shouldn't have to look any further they will help you out as they did with me.
Emma H
— Napier —
NZ Credit & Loans Contact
Contact Number
E-Mail
Website
Physical Address
109 Lyndon Road

Hastings

East Hastings

4122

New Zealand