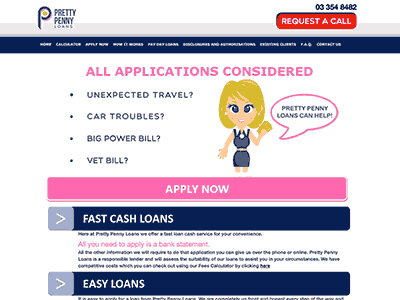 Author Teleloans NZ. Screenshot of Teleloans NZ website.


[Accessed April 17, 2018]
Teleloans - A reputable financial partner
Teleloans is a specialist in short-term cash loans. Over the years we have grown into a reputable lending company and as part of our international expansion, we now offer microloans in New Zealand.
Teleloans has helped many satisfied customers reach their short-term financial goals. Our online loans are easy to obtain and we boast with fast loan approval times. When you have a cash emergency, turn to Teleloans to help you get the cash you need, fast.
Quick cash for cash emergencies
Cash emergencies can happen at any time. Your car can break down or you have a burst pipe and need a plumber urgently.
Many of us do not budget for these unforeseen financial circumstances and can leave you feeling stressed and hopeless. Whatever your financial emergency, Teleloans has a short-term loan to help you cover it.
Stress-free loans
You can get up to $300 in your bank account by following our easy loan application steps. All you need to apply for a loan is a registered mobile phone.
At Teleloans we understand that you need money as fast as possible and that's why have cut the loan approval times down to a couple of minutes. In other words, as soon as you have applied for a loan using your mobile phone an agent will inform you within a few minutes with the result of your loan application.
Teleloans NZ Services
At Teleloans we offer repayment options to suit your spending pattern and income structure. Our short-term loans are easily accessible due to our flexible lending requirements.
It's easy for you to qualify for our loans, all you have to do is apply for a short-term loan using your mobile phone.
Loan approvals under 20 minutes
We are proud of our quick loan response time. You will know the outcome of your loan application within 20 minutes after applying.
As soon as you have been approved for a loan the money will be deposited into your bank account usually on the same day as the loan application.
Fast stress-free loans are our motto and we strive to help you get the cash you need to take care of those cash emergencies.
We have competitive interest rates
At Teleloans we have highly competitive interest rates, making our loans even more affordable.
Alongside our affordable personal and bad credit loans, we also offer flexible repayment terms to suit your income structure.
A great benefit of our loans is our no credit check policy, if you have bad credit and need a short-term loan then Teleloans has the solution for you.
Teleloans NZ – Short-term loan
Loan Type

Short-term loans
Benefits of Teleloans NZ
SHORT-TERM Cash Loan
PAYDAY Loan
ONLINE Payday Loan
INSTANT Payday Loans
Short-term loan calculator
Teleloans – Quick, reliable short-term loans
You can apply for a loan using your mobile or you can visit our website and apply online.
The online loan application only takes a few minutes to complete and within 20 minutes you will know the outcome of your loan application. We guarantee a same-day cash payout into your bank account.
Convenient loans at your fingertips
We use modern technology to help you get a short term loan when you need it. With our same-day pay-out, we guarantee that you can cover your cash emergency quickly.
Advantages of our service
100% online application
Alternatively, you can use your mobile to apply for a loan
We guarantee same day payouts
We have experienced staff ready to help you if you have any questions
At Teleloand we help you get quick access to a personal cash loan without the queues and endless paper. We welcome applications from clients with a bad credit history. Cover your cash emergency with a short-term loan from Teleloans today.
Customer Reviews & Testimonials
"
This company will get you the best that you have ever had and that is why we are staying with them.
John S
— Auckland —
They have always got your back and will advise you of the best decision for you.
Jackie M
— Napier —
If you have any queries about any of the loans you can always call them and they will help you get the answers to you.
Cory R
— Christchurch —
Teleloans NZ Contact
Contact Number
E-Mail
Website
Physical Address
---
Postal Address
PO Box 29200, Fendalton, Christchurch, 8540, New Zealand