Short-term loans up to $50,000
Low-interest up to 18%
Repayment up to 60 months
In-page navigation
---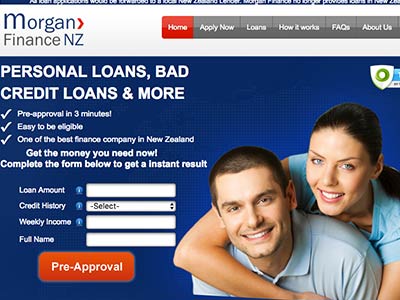 Author Morgan Finance. Screenshot of Morgan Finance website.


[Accessed April 17, 2018]
Morgan Finance - Secured online loans
We have been known for our fast loan service and have been the talk of the town for a number of years.
Our process takes literally 3 minutes before a New Zealand citizen becomes a happy client. People used to think all of this was too good to be true until they saw it for themselves when they took out one of our short-term loans.
Broken all the bank barriers
Banks have a traditional way of lending money that requires filing a number of papers and standing in long dreadful queues.
Not taking away the effectiveness of banks and their fast loan options, Morgan Finance has a new and innovative way of borrowing money without going through the bank route. Everything we do is online, quick and without any fuss or excessive paperwork.
Morgan Finance, lending specialist
We pride ourselves in our team of highly trained agents who go out of their way to ensure that clients get the best service. They have been trained to explain everything in proper detail that you may not understand and to always be professional and friendly. If you have been mistreated by the staff, please notify our floor management right away.
Why do you need a short-term loan?
Unlike a long-term personal loan, a short-term plan is often something you want to fix right away. It is often something urgent that can't wait until you have money, such as your car breaking down, your business needs new material or your house's pipe has burst.
Morgan Finance Services
Complete the short pre-approval form. This form should be completed by clients who want a Morgan Finance instant cash loan.
The form is easy to read and follow and won't take much time. If there are any sections you don't understand, feel free to contact us before you proceed with your application. The last thing you need is realizing you have submitted a form with a number of errors in it.
Submit documents for verification processes
Now that we have your application, there are certain documents that we will need to verify before we can approve your short-term loan.
These include your ID, latest payslip, proof of residence and bank statement just to name a few. It could be more depending on your application as every customer's application is treated differently.
The money will be deposited in your bank account
After we have dealt with the admin and we are satisfied with everything submitted for our attention, the money will be deposited in your bank account. Over here, our job is done and you can do what you were intending to do with the money.
How is the loan paid?
We normally prefer a direct debit set up that makes things easier and convenient for all parties involved. All you have to do as a client is giving us a date that is suitable for you for collecting the loan amount and we will do so on the scheduled date. If we find that there are insufficient funds on your account, you will be liable for penalties.
Morgan Finance – Short-term loan
Loan Type

Short-term loans

Interest Rate

18%

Loan Amount

up to $50,000

Repayment

12 months to 60 months
Benefits of Morgan Finance
PERSONAL Loans
Rental Loans
BUSINESS Loans
DEBT CONSOLIDATION
Short-term loan calculator
Morgan Finance - Secured short-term loans
Clients can borrow a minimum of $500 and a maximum of $50 000.
Customers shouldn't be tempted to borrow more than they actually need as we know most customers tend to do that when they realize they qualify for more than they actually thought. There is no need in taking the money you don't actually need simply because you qualify for it.
How long does it take for the loan to reach me?
After the online loan application has been approved it usually takes one business day for the money to be deposited into your nominated bank account for your disposal.
Are there any requirements for a Morgan Finance loan?
Yes, clients need to be New Zealand citizens or have permanent residency. They should also be 18 years or older and should own a car or a house in their name.
Can I still get a loan if I don't own a vehicle or property?
The only way you can apply for our loan if you don't own these valuables is by getting someone who does and asking them to apply on your behalf. There will have to be some kind of agreement set between the two of you.
Will my privacy be protected?
As part of our privacy policy and confidentiality procedure, we will never share your information or use it for other purposes. Everything we do at Morgan Finance is strictly private and confidential.
What is a financial hardship?
Financial Hardship in this sense is self-explanatory. It is when a client is struggling to fulfil his financial obligations timeously and thus resulting in late payments or no payments at all.
We encourage our clients to speak to us as soon as possible if their finances have hit rock bottom and they are struggling to pull through. We can also assist with debt consolidation loans for those who require it and want to make their debts easier to manage
Are there penalties for late payments?
Yes, there will be penalties incurred if clients pay their short term loans later than the scheduled date. Furthermore, late payments may ruin their credit rating causing it to be difficult to apply for a loan in the future. Having a bad credit rating is the last thing you want for your profile as it closes a lot of doors for you.
Customer Reviews & Testimonials
"
Well, when I applied and saw that my loan would be in my account in ten minutes I thought it was a joke and then I found out that they stick to their word and I had my loan.
Sara J
— Auckland —
When you do the application it only takes three minutes to be approved the best loan company ever.
Celeste Y
— Queenstown —
They have taken the time to phone me to let me know that my loan would be on its way I was shocked matter of minutes.
Tina B
— Wellington —
Morgan Finance Contact
Contact Number
E-Mail
Website
Physical Address
24B Moorefield Rd

Wellington

Johnsonville Region

6037

New Zealand