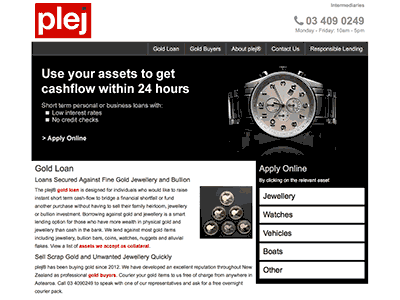 Author Plej. Screenshot of Plej website.


[Accessed April 17, 2018]
Plej - Fast loan payouts
At Plej we specialize in short-term loans for businesses and personal use. If you have a cash flow problem or you have encountered a cash emergency then Plej has the solution for you.
We pride ourselves in our fast loan turnaround times, helping you get the cash you need in the shortest possible time. We offer both secured and unsecured short-term loans. Whatever you need the money for, we have a loan solution to fix it.
Apply 100% online
For maximum convenience for clients, you can apply for a loan using our website. You can complete the loan application from anywhere at any time. We understand that when you need cash urgently there is no time to waste. That is what sets us apart from other credit providers – We boast with one of the fastest loan turnaround times in the industry.
Quick and easy short-term loans
We are proud of our transparency and we will show you the total cost of your loan before you sign the loan agreement. Our website has been designed to be user-friendly and easy to use.
We don't have a long list of lending criteria like other lenders and banks. We have simplified the process to help you get the cash you need fast in the most stress-free way. We provide instant cash loans to clients who have no time to waste.
Plej Services
Simply visit our website and fill in the short application form and you will know the outcome of your loan quickly. Our personal loans are 100% online for maximum convenience.
You can apply for a loan from anywhere at any time. We offer secured premium loans against high-value assets and short-term loans against low value assets. We accept a variety of assets, including artwork, jewellery, laptops and sports equipment.
We supply loans nationwide
Over the years we have helped many clients in New Zealand with short-term cash loans. You can apply for a loan from anywhere in New Zealand. In order to qualify for a loan with us, you must be at least 18 years old with a permanent income. The last criteria include that our clients must be a New Zealand citizen.
We are trustworthy
We are proud of our transparency in our dealings, but we also follow responsible lending practices. The loan amount that you can qualify for depends on your affordability, we will only allow you to borrow an amount that you can afford. We don't do any credit check before we approve you for a quick loan. The maximum repayment term is 6 months and we don't charge a penalty fee for additional or early repayments.
Plej – Short-term loan
Loan Type

Short-term loans
Benefits of Plej
Premium Loans
SHORT-TERM Loans
Short-term loan calculator
Plej – Fast online short-term loans
With our secured premium loans you can borrow between $1,000 and $20,000
These loans are secured using the assets of higher value like artwork and jewellery.
Simple short-term loans
Plej in New Zealand offers our clients a quick and easy way to get a short-term loan. By using assets as security we are able to pay out your loan faster than any other lender or bank. Your asset will be kept in a secure location until your loan has been repaid.
Due to our personal and business loans being secured we do not need our clients to give us their proof of income. This is just one of the ways we help our clients get a loan for personal or business use.
Our loans offer you
A repayment schedule between 3 and 6 months
Loans ranging between $1,000 and $20,000
We have flexible rates and fees.
You don't get charged fees when you apply for a loan with us
You can make additional or early repayment on your loan without a penalty fee
A great benefit of our service is that you can receive your loan amount within 24 hours after being approved for a loan with us.
Our loans are short-term and this helps clients save on interest making our loans even more affordable. If you need cash urgently simply visit our website and fill in the short application form.
One of our friendly, professional team members will contact you about the outcome of your payday loan. You can bring us your asset or for maximum convenience, we can organize for it to be picked up from you.
Get an online loan today and let us help you regain control over your finances. We are a reliable and transparent credit provider. For maximum convenience, our loan applications can be done online.
Customer Reviews & Testimonials
"
They will help you find the best loans for the lowest rates and for the amount that you can afford with not having to break your pocket.
Andrew C
— Auckland —
If you are needing any advice regarding a loan then all you have to do is phone them and they will help you out.
Courtney G
— Wellington —
The service is great and any queries I had were resolved very quickly.
Tony B
— Queenstown —
Plej Contact
Contact Number
E-Mail
Website
Physical Address
1st Floor, 35 Shotover Street

Otago

Queenstown

9300

New Zealand
Opening Hours
Monday

09:00 – 17:00

Tuesday

09:00 – 17:00

Wednesday

09:00 – 17:00

Thursday

09:00 – 17:00

Friday

09:00 – 17:00

Saturday

Closed –

Sunday

Closed –