Short-term loans up to $10,000
Low-interest up to 47.75%
Repayment up to 4 years
In-page navigation
---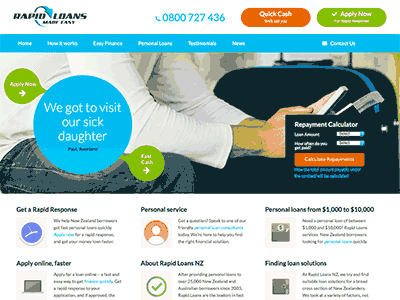 Author Rapid Loans. Screenshot of Rapid Loans website.


[Accessed April 17, 2018]
Rapid Loans - The short-term lender of choice
When we open our doors to the New Zealand community in 2003, we had no idea we would grow to what we are today.
Today, we have become a lender of choice for any customer that seeks quick finance. Rapid Loans don't just deal with helping clients during their hour of need, we are also open to serving customers with their daily financial struggles.
A consistent and trustworthy team of lenders
When you are looking to build a good and effective relationship in credit finance, the last thing you are looking for is inconsistency. Rapid Loans is a lender that has built its reputation strictly by ensuring that they are always one step ahead of the customer in terms of service delivery.
When clients are happy with the service they are receiving, it will make your brand more recommendable and so it has. Today, there is no New Zealand citizen that doesn't speak so highly of our services and we can only respond in humility and awe.
Strictly online loan services
There are not enough hours in the day to finish all you have destined to do. Rapid Loans have tried to make things easier for every customer applying for a short-term loan.
With the applications being strictly online, customers are able to continue with whatever they are doing on the day as opposed to putting everything on hold so that they can complete an online loan application. We are committed to giving our customers convenience and we haven't failed in our commitment.
Rapid Loans Services
Clients who are interested in applying for our credit options can do so by completing the online application form.
This form can only be accessed electronically and needs to be filled in with the utmost accuracy and honesty.
If you are not truthful on your instant loan application, we will pick it up. When we do, we will not be at liberty to pursue any relationship with you.
Loan verification and approval process
As we already mentioned that there is a way of finding out whether our clients are giving false documents, this is the part.
We need to verify the client's supporting documents together with the information submitted to us on the customer's personal loan application.
If we find that there are discrepancies, we will not be able to pursue the loan application any further.
However, if everything is all systems go and we are happy with every documentation submitted for our attention, we will approve your credit request.
The money will be deposited in your bank account
Once all the paperwork has been dealt with, the short-term loan will reflect in your nominated bank account the next day.
Rapid Loans – Short-term loan
Loan Type

Short-term loans

Interest Rate

47.75%

Loan Amount

up to $10,000

Repayment

12 months to 4 years
Benefits of Rapid Loans
Quick approval
Rates are affordable
Make repayments online
Short-term loan calculator
Who can apply for a short-term loan at Rapid Loans?
Generally speaking, anybody who works and earns a decent salary can apply for a personal loan.
We also accept applications from customers that earn certain types of benefits. However, the benefits can only form as part of a supplementary income and not their primary means of living.
Adhering to the terms and conditions of our loan process
A relationship can be destroyed by the same person who built it. Clients need to ensure that they follow all the rules and regulations that are involved in borrowing. If they don't, it will be difficult for us to be good financial citizens to your loan requests in the future.
If customers are not certain that they will be able to meet their loan payments, it is advisable that they don't apply for credit in the first place. By doing this, you are doing your budget and credit profile a huge favour.
Nobody wants to be constantly contacted and asked about fulfilling their loan payments. Therefore, if you want to create a long-lasting relationship with us, sticking to our rules and regulations would be the first way of going about it.
Rapid Loans calculator indicator
Money is a tempting resource. By using the loan calculator, you will have a better idea of how much you qualify for, how long you have until you have to pay it back and what interest rates are included in your loan.
As a reliable client, you always have to ask yourself, "Do I really need this money?" Weigh all your options as well as your positives and negatives. In most cases, after such an analysis, you may have another idea in mind such as opting for a lower credit or maybe not even taking out a short term loan with us a lot. We will be very disappointed if you decide to stop banking with us, but we will always have our doors open for you.
Latest news in a form of articles and financial blogs
Rapid Loans is all about saving and a whole lot more saving. As such, we have a variety of financial management articles that have given some of our clients a whole new perspective as far as credit.
There will be another of reasons as to why you need to apply for credit, but unless certain basic, as well as significant questions, have been calculated and answered in your mentality as a client then you have reached the stage of financial maturity.
Customer Reviews & Testimonials
"
It is so easy with rapid loans to see how much you can borrow and you will be paying back and that way you never take a loan more than you can afford.
Jake L
— Napier —
If you need advice all you have to do is request that one of the agents call you and they always do they never don't have time for you.
Sarah C
— Palmerston North —
Giving you the loans that you need in the time that you need it most like we did and thank you to them we were able to pay off our debt smoothly.
Jeff J
— Auckland —
Rapid Loans Contact
Contact Number
E-Mail
Website
Physical Address
Level 31, Vero Building, 48 Shortland Street

Auckland

Auckland Region

1010

New Zealand