Short-term loans up to $1,000,000
Low-interest starting from 9.75%
Repayment up to 6 years
In-page navigation
---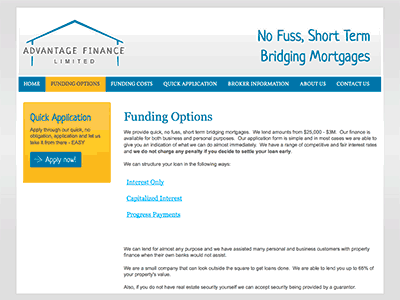 Author Advantage Finance. Screenshot of Advantage Finance website.


[Accessed April 17, 2018]
Advantage Finance - A loan for any occasion
Finding a financial services provider that doesn't charge any penalties for early repayment is great.
Advantage Finance is a credit company that knows how some clients take their debts seriously and want to get rid of them as soon as possible. Therefore, it is a mentality that we encourage, even to other customers who are not our members.
Providing home loans and short-term connecting advances
The advances that we offer our clients are not your usual type of personal loans. The repayment pattern is derived from the purchases or refinances made from security homes. The duration period for home loans and short-term loans range between 1 month and 24 months.
No problem loan application process
Advantage Finance has been around since 1994. Ever since we established our financial organization, we have seen to it that we offer clients an advanced process that is easy and not too complicated.
Our customers have never encountered any difficulties with our processes because everything is straightforward.
We don't promise to be of help at all times but we do everything we can give you a loan when most banks have rejected your online loan application.
A loan for any occasion
We help our customers during any financial difficulty they might be going through. We will never ask a business or an individual what they are going to do with the money because we believe nobody would borrow money if it was not for a good cause. Besides, who would want to ruin their credit rating?
Advantage Finance Services
Our short-term loans range between $25 000 to a maximum of $3 million. As tempting as these figures may be, it is important that clients only loan the exact amount that they need and nothing more.
The last thing you need is to have a hefty loan debt on your hands that you could have avoided. This is where responsible lending also comes in; we can't give you an advance you can't afford to pay.
What is the criterion for the Advantage Finance loan?
18 years or older in order to qualify for an advance
New Zealand citizens or permanent New Zealand occupants
Permanently employed and earn a constant salary
In a possession of a working bank account
How do I lodge a complaint?
Should you feel that you were unfairly treated by one of our agents, please don't hesitate to notify us. We take such matters quite seriously and if you are not satisfied with our services, we would like to know the problem so we can change it and make you happy in future.
A notification can be lodged to us via email, phone call or letter. There is a waiting period of 40 days that the clients can wait until we reach a conclusion on the grievance that they brought to our attention. If 40 days have passed and you are still not satisfied with our report, you can escalate the matter to Financial Services Complaints Limited.
Advantage Finance and the Privacy Act 1993
The information that you give to us during your quick cash loan application is strictly for our use. We will never give your details to other people neither would we use it for other purposes either than those not related to your short-term loan application.
Advantage Finance – Short-term loan
Loan Type

Short-term loans

Interest Rate

9.75 – 11.95% p/a

Loan Amount

up to $1,000,000

Repayment

3 months to 6 years
Benefits of Advantage Finance
No hidden charges
No penalties for early payment
No-obligation
Short-term loan calculator
Advantage Finance - Reliable short-term loans
The only reason we perform credit checks on our clients is for affordability purposes and nothing else.
Depending on the severity of the findings we gathered on your credit check, we will proceed with your instant loan application unless you have too many debts to handle.
It is important that clients understand that we want them to have as minimal debt as possible. Adding further online loans while they already have a lot of debts to handle wouldn't be fair on them and it wouldn't be responsible for a financial services provider.
What documentation must you submit when you are applying for the short-term loan?
The documents you have to bring to us will vary from client to client taking into consideration that each loan application is different. However, the common documents to remember should be the following:
Identification documents
Proof of residence
Employment information
Applications can be submitted in any form
We are not fussy about how you submit your short-term loan application to us. Clients can decide which method they prefer as long as we have all the information that we require in the application, we are satisfied.
However, we must emphasize the fact that clients who submit incomplete applications will not be considered. If there are any sections you don't understand, don't hesitate to call us and we will clarify everything for you in easier context.
How to get hold of us?
If you would like to give us a ring and get more information about our payday loan offers or better yet, book an appointment, please don't hesitate to inform us. We look forward to giving you better financial advice.
Customer Reviews & Testimonials
"
They have helped us to get the finance that we needed when it came to securing the property for the business.
Jackson P
— Auckland —
The application is a piece of cake a few minutes and listens to what they instruct you and you will be able to send it away in no time at all.
Lee T
— Queenstown —
They will contact you and let you know how your application is doing they made sure to keep us firmly in the loop with our application.
Monty K
— Wellington —
Advantage Finance Contact
Contact Number
E-Mail
Website
Physical Address
Papanui

Christchurch

8052

New Zealand
---
Postal Address
PO Box 36623, Merivale, Christchurch, 8146, New Zealand
Opening Hours
Monday

08:00 – 18:00

Tuesday

08:00 – 18:00

Wednesday

08:00 – 18:00

Thursday

08:00 – 18:00

Friday

08:00 – 18:00

Saturday

Closed –

Sunday

Closed –