Short-term loans up to $3,000
Low-interest up to 49.95%
Repayment up to 12 months
In-page navigation
---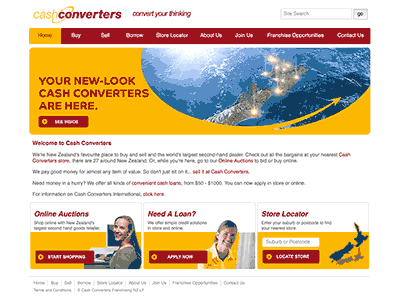 Author Cash Converters. Screenshot of Cash Converters website.


[Accessed April 17, 2018]
Cash Converters - Flexible short-term loans
One of the great advantages that have turned Cash Converters into a household favourite is the fact that we offer clients a variety of options for their financial problems.
This way, a customer will choose an option that is easier for him to pay and won't be too much of a burden to his budget.
Not your average traditional financial provider
Seeing that the majority of New Zealand families are already swamped in debt, Cash Converters has implemented a new way of helping households during their financial struggle. We have a number of different ways of offering short-term loans so that they can get back on their feet.
To date, we have more than 27 stores operating in New Zealand and we couldn't be happier about this expansion because it means we are helping more people.
Assessing the financial circumstances of people
As much as we want to help everyone who comes to us for financial assistance, we know we can't help everyone who needs a personal loan. As such, we have to access each and every client's affordability before we can award them a loan. The last thing we want to do is to give customers loans while they are not in a good financial capacity to pay for credit.
We always encourage our clients to pay some of their debts before they apply for more credit especially when it comes to payday loans. This way, they won't feel overwhelmed with debt and they will be able to pay everything without feeling like their budget is tainted.
Cash Converters Services
Clients who want to apply for our advanced options have to fill in the online loan application.
The application is easy to complete and clients will be done in 5 minutes. All that we require from our clients is their credentials in terms of their personal details, salary information and employment. When they furnish us with such information, we will be able to determine if they are in a good financial state to afford a short-term loan.
Cash Converters assessment and verification
After you have submitted your online application, we have to verify the documents you have given to us. We may require additional information from you that you may have to submit.
After we are satisfied with every documentation that was submitted to us, we will then let you know about the outcome of your short term loan.
As a first time credit applicant, you will have to sign for your advance before the money is sent to your bank account.
The money will be deposited in your account
After we are happy with all your submissions and you have signed for the credit and agreed to the terms and conditions, the money will be deposited into your nominated bank account.
Depending on the bank account you use and the time the loan was approved, you might get your loan on the same day or it might reflect on your bank account the next business day.
After we have approved your quick cash loan, we can't be held liable the bank times.
Cash Converters – Short-term loan
Loan Type

Short-term loans

Interest Rate

49.95%

Loan Amount

up to $3,000

Repayment

3 months to 12 months
Benefits of Cash Converters
No charges are hidden
Flexible loans
Money in your account within 24 hours
Short-term loan calculator
Cash Converters - Fast loan solututions
It wouldn't be fair if we borrowed clients that are not in a financial state to accommodate more debt into their budget.
We always assess the clients that ask for a short-term loan because we don't want to add more burden to our customers. We are not in the business of making a profit without thinking about our clients first.
We are in the operation of ensuring that we help as many people as we can that we can see need assistance but can afford to pay for the loan they are applying for.
What requirements do you need to apply for Cash Converters loan?
Clients need to produce their driver's license
Clients need to be 18 years or older to apply for credit
Clients need to be from New Zealand or have permanent occupancy
Clients need to have an active banking account
What if I can't meet my monthly payments?
Clients need to notify us as soon as possible if they can't make monthly payments. Waiting until the last minute is not advised as we will think you deliberately skipped your financial obligation.
We are human and we understand that sometimes life happens. We will however charge you a penalty fee when you pay your loan again. If you tell us in time, we may be able to make a plan for you.
Can I pay my loan earlier?
We encourage early repayment. We will never charge our clients for settling their credit earlier than the required date. This shows us that we have clients that are serious about settling their accounts and we will not have a problem borrowing such customer's money again.
How is the interest charged?
The interest charged differs from one instant loan to the next. Seeing that the loan terms are not calculated the same, the interest will also not be the same.
Customer Reviews & Testimonials
"
The reason we love this company besides getting loans we are able to get other products and services from them.
Johnny C
— Wellington —
If you need to find a store all you have to do is click on location finder and you can find one closest to you without any hassles.
Sarah M
— Napier —
The best part about them is that you can apply for a loan in-store and there will be a member that will help you.
Jackie P
— Nelson —
Cash Converters Contact
Contact Number
E-Mail
Website
Physical Address
2/100 Church St

Onehunga

Auckland Region

1061

New Zealand
Opening Hours
Monday

09:00 – 17:30

Tuesday

09:00 – 17:30

Wednesday

09:00 – 17:30

Thursday

09:00 – 17:30

Friday

09:00 – 17:30

Saturday

09:00 – 17:30

Sunday

10:00 – 16:30