Short-term loans up to $50,000
Low-interest starting from 13.95%
Repayment up to 60 months
In-page navigation
---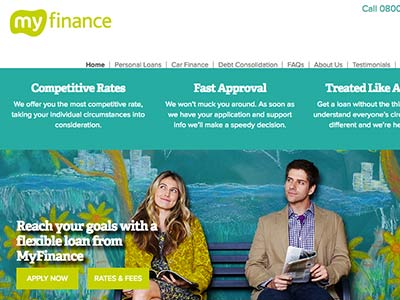 Author MyFinance. Screenshot of MyFinance website.


[Accessed April 17, 2018]
My Finance - loans with competitive rates
My Finance is a financial services provider that prioritizes its people. Unlike most credit companies, we have reasonable rates that are suitable for everybody's financial situation.
The last thing we want is to pick and choose the people we going to help based on how much they earn or how well they use their money.
Our affordable personal loan rates allow us to help everyone who comes to us for assistance. Furthermore, you can compare our rates with other institutions and you will see the difference.
We will never ask you 21 questions
Seeing that you are in a financial crisis that often requires immediate attention, you don't need to be assisted by an organization that is going to ask you a number of questions while you need help right away. Instead, you need a company that is going to empathize with you and be of assistance as soon as possible.
Debt consolidating at My Finance
Having a number of debts isn't ideal, especially because each debt has its own interest charges. When you combine all your financial obligations with a debt consolidation loan, you are saving more than enough money that can be used for other things around the house.
Furthermore, it gives you less stress because you will no longer have to worry about paying 5 debts, for example, when every expense is combined into one amalgamated credit.
Is My Finance the right loan for me?
My Finance has assisted a number of clients and we offer some of the lowest rates on short-term loans.
MyFinance Services
Customers who want to be assisted with a finance credit plan can complete the online loan application.
The application takes less than 10 minutes to be completed and once you finished, you will not have to wait long before you are given a response if your loan application has been approved or not.
Submission of documents as part of the verification process
After you have submitted your short-term loan application, you have to furnish us with certain documentation so we can be able to establish whether you are in good financial standing to take up a loan or not. If we find that you are not, we will not always shut down the idea of borrowing your money.
However, we might just end up lending you a slightly lesser amount so that you won't have any problems paying it back.
The typical documents that we usually ask for is a client's 3-month bank statement, proof of residence and employment information.
Clients can stay rest assured that the paperwork that we request is strictly for our information and nobody else's.
Failing to get these documents will delay the process of the quick loan application. However, the sooner you furnish us with those documents, the better.
The money will be deposited into your bank account
If everything is in order and we are happy with all the information you have submitted, we will request you to electronically sign for it and the money should be on your nominated bank account.
MyFinance – Short-term loan
Loan Type

Short-term loans

Interest Rate

from 13.95%

Loan Amount

up to $50,000

Repayment

6 months to 60 months
Benefits of MyFinance
Approval is fast
Rates are competitive
Online application
Short-term loan calculator
My Finance - Reliable affordable loans
Clients need to be 18 years or older to apply for a short-term loan. This age is according to the law.
Can I pay my loan early?
Clients are more than welcome to repay their online loans earlier than the required payment. There are no fees incurred in settling your loan earlier than the required dated. In fact, we commend the customers that pay off their debts sooner rather than later.
By doing this, you are creating a great relationship with us as a credit provider because we will have no problems lending a helping hand the next time you need assistance.
Do you borrow money to people with benefits?
We welcome loan applications from people who earn benefits. However, there are certain checks that we have to run according to our rules and procedures to see whether these clients comply with them.
What is the minimum loan amount?
Customers can borrow $1000. It is important that clients only borrow the money they need even if we tell them they can qualify for more. My Finance is not in the business of making more debt for people, we simply want to cut down instead.
What can I use as security for a loan application?
Clients can use their vehicles, boats or even property to serve as means of collateral.
Who qualifies for a loan at My Finance?
Clients need to be New Zealand citizens or have permanent residency in New Zealand. They also have to be working and earn a salary for at least 3 months. Clients who don't meet the above-mentioned requirements will not be considered for a MyFinance instant cash loan.
Bad credit customers are welcome to apply
This is not to say, we will automatically approve an application from a client who has a bad credit. The client will still have to undergo the same loan process that other customers have undergone.
Is there an application fee to apply for the loan?
We don't charge any fees for our loan application process. Should you have been a victim of fraud or a scam, please notify My Finance.
Customer Reviews & Testimonials
"
There is no better company for me when I need a loan, they understand that there are financial struggles out there so when I applied for my loan I felt very secure with them.
Sydney T
— Wellington —
I have taken a loan with the company that I have almost fully paid for and if I ever need another loan again I will go through them.
Jana D
— Wellington —
My friend told me about the company when I needed a loan to fix my car's engine. I applied and within an hour or so they had called me super service.
Courtney R
— Nelson —
MyFinance Contact
Contact Number
E-Mail
Website