Short-term loans up to $5,000
Low-interest starting from 29.99%
Repayment up to 3 years
In-page navigation
---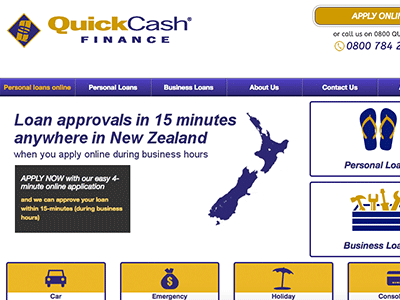 Author Quick Cash Finance . Screenshot of Quick Cash Finance website.


[Accessed April 17, 2018]
Quick Cash Finance - Straightforward loans
Quick Cash is one of the best credit providers of short-term loans in New Zealand.
We have a loan for every occasion and we are not as complicated as most banks make credit plans to be. Everything we do is legal and we are a registered business that has been in operation for a number of years.
Transparency is the name of the game
We will never give you an impression of the type of organization that we are and then turn around and do something totally opposite. Neither would we give you a personal loan option that has hidden costs that you will have to pay for while your credit plan is still valid.
Every process that we do is straightforward and thoroughly explained to every customer that takes a loan with us. At Quick Cash, we want every client to be well informed about their loan as well as their terms and conditions to avoid any surprises at a later stage.
Quick Cash is a responsible lender
We know that things get tough and money becomes tight. As such, we try our level best to give a loan to everybody who comes to Quick Cash for assistance. However, we can't help every household.
We can't give a customer who is already in heavy debt another loan. We always try to advise our clients to have as little credit as they can. Having a lot of credit may hinder your score in the future and you don't need that especially if you are planning on getting a home loan or buying a vehicle.
Quick Cash Finance Services
If customers are interested in applying for credit for Quick Cash, they can do this by applying for one of our online loans through our website.
They have to complete the online application form and tell us a bit about themselves. Furthermore, they need to tell us where they stay, work and how much they earn and at what intervals. We need to know all this information so we can determine how much they can afford.
Quick Cash submission of documents
After you have submitted the online application to us, you need to submit certain documents for our attention. The documents will differ from client to client. However, there are certain things we need to verify by assessing the papers you submitted as well as the information you have given us on the online loan application.
If we find that there are discrepancies and that some information doesn't add up, we will contact you to clarify. Should we not be satisfied with your explanation, we may have to stop your loan application. It is important that customers give us true and accurate information if they want to fast track their application.
The money will be deposited in your account
If we are happy with every detail brought to us, we will request the client to read the short-term loan contract agreement carefully as well as the terms and conditions.
They will also need to electronically sign the contract. The money can only be deposited in the client's account after they have signed the agreement.
Quick Cash Finance – Short-term loan
Loan Type

Short-term loans

Interest Rate

29.99 – 34.99% p/a

Loan Amount

up to $5,000

Repayment

1 year to 3 years
Benefits of Quick Cash Finance
Quick funds
Rates are fixed
No penalties for early payment
Short-term loan calculator
Quick Cash Finance - The total loan cost
The loan calculator is used to calculate how much money a client can take, how long can he take it for and how much money does he have to pay back.
The calculator has helped many clients who were not aware of how much money they qualified for. It is important that customers only apply for a quick loan amount they not only can afford but also need.
There is no reason to apply for big amounts of money simply because you can afford to, but you don't really need such an amount. Clients need to be financially disciplined and refrain from debt if it is not primarily or necessary.
If it is something that can wait until the next payday, then you don't have to take out a short-term loan for something that isn't really urgent. As much as we are a credit provider, we also help our customers with financial skills and money management.
Can I pay off my loan early?
The good news is that customers are more than welcome to pay off their credit earlier than the required payment date without paying any penalties. We encourage early payments. To us, it shows a great level of commitment from our clients. We will have no problem loaning such customers' money again because they have proven to be loyal clients.
Quick Cash community and sponsorship
At Quick Cash, we believe when we all come together to do good, something great unfolds. We have taken part in a number of great initiatives and we couldn't be happier with the outcome. Being part and parcel in some of the projects have given Quick Cash a whole new light of humility and gratitude.
These include, but not limited to Wailuku School Redevelopment, Suva, Fiji, St Marys School playground redevelopment, Blenheim's civic theatre development, Marlborough Boys' College first XV rugby, Renwick Rugby Football Club, Marlborough Boys' College rowing, Stadium 2000 and Nelson Rugby Football Club.
How does Quick Cash work?
Unlike many credit companies, at Quick Cash, you are working with the lender directly. There is no middle man and this way, your loan application process will be faster.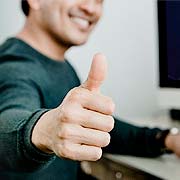 Quick Cash Finance is a trusted & reliable provider of short-term loans
Customer Reviews & Testimonials
"
If you are needing a loan in a hurry then don't look any further I can vouch for them and say you will get your money so quickly that you will be shocked.
Jaime L
— Wellington —
When they say that the application will only take 3 minutes they mean it is quick and easy if you read the instruction and you will be able to submit your loan.
Terry H
— Auckland —
They take care of you at the company anything that you need they will give you the support you need.
Kelly M
— Ashburton —
Quick Cash Finance Contact
Contact Number
E-Mail
Website
Physical Address
12 George Street

Blenheim

Marlborough

7201

New Zealand
---
Postal Address
PO Box 798, Blenheim, 7240, New Zealand
Opening Hours
Monday

08:30 – 17:00

Tuesday

08:30 – 17:00

Wednesday

08:30 – 17:00

Thursday

08:30 – 17:00

Friday

08:30 – 17:00

Saturday

Closed –

Sunday

Closed –