Short-term loans up to $500
Low-interest starting from 39%
Repayment up to 28 days
In-page navigation
---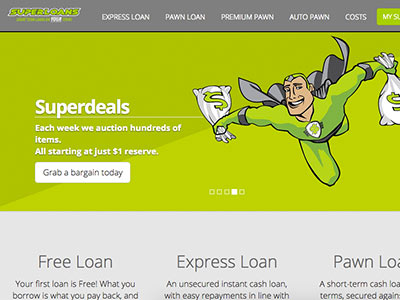 Author Super Loans. Screenshot of Super Loans website.


[Accessed April 17, 2018]
Super Loans - Affordable loan options
When Superloans opened in 2002, we had no idea it would grow to what it is today.
Back then, everything was small and we were not as experienced considering the fact that we just opened shop. Superloans started as a pawn loan shop where customers could come and pawn literally any item of their choosing at a price.
Expansion at its best
When we were no longer satisfied with just one store, we thought we might bring some change in the town. We opened three more stores that will provide short-term loan solutions to the community.
Looking back to where we come from, there is a massive amount of change and we couldn't be happier about the journey that it has been. We are still striving to be one of the best in the market by offering clients a service that takes into consideration their affordability and budget.
Mobile market leading app
Technology has changed the game for financial service providers and we have seen the change it has brought and thought we might as well capitalize on it too. Superloans launched an app that allows the customer to access their profile and make the necessary changes where they see there is a need.
This app has saved a lot of client's time of going to the actual branch and has been convenient as far as your loan information is concerned. Everything that has to do with your quick cash loan is stipulated in your app and the joy of it all is that it is at your disposal every second of the day.
Super Loans Services
Clients that are using our loan services for the first time can enjoy an interest-free loan.
Call it our welcome gift. We thought we would do things a little different from other companies. Customers have always appreciated the effort and don't have any problem paying for the interests the next time they apply for a loan because they know we give them bonuses when we can.
How to qualify for a loan at Superloans?
In order to qualify for credit at Superloans, a client must earn $300 on a weekly basis take home. The money could be derived from your earnings or your benefits combined. The salary should be deposited into the bank account that you give us. It is important that clients have internet banking and know how it works. If you don't, contact your bank or go to your nearest branch and they will set it up for you.
We will also need your ID, driver's license, passport or generally any identification card that you have at your disposal. We also need our clients to be employed for at least 3 months before we can approve a short term loan they are requesting.
Lastly, we will need your contact details and other phone numbers of a friend, family member or partner that is not living with you just in case we can't get hold of you when we are contacting you.
Can I apply if I live outside Wellington or the Hawks Bay area?
We only accept personal loan applications from Wellington and the Hawks Bay area dwellers.
Super Loans – Short-term loan
Loan Type

Short-term loans

Interest Rate

39 – 179% p/a

Loan Amount

up to $500

Repayment

7 days to 28 days
Benefits of Super Loans
No administration costs
No hidden charges
Easy loan application
Short-term loan calculator
Superloans - Reliable, transparent loans
Superloans doesn't have any hidden fees on our short-term loans. Each and every charge you pay for is made known to the client up front.
Furthermore, every other information is stipulated in the contract. We will never require you to pay for something that wasn't mentioned to you initially.
What if I have bad credit?
Bad credit has never been a terrifying ordeal for us. We take it like any other hurdle we face on a daily basis while running this business. Bad credit customers might be scared to apply for a bad credit loan considering their past with credit. However, they shouldn't worry, we will access their applications and give them a response in no time.
Do I need to fill a new application form when I apply for a new loan?
If you are a returning customer, your information is already captured on our system. Therefore, there is no need for clients to resubmit an application form unless there are new additions to your personal details that need changing.
Do you loan to everyone who receives benefits?
The only people we loan to who receive benefits are orphans, single parents, supported living payment and unsupported child's benefit.
I can't make a payment this month, what should I do?
Contact us as soon as you realize that you may struggle to make your loan payment this month. If you wait until you have to pay the loan, we will deem it as a missed payment. Therefore, you have to notify us as soon as possible. However, you will still be liable for penalty fees.
If you continue missing payments, this may have a bad record for your credit rating. The last thing you want is to have a bad credit record over a payday loan you could have avoided taking all together.
Therefore, try to not make it a routine to skip payments because you might need a loan in the future and be rejected because of a missed payment you made many moons ago.
How much can I borrow?
Clients can borrow a minimum of $100 to a maximum $500. The amount of money you can borrow is based on your salary.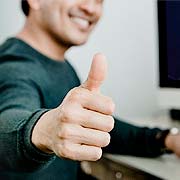 Super Loans is a trusted & reliable provider of short-term loans
Customer Reviews & Testimonials
"
The best part about joining this amazing team is that when you do your first loan is free of interest and rates.
Allan P
— Auckland —
You can get a loan up to $ 500 with no interest or rates this has helped me out so many times that I am able to pay it back as soon as I get paid.
Jonathan M
— Christchurch —
They have awesome service and you can choose the amount that you would like to loan and if you are unsure you can always ask them for advice.
Michelle C
— Queenstown —
Super Loans Contact
Contact Number
E-Mail
Website
Physical Address
27A Webb Street, Mount Cook

Wellington

6011

New Zealand
Opening Hours
Monday

09:00 – 17:00

Tuesday

09:00 – 17:00

Wednesday

09:00 – 17:00

Thursday

09:00 – 17:00

Friday

09:00 – 17:00

Saturday

Closed –

Sunday

Closed –