Short-term loans up to $600
Low-interest starting from 30%
Repayment up to 42 days
In-page navigation
---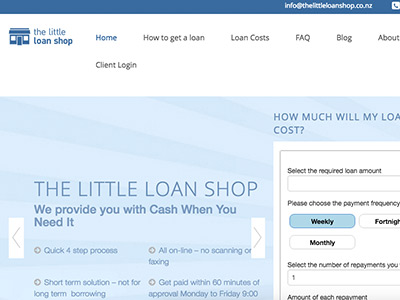 Author The Little Loan Shop. Screenshot of The Little Loan Shop website.


[Accessed April 17, 2018]
The Little Loan Shop - Stress-free loans
Our services have helped a number of households that either wanted to avoid the long lines of banks or rather the unpleasant paperwork that they have to fill.
The Little Loan Shop makes an online loan application seem like a breeze. The funny thing is that it is people who make it look like such a tough task while it is one of the easiest yet.
Why you should choose us?
We are an honest and trusted lender offering credit services that have never disappointed anybody. We will never share your information with anyone. Everything you do at The Little Loan Shop stays confidential.
We will always never encourage you to take more than you actually need. Regardless of how much you might qualify for, we will always advise you to take a short-term loan amount of exactly the money you need and nothing more.
Bad credit clients are welcome
No matter how much we might try to not put a dent on our credit profiles, some of us just can't get it right. As a result, we end up suffering from bad credit that often blocks us from receiving loans in the future.
Don't despair, The Little Loan Shop knows and has worked with people who have a bad credit history and we have helped them get the bad credit loan that they are looking for.
We will never turn anyone away unless their situation is one that we can't assist in. However, we try to help everyone who is in need of a loan.
The Little Loan Shop Services
The first step is applying for your loan application. All that is required from you is filling in the personal loan application form that takes less than 10 minutes to complete.
Plus, everything is done online so there is no paperwork that has to be submitted by you. As soon as you have sent through the application, we will attend to it as soon as it reaches on our consultant's computer. We will never delay your application once we have received it.
Confirmation and verification stage
There are certain documents that you have submitted to us before we can proceed with your loan. Failure to do this will delay the outcome of your credit application and to a certain extent, we may even cancel your request.
It is very important that you give us the papers that we are looking for so we can speed up your instant cash loan application. These documents vary from customer to customer, but are normally your ID, proof of residence as well as your bank statement.
The money will be deposited in your bank account
After we have received all the documents that we have requested and we are happy with them, the client will have to electronically sign for the loan agreement. The money will then be making its way to the customer's nominated bank account.
Depending on the time the short term loan was approved and the bank the client uses, the money may take several hours or one business day to reflect on the client's bank account.
The Little Loan Shop – Short-term loan
Loan Type

Short-term loans

Interest Rate

30 – 250% p/a

Loan Amount

up to $600

Repayment

7 days to 42 days
Benefits of The Little Loan Shop
Pay Day Loans
Bad Credit Loans
FAST CASH Loans
PAYDAY Advances
SHORT-TERM Loans
Short-term loan calculator
The Little Loan Shop - Quality short-term loans
The Little Loan Shop will make direct deposits on the date agreed by the customer and the credit provider.
This is better and convenient for all parties involved. If we find that there is no money on the date agreed upon, the customer will be liable for dishonesty fees. It is important that clients choose a date that he is certain that the money will be available for collection in order for the customer to avoid paying penalties.
Furthermore, having a number of credit penalties is bad for your record. The last thing you want to do is make yourself look unreliable and full of excuses while you have a loan. If anything as a customer, you should strive to always pay your repayments timeously.
How long is the period term for the loan?
The credit plans are for a minimum period of 1 week and a maximum period of 6 weeks. If you can pay your loan earlier than the expiry date of your credit, feel free. You will not be charged any fees. If you are looking for a fast loan period that is slightly longer, apply for a long-term credit plan as The Little Loan Shop is strictly for a short-term basis.
How much can I borrow?
Clients can borrow a total amount of $600. If you don't need the entire $600, please don't apply for it all. Only borrow the money that you need. After all, you need to be able to manage your loan and not feel overwhelmed by the amount you have to pay.
Can I top up my loan?
As much as we have had eligible customers who can afford to have two short-term loans at once, we prefer our clients paying off the first credit before requesting another one. This way, the client won't have too much on their plate.
Can I cancel my loan?
If you feel for any reason that you need to revoke your credit plan, you need to do so within 7 working days. You may be charged for certain expenses that were already paid out with regards to your payday loan.
Customer Reviews & Testimonials
"
You can select the amount that you would like to loan and you can even choose whether you would like to pay it weekly or monthly.
Courtney L
— Wellington —
They have the best work ethic and when I needed assistance they helped I right away and I couldn't have been happier to choose them.
Carol B
— Auckland —
They are a company that takes your interest into account and it makes me happy to be with them because they care.
John E
— Queenstown —
The Little Loan Shop Contact
Contact Number
E-Mail
Website
Physical Address
52C Mokoia Rd

Birkenhead

Auckland Region

0626

New Zealand
---
Postal Address
PO Box 34 673, Birkenhead, 0746, New Zealand
Opening Hours
Monday

09:00 – 16:30

Tuesday

09:00 – 16:30

Wednesday

09:00 – 16:30

Thursday

09:00 – 16:30

Friday

09:00 – 16:00

Saturday

Closed –

Sunday

Closed –