Short-term loans up to $1,000
Low-interest up to 365%
Repayment up to 8 weeks
In-page navigation
---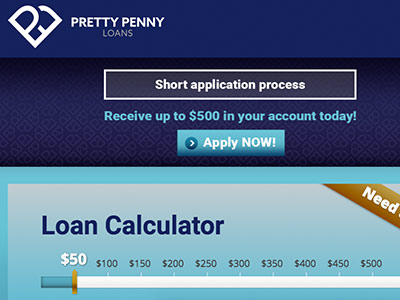 Author Pretty Penny Loans. Screenshot of Pretty Penny Loans website.


[Accessed April 17, 2018]
Pretty Penny Loans - Affordable short-term loans
At Pretty Penny Loans, we don't believe in perfection. As much as we may all strive to have a clean sheet when it comes to debts and spending, we know it is not always possible.
So much so that some people may end up in the wrong side of financial law and tamper their credit rating. Nonetheless, after all, that is said and done, we still believe people with bad credit or anybody for that matter, deserves an equal opportunity to get a bad credit loan as everybody else.
Loans according to your affordability
We don't pick our clients according to their credit history, we open our doors to everyone who wants financial assistance. If we do not approve your online loan application, we will always give you valid explanations and advice on how you can improve your chances the next time you intend on applying for our credit services. This way, the client wins either way.
We only ask you what is necessary
Some credit providers have a tendency of prolonging the short-term loan application process by asking ridiculous questions that serve no purpose to the credit stages. Here at Pretty Penny Loans, we only get to the nitty-gritty and do away with what is not beneficial for your credit process.
Everything you tell us is strictly confidential. We know how difficult it is for clients to open up and give us their personal information.
Therefore, we would never use it for the wrong reasons. Customers can rest assured that their information and personal details are safe with us.
Pretty Penny Loans Services
The first step that clients are required to do is fill in the online loan application. We usually ask basic questions on the application and the questions are easy to follow through. We just want to get to know the client on a more personal level.
Customers can rest assured that when they apply for one of our short-term loans all the information and personal details they give us will be protected and not shared by anyone.
We will also request the customer's bank statement. We want to see how you have been handling and how you continue handling your finances.
Pretty Penny verification and approval
The client's bank statement is not the only document we require. We may require other relevant paperwork that is necessary for the approval of your payday or blacklisted loan.
The reason we require so many papers is so that we can confirm if we are indeed dealing with the right person. Identity fraud is on the rise and there is nothing wrong with being a little safer with your money and your information.
The money will be deposited in your bank account
If we are happy with all the information given to us, we will approve your quick cash loan and all you have to do is read the terms and conditions of the contract agreement.
If you have any queries about what is stipulated in the contract, feel free to ask us before you electronically approve the loan agreement. Otherwise, it is everything is clear, the money will be deposited in your nominated account for your disposal.
Pretty Penny Loans – Short-term loan
Loan Type

Short-term loans

Interest Rate

365%

Loan Amount

up to $1,000

Repayment

7 days to 8 weeks
Benefits of Pretty Penny Loans
Bad Credit Loans
UNSECURED Loans
PAYDAY Advance
Quick Loans & Fast Cash Loans
SHORT-TERM Loans
Same Day Loans
Emergency Cash Loans
Short-term loan calculator
Pretty Penny Loans - A responsible lender
If you don't pay your short term loan on time and you continue to skip your payments, you will be liable for penalties.
Although these penalties are usually low and easy to pay, your credit rating will start to deteriorate. A client might find that his loan application may be rejected next time because of how he used to pay in the past. Therefore, it is important that you stick to your financial obligations if you want to be considered for a loan for.
Can I renew or refinance a Pretty Penny loan?
A Pretty Penny instant cash loan can't be renewed or refinanced. What we can do is to assist you to alter your payments if you see that you won't be able to meet your financial payments. There is nothing wrong with changing your payment plan.
It is actually a better option than waiting to pay a penalty for not paying your monthly loan. Furthermore, we can also help you postpone your payment to another date that is preferred by you and that you are sure of that you will have the funds by then. The last thing you need is to have insufficient funds in your bank account on the day we are due to collect the money.
Pretty Penny takes responsible lending seriously
In the spirit of compassion and wanting to help every client that applies for a loan, we can't assist everyone. Some clients usually apply for one of our personal loans to pay for another set of debts that they have. Unfortunately, you can't pay a loan with a loan and we don't encourage such behaviour at Pretty Penny.
As such, customers need to be in a good financial state before they apply for our payday loan services. Their credit profile doesn't have to be perfect because we know nobody is, it just has to be practical.
We don't want clients putting a strain on their budget with things that were not important or could have waited until the next payday. Always put what is important first as well as your family and their necessities.
Customer Reviews & Testimonials
"
They are perfect if you are looking to get quick cash and I know this I did the application and within the same day I got my money and I couldn't have been happier.
Robert S
— Auckland —
We went into the office after my computer decided to have a mess up and once we had sorted all of the information out my loan was approved they have great service.
David T
— Wellington —
Got my loan and it couldn't have been placed in my account any faster.
Kathy C
— Auckland —
Pretty Penny Loans Contact
Contact Number
E-Mail
Website
Physical Address
23/150 Cavendish Rd

Casebrook

Christchurch

8051

New Zealand
---
Postal Address
PO Box 11360, Palm Beach, 3151, New Zealand