Short-term loans up to $5,000
Low-interest up to 29.95%
Repayment up to 24 months
In-page navigation
---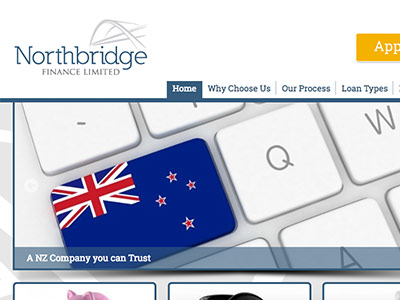 Author Northbridge Finance . Screenshot of Northbridge Finance website.


[Accessed April 17, 2018]
Northbridge Finance - A professional loan service
When they said "dynamite comes in small packages", they were definitely talking about Northbridge Finance. As small as we might be, our quick loans have been of great assistance to a number of New Zealand citizens.
What we aim to deliver is a service that is not delivered by other financial providers. Speedy service, professionalism and a humble spirit are some of the characteristics that we have like a team of experts who always put customers first. These are some of the reasons why we come highly recommended.
Loan decisions are made quicker
Time is of the essence when it comes to the online loan application process. That said, we will never take a significant amount of time to get back on a decision.
In fact, a client will know in a few minutes if their credit application has been approved or not. The last thing we want is to make our customers wait for a decision we can take in a matter of minutes.
Applying at a location of your convenience
Our offices are not the only place that you can apply for a short-term loan. Clients can apply to their workplace or even at home. We have made the process online so everything you need is available for you at the click of a button.
We are a registered financial services provider
Nobody wants to work with a company that is not authorized or let alone reputable. With Northbridge Finance, there is nothing to worry about because we are registered.
Northbridge Finance Services
The first step is applying for credit. Clients are normally familiar with this stage, we will need their information so we can add their details, to the database if they are using our services for the first time.
Alternatively, if they have taken a personal loan with us in the past, their information will be in the system. However, just because their previous loan application was successful in the past doesn't automatically mean this case will be likewise. A protocol needs to be observed and all the necessary steps need to be followed.
Documents review and approval
In order for us to provide you with one of our short-term loans, there are certain documents we need to see from the client's side.
These include identity documents as well as bank statements. Furthermore, these documents need to correspond with the information that was stipulated on the loan application.
If there are minor discrepancies found, we will contact you to alter the changes. However, if there are changes that look too big to fix, we will have to stop further your application.
It is best to ensure that everything you give is accurate and legit to fast-track your loan application.
The money is available in your bank account
After we are happy with every document submitted, and all parties signed the on the agreement, the personal or payday loan will then be making its way into your nominated bank account. Depending on the time the loan was approved, the money may take a few hours or one business day to reflect on your bank account.
Northbridge Finance – Short-term loan
Loan Type

Short-term loans

Interest Rate

29.95%

Loan Amount

up to $5,000

Repayment

6 months to 24 months
Benefits of Northbridge Finance
PERSONAL Loans
CAR Loans
DEBT CONSOLIDATION
Short-term loan calculator
Northbridge Finance -Quick and affordable loans
Northbridge Finance charges $50 for paying your loan earlier than the scheduled date. This is not a penalty fee but rather an administration fee.
If you are not looking forward to paying this amount, you can alternatively wait for the scheduled date to pay your loan. We welcome, either option that works for the client.
How much can I borrow?
Our short term loans range between $1000, $2000 and $3000. However, these loan amounts will depend on the credit profile of a client and his affordability rank. It might be a case that a client doesn't have a bad credit record, but can't afford a high amount on a loan and will have to settle for a lower amount. We always advise our customers to only borrow the amount they need and they are going to use, nothing more.
How long does the loan process take?
We usually aim to do everything related to our online loans in one business day. However, what guides us is when we receive the documents that we request from our customers. The longer they take, the longer the process will delay.
Do I have to be employed to get a loan?
Yes, that is the only way you will be able to pay off the Northbridge Finance loan. We also welcome beneficiaries that must have some type of employment and not rely only on the income they receive in benefits. On average, a client must earn at least $400 on a weekly basis in order to be considered for an instant loan with Northbridge Finance.
Can I make a complaint?
As much as we try our best to ensure that everything is going well and according to plan, we know, we won't always get it right. As such, we will always have a room open for clients to come and discuss any problems they encountered when doing business with us.
We are always a step ahead and ensuring that their complaints are not only heard but attended to. There are steps that need to be followed when undergoing a complaint process and it can take a few weeks to be resolved.
Customer Reviews & Testimonials
"
They have helped me over the years with the small loans that I have needed to buy stock for my company and they have always been there for me and I will never go anywhere else.
Lee W
— Masterton —
You can use the calculator to determine how much you would like to take out or how much you would like to pay back so you know what your payments will be for the month.
Cara S
— Wellington —
If you need a company that cares for you let me tell you about the story when I was in a bad way they helped me get the loan that I needed to pay off my debt I would have never been able to keep ...
Jackie J
— Auckland —
Northbridge Finance Contact
Contact Number
E-Mail
Website
Physical Address
9/6 Cone Street

Rangiora

Waimakariri Region

7440

New Zealand
Opening Hours
Monday

09:00 – 17:00

Tuesday

09:00 – 17:00

Wednesday

09:00 – 17:00

Thursday

09:00 – 17:00

Friday

09:00 – 17:00

Saturday

Closed –

Sunday

Closed –