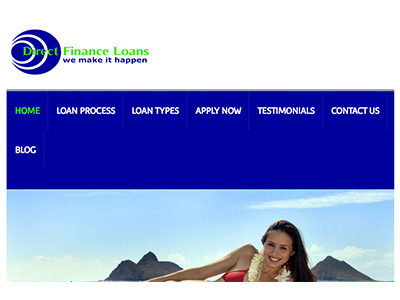 Author Direct Finance Loans. Screenshot of Direct Finance Loans website.


[Accessed April 17, 2018]
Direct Finance loans - We have competitive interest rates
Life has a tendency of throwing us certain curve balls when you least expect it. These problems usually require money and sometimes you just don't have enough of it or any at all.
The next solution would be getting a loan and that is where Direct Finance Loans comes in. We offer short-term loans with the lowest interest rates. By doing this, we want everybody to be able to afford our credit services.
Top of the range workforce
We wouldn't be able to deliver such a great service if it weren't of our consultants. Not only are they trained and skilled to do the job, they always go out of their way to ensure that our clients are treated with humility and respect.
We want to create a relationship that makes customers find it easy to approach us the next time they are in a financial predicament. Our agents don't even ask you why you need a fast cash loan as we know that life tends to get a bit hectic now and again and everybody needs a little help.
A loan for any rainy day
Clients are welcome to apply for a loan if they want to take care of their medical bills or just go and unwind on holiday.
We are more concerned about our clients, ensuring that everything is taken care of on their side than asking them what are they going to do with the money. We believe we are working with mature people who wouldn't misuse the money they receive.
Direct Finance Loans Services
In order for a client to be considered for our credit services, he needs to apply online. The application is easy to understand and doesn't take even 10 minutes to complete.
All that is required is for the customer to be as honest as he can while completing the personal loan application.
After all, seeing that you are just completing personal details about yourself that you already know, it won't be difficult to finish the application.
What information do you ask?
As we have mentioned that we want to create a relationship with our customers, this is one way of going about it. Once we know who our clients are, it will be easier to study how they cooperate.
We usually ask for your credentials such as your identity, where we can contact you, the amount you would like to borrow and how you intend on paying it back and your place of residence. Furthermore, we will verify this information when you submit relevant documentation.
When will I receive the money?
The short-term loan will be deposited into your bank account as soon as the client has electronically signed his contract and has read the terms and conditions.
This is usually after we have received the customer's documents and we are happy with everything stipulated therein. It may take a few hours or one business day for the money to reflect on the nominated bank account.
Direct Finance Loans – Short-term loan
Loan Type

Short-term loans
Benefits of Direct Finance Loans
PERSONAL Loans
Bad Credit Loans
Bond Loans
Emergency Cash Loans
FAST CASH Loans
Short term loans
UNSECURED Personal Loans
Short-term loan calculator
Direct Finance Loans - Get your free consultation
Our consultation is available for free. This speaks to say, clients can take the opportunity of contacting Direct Finance Loans and request a consultation at no extra charge.
Customers can make use of this opportunity and ask all the questions they wanted to ask. They can also seek clarity on issues they are not certain of regarding our loan services.
Since we have made this consultation call available for everyone, we have been getting a number of calls from happy clients who are happy we made such an innovative move.
Can I cancel my loan application?
Absolutely. If by any chance, you have changed your mind about getting an online cash loan with us, you have a right to cancel it. We will still have your information on the database the next time you decide to apply again. Furthermore, cancelling a loan doesn't put you in a bad position with us.
We understand that sometimes there is a need to cancel a loan after things have worked out for you. We don't want our clients taking up a loan they don't need anymore because they are scared to cancel their existing credit plan.
What are the requirements needed to get a Direct Finance Loan?
In order to be considered for a short term loan, clients have to be 18 years old before they can apply. They have to ensure that they are employed and earn a frequent salary. They also have to ensure that they have employed for a period of three months or more.
They also have to certify that they have an active banking account and that, that is where their salary reflects in at the end of the month or week depending on the intervals they get paid in. Lastly, the client has to be a New Zealand citizen or should have permanent occupancy in New Zealand.
How much can I borrow?
Clients can take out a minimum payday loan of of $300 and a maximum of $5000. Customers should always be financially disciplined and responsible borrowers by only borrowing what they need. One should never borrow more than what is necessary.
Customer Reviews & Testimonials
"
If you are ever in trouble and need a loan super fast then they are the company to phone or email I recommend them.
Marin C
— Levin —
If you are looking for a company that cares then you need to stop here they have helped me in more ways than just getting a loan my stress has gone down.
Steven M
— Napier —
If you need the advice then this is the company for you they care about you and that is why we have chosen to stay with them.
August G
— Wellington —
Direct Finance Loans Contact
Contact Number
E-Mail
Website