Short-term loans up to $3,500
Low-interest up to 277%
Repayment up to 45 days
In-page navigation
---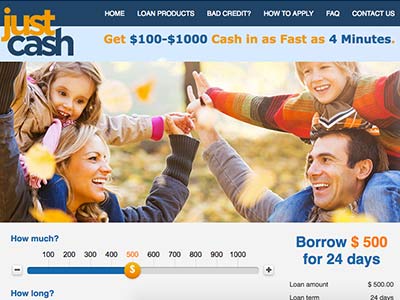 Author Just Cash. Screenshot of Just Cash website.


[Accessed April 17, 2018]
Just Cash - Superior loan solutions
Since the year 2005, Just Cash has been a part of a group that delivers customer service and loan products in the financial industry.
We currently operate out of 23 countries globally and one day hopes to be the leader in payday microloans around the globe. Our passion for innovation and technology shows in all that we offer through our online and mobile platforms.
Confidential loan applications
Speaking of platforms, they are secure and all your information is confidential as we never share it with any other parties.
No matter the loan type, we aim to remain completely transparent in our interactions with clients. Just Cash is the answer when you're in need of a fast, simple and mobile banking solution that offers the ultimate convenience and service.
Competitive interest rates
We offer quick cash loans that will suit your lifestyle and wallet with very competitive interest rates.
Another important reason why our solutions are the best available in the market is the fact that all our products are designed to meet whatever financial need you may have when those unexpected expenses creep up.
The customer experience is at the forefront of our focus and we are constantly looking for new ways to grow our client base.
We understand that flexibility is important and that suiting the lifestyle of the borrower is pivotal to the application process. No challenge is too big or too small, but where short-term loans are required, Just Cash has you covered.
Just Cash Services
Just Cash offers all our its clients fast instant loans. If you're experiencing a financial emergency and need money in a hurry, an instant loan will solve those problems. We can offer you a microloan of up to $400 when you first apply for a loan with us.
If you've done this before, then the chances are you'll be welcomed with an increase in the borrowing amount. Deciding to apply for a microloan isn't easy, but it can be if it's just an emergency that you need to resolve to keep you in the clear for a few days until your loan is repaid.
Microloans
What our short-term loans offer consumers, is quite simply a straightforward transaction. It's a quick access to a small amount for a few pertinent details in exchange. The Ferratum group that Just Cash belongs to have pioneered the mobile microloan.
Imagine if you could apply for loans through the use of your smart device? Well, you certainly can! We continue to develop and enhance our digital format applications. Whether web-based or our mobile devices, we offer products and services through both.
Instant loans are therefore available to any consumer that meets the legal criteria or age and citizenship in New Zealand.
Your money is received in just minutes!
It all sounds good so far, but how quickly do I get my money? That's the reason or the personal loan in the first place.
Well, considering that this is the function of the loan, we have taken all kinds of angles to avoid tedious queues, endless paperwork and unnecessary time that you may have originally spent in a traditional institution. With Just Cash's instant loans, you can expect the funds in your account in minutes after loan approval!
Just Cash – Short-term loan
Loan Type

Short-term loans

Interest Rate

277%

Loan Amount

up to $3,500

Repayment

7 days to 45 days
Short-term loan calculator
Just Cash - when you need cash instantly!
With that said, there are a few things to consider. Short-term loans, unfortunately, come with a high level of risk associated with them. For the obvious reason, that it's the easiest loan to obtain.
Why is it so easy? Well, there is no need to perform a credit score check, which means that those who are already struggling financially are still eligible to apply. This is excellent news for the clients who have a bad credit record since they now have a way to get their hands on the cash they need anytime that they need it. This can become a problem, however, when it comes the time that they need to repay the loan and can't afford to do so.
Spend your money as you so wish
These payday loans are secured, which means the lender will set up a direct debit on your account and when the repayment is due, the total amount will be deducted from your account in one simple payment.
The security is your salary, and if for any reason the payment is bounced and does not clear, you will be liable for and charged a penalty fee. The debit order simply rolls over until the funds are paid.
Repaying a loan
If it's already a financial struggle to come out every with making ends meet, then an instant loan probably isn't the greatest idea. You will be required to repay the entire amount in full as well as interest, so if you didn't have the money then, how would you pay it all the following month in one go? You might need a loan product that calls for a few smaller instalments over a longer period.
Let your cash loan work for you
Simply by settling your instant loan on time, you straight away minimize the risk associated with your online loan application. This gives you an improved credit score and allows you to borrow more with less risk in the near future.
Customer Reviews & Testimonials
"
If you need a loan up to $3500 dollars then they are perfect for you they will always make sure you get the cash you need.
James N
— Auckland —
They have helped me when I was in a bit of a jam and I needed to pay for something and they helped me get my loan and it almost paid off great service.
Becca S
— Wellington —
When I phoned in to get assistance they were very nice to me explaining the loan and they even made sure to check that I understood all the information.
Tyler L
— Queenstown —
Just Cash Contact
Contact Number
E-Mail
Website
Physical Address
132 Hurstmere Road

Takapuna

Auckland Region

0622

New Zealand
---
Postal Address
PO Box 33-1009, Takapuna, 0740, New Zealand