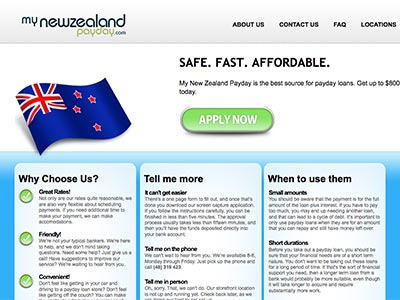 Author My New Zealand Payday. Screenshot of My New Zealand Payday website.


[Accessed April 17, 2018]
My New Zealand Payday - secure your financial future
My New Zealand Payday started as a Canadian company called My Canadian Payday.
We have a wide range of online loans available and you make a selection on which one suits your financial situation the best.
We have helped countless Kiwis to find the loan they need to secure their financial future.
Make your money work for you
Our service wants to help you manage your money better, by teaching you to make your money work, our short-term loans are easily accessible and usually paid out on the same day as the application
It's 100% free and online
The service is completely 100% free! You will not be charged for our service. We won't force you to sign up or become a member to access the site, our loans are straightforward and streamlined.
We make it as easy as possible for you to get the payday loan that you need in the shortest possible time.
If you have any questions about the loan process, please contact us and we will guide you.
My New Zealand Payday Services
My New Zealand Payday offers a number of different services to our clients these include personal loans, short-term loans and payday loans.
The amount you can qualify for will depend on your affordability assessment. My New Zealand Payday is a responsible lender and therefore we will only allow you to qualify for a loan amount that you can afford
Short term loans
A short-term loan allows you to borrow a smaller amount of money for a shorter period of time, these loans are popular when our clients have a cash emergency. These quick loans are very easy to obtain, but usually, need to be paid back in a shorter repayment time.
How to apply
Apply by simply visiting our website and filling out the online loan application form with the following details:
Your first name
Your surname
Your ID number
Your work telephone number
Your e-mail address
Loan amount
My New Zealand Payday – Short-term loan
Loan Type

Short-term loans
Benefits of My New Zealand Payday
PAYDAY Loans
Fast Loans
SHORT-TERM Loans
Short-term loan calculator
My New Zealand Payday - we have a wide variety of loans to choose from
At My New Zealand Payday, our loan terms are flexible, our loans are affordable short-term and we offer our clients one of the most competitive interest rates in the country.
You can qualify for $800
At My New Zealand Payday, you can easily apply for a short-term loan of up to $800, with returning clients we will let you borrow a larger amount.
My New Zealand Payday is a great choice for a lender if you are looking for a short-term loan that you can repay at flexible repayment terms.
Payday loans
Payday loans are one of the most popular instant cash loans that we offer. With a payday loan, you will get an advance on your salary and the next time you receive a salary the loan is paid in full.
Payday loans are conveniently used to cover cash emergencies or help you with your cash flow.
For many years, we have helped Kiwis with reliable personal loans. We are a reliable financial partner. We will show you the total cost of your loan as well as any fees or charges before you sign the loan contract. Give us a call today
Customer Reviews & Testimonials
"
If you need a loan and you need it on the double then you can choose them they will help you get the information that you need.
Jerry D
— Ashburton —
The application is super quick all you have to do is make sure that you check the instructions and you will get the answer you are looking for.
June L
— Christchurch —
They will always help you when you need them too.
Smith V
— Wellington —
My New Zealand Payday Contact
Contact Number
E-Mail
Website
Opening Hours
Monday

08:00 – 20:00

Tuesday

08:00 – 20:00

Wednesday

08:00 – 20:00

Thursday

08:00 – 20:00

Friday

08:00 – 20:00

Saturday

08:00 – 20:00

Sunday

08:00 – 20:00