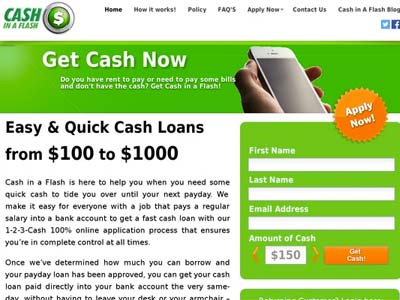 Author Cash in a Flash. Screenshot of Cash in a Flash website.


[Accessed April 17, 2018]
Cash in a Flash - Loans in under 30 minutes
At Cash in a Flash, getting a loan has never been so easy. With us, you can have your personal loan paid out into your bank account on the same day as you apply.
Cash emergencies can happen at any time. We understand that when you need money urgently you have no time to wait.
Over the years we have helped many clients in New Zealand to get a loan fast to enable them to cover their cash emergencies.
Getting a loan will only take 30 minutes
As a new customer at Cash in a Flash, you can apply for a short-term loan and get the money paid into your account within 30 minutes.
We have become a popular loan brand in New Zealand, our clients know we are transparent, fast and trustworthy.
You can become one of our many satisfied clients in New Zealand. Whatever you need a short-term loan for we are here to help you cover it quickly.
Do you need some help?
Our staff is highly trained and professional. If you need some guidance or have any questions a friendly service agent is ready to help you with whatever you need.
They will guide you through the application process, approval and payout. We strive to give you the highest quality customer service and keep you coming back.
Cash in a Flash Services
At Cash in a Flash, we care about our clients and we will take extra time to get to know you and your financial situation.
At Cash in a Flash, we believe in giving our clients a second chance and an equal opportunity to qualify for a short term loan. If you have bad credit or you have been blacklisted, we are here to help you take back control over your finances.
Short-term loans
With Cash in a Flash, you can qualify for a loan amount between $100 and $1000 with very competitive interest rates, making our loans affordable.
You can use your short-term loan to cover cash emergencies or help you manage your cash flow during the month.
Our online loan application is quick, private and stress-free. We offer the fastest short-term loans in New Zealand.
Payday loans
Our payday loans are flexible and applications can be done from the comfort of your home or office. Our loans are 100% online.
With a payday loan, we will give you an advance on your salary and the loan will be repaid on your next payday.
With shorter repayment term these loans carry very low interest rates, making it an affordable and convenient option for many clients in New Zealand.
Cash in a Flash – Short-term loan
Loan Type

Short-term loans
Benefits of Cash in a Flash
PAYDAY Loans
SHORT-TERM Loans
Online Loans
Cash Loans
Bad Credit Loans
Emergency Cash
Short-term loan calculator
Cash in a Flash – We have the fastest loan payouts in New Zealand
We offer our clients in New Zealand short-term loans between $100 and $1000
New clients are charged a $40 set-up fee while returning customers pay a lower fee. We pride ourself on our transparency and we will show you the fees involved with your loan upfront as well as the total cost of the loan.
Visit our user-friendly website
To apply for a loan simply visit our user-friendly website. We have simplified the loan process to save you time. The loan application will only take a couple of minutes to complete and you will know the outcome of your loan application instantly.
As soon as you have been approved for a loan the loan amount will be deposited into your bank account. Our instant cash loans are paid out usually within 30 minutes after you have been approved for a loan.
Determine the cost of your loan
You can find a handy loan calculator on our website. This loan calculator will help you determine if you can afford the loan. We will show you the application fees up front as well as the payment structure and total cost of your loan before you sign the loan agreement.
Another feature on our website is the pre-approval page where you can see if you qualify for a loan with us. If you are a returning client getting a loan is even easier, simply visit the loan application page tailor-made for you.
At Cash in a Flash, we supply clients with fast loans that are paid out within 30 minutes after being approved. If you need cash instantly simply visit our website and apply for a short-term loan.
Customer Reviews & Testimonials
"
The best part about them is that no matter whether you have a high credit score or low they are willing to still take a chance on you.
Charmaine B
— Auckland —
When I took my loan they took the time to help me understand as it was my first loan ever and that is why I am happy to say that I got great service.
Gareth J
— Queenstown —
I have already taken loans with them over the years and will not be going to anyone else as they have always been there to help me out.
Warren B
— Nelson —
Cash in a Flash Contact
Contact Number
E-Mail
Website
Physical Address
20 Northcroft Street

Takapuna

Auckland Region

0622

New Zealand
---
Postal Address
PO Box 33912, Takapuna, 0740, New Zealand