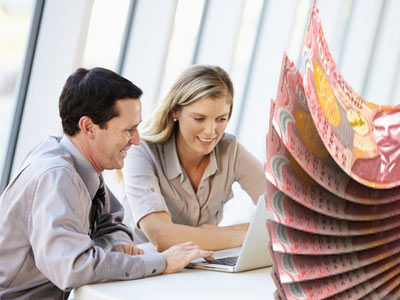 Author Cash4u. Screenshot of Cash4u website.


[Accessed April 17, 2018]
Cash4U - Short-term loan specialists
As much as clients are in need of short-term loans, nobody wants to deal with an inexperienced financial services provider.
However, at Cash4U, you can rest assured that you are dealing with people who know all there is to know in this trade. We have over 15 years of experience and each and every time we get a client who is seeking financial assistance, we see to it that they get the best service.
Professionalism is a priority
We want our clients to see the people at Cash4U as people they can count on during a difficult time. We never want them to feel as though they have nobody to turn to when they are looking for a little quick cash loan.
However, we are still professional, regardless of how friendly we might be. After all, we don't want our customers to be afraid of us but we do ensure that respect and commitment are a necessity and is clearly established in both parties.
Registered financial services provider
With so many scams happening of late, we don't blame certain customers from making sure if the credit provider they intend to do business with is a legit institution. At Cash4U, we don't feel offended when clients want to do our credentials of registration.
In fact, we applaud the ones that do because that shows us that there are some customers who really mean business out there. Nevertheless, Cash4U is a registered New Zealand financial services provider and is an affiliate of the Financial Services Complaints Ltd.
Cash4u Services
Clients need to complete the online application form which is available on our website. In this application, they need to tell a bit about themselves.
We ask for their personal details, salary information as well as employment. All this information that is shared with us is strictly for the purpose of the online loan application and nothing else. We will never use or share your information with someone else.
Can I apply for this loan for a longer period?
Cash4U is a short-term loan service provider. All the credit plans that we offer are available to clients who intend on paying back the loan after a short period of time.
If you are looking for something long-term, you have to look at other options. Also, clients need to ensure that they stick to the payment plans discussed and agreed upon before the loan was approved.
Late payments
If you don't pay your instant cash loan on the date you agreed on, you will be liable for dishonesty fees. If you continue to skip payments, you will ruin your credit rating.
It is best to stick to your end of the deal and ensure that your loan is paid on time and even before time if you can.
Clients who want to pay their credit plan earlier than the required date are more than welcome to do so at no extra cost.
We always encourage our customers to pay their payday loans sooner rather than later if it is possible.
Cash4u – Short-term loan
Loan Type

Short-term loans
Short-term loan calculator
Cash4U - Our commitment to responsible lending
We are committed to ensuring that our clients get the best instant cash loan service and timeously at that matter.
However, we are also dedicated to ensuring that they don't put a strain on their budget by applying for a loan they can't afford.
As much as they might be in need of a financial push, it wouldn't benefit them in any way if they can't afford to pay for it. Therefore, it is our mandate to ensure that the clients that apply for our short-term loan have enough money at the end of the month to pay for it.
How much can I borrow?
Clients can take out one of our short term loans of a minimum of $500 and a maximum of $1000.
How do I receive my money once the loan has been approved?
The money will be deposited into your bank account. Depending on the time the loan was approved, you may get your money on the same business day. If not, the next business day.
How do I repay my loan?
A direct debit process is usually preferred by both parties. The client will decide on a date that is convenient for him for us to collect the money. The customer needs to ensure that enough funds are in the bank account on the agreed date of collection. Should we find insufficient funds, you will be liable for penalty fees.
In essence, if you are uncertain about maintaining consistency as far as fulfilling your financial obligations, it is best to not apply for the loan in the first place. The last thing you need is to realize you have stained your credit rating over a loan you didn't necessarily need.
What are the criteria for the Cash4U loan?
In order to meet our personal loan requirements, the client needs to be 18 years old. The client also needs to be a New Zealand citizen or possess permanent residency. The customer needs to have an operating bank account where we will deposit the money. In addition to that, the customer needs to be employed and earn a salary on a frequent basis.
Customer Reviews & Testimonials
"
They will help you get a loan from $500 to $1000 they are always there and if you need advise they are always willing to give it.
Joe F
— Auckland —
They have taken away my stress and I am and will always be grateful to the help that I have received.
James C
— Wellington —
The application is simple and easy and that is why I have chosen them and I will not be going to anyone else ever again for another loan.
Leigh M
— Queenstown —
Cash4u Contact
Contact Number
E-Mail
Website
Physical Address
2/45 Courtenay Pl

Te Aro

Wellington Region

6011

New Zealand