Short-term loans up to $5,000
In-page navigation
---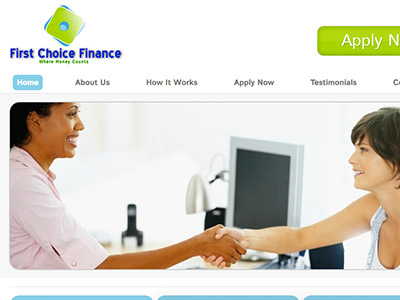 Author First Choice Finance. Screenshot of First Choice Finance website.


[Accessed April 17, 2018]
First Choice Finance - A leading finance provider
First Choice Finance has assisted a number of people with short-term loans.
It has never pleased us seeing people struggling with money before payday and we thought by opening this kind of service, we would change the pattern. After opening the shop, we have never looked back. To date, we have been one of the leading credit providers in New Zealand.
First Choice Finance privacy statement
The Privacy Statement is a practice that must be maintained by both parties of the client and credit provider. It basically stipulates that everything we do is confidential and will never be used for any other purpose other than that of your loan application.
Should you find that your information was misused for other functions, you have a right to lay a charge against us. However, we are almost certain it will not get to that stage because we respect the information of our clients and will never utilize it for different purposes.
Part and parcel of the First Choice Finance online loan application is that each and every customer has to accept the discretion agreement and disclaimer. Failure to do so will mean we will have to stop processing your loan application.
Short-term loan application
We must emphasize the fact that if you are looking for a constant credit application, you may have to apply for long-term personal loan plans as First Choice Finance is strictly for short-term plans. Furthermore, the interest rates are those of short-term plans and not long term.
First Choice Finance Services
Clients are required to fill in an online application form where they will be asked general questions about their home address, place of employment and salary details.
Customers always dread the online application part thinking they will be asked a great load of difficult questions but there is nothing to fear.
Everything you will be asked is done so we can get a better idea of the kind of person we are dealing with.
Submission of documentation for loan approval
After we have viewed your instant cash loan application, we will contact you and request that you submit certain documentation for our viewing.
Ultimately, the documents will vary from customer to customer. However, some of the basic documents that we require is your ID, proof of residence and your bank statement not older than 3 months.
Approval and payment of the loan
Once we checked everything and we are happy, we will approve your short-term loan and deposit the money into the client's bank account.
Depending on the type of bank that the customer uses and the time the loan was approved, it may take up to one business day for the money to reflect on the customer's bank account.
A settlement method that works for you
The customer decides on a loan payment option that is suitable for him and his budget. We don't bombard the client by choosing a plan on his behalf that might not be preferable to his monthly financial plan.
First Choice Finance – Short-term loan
Loan Type

Short-term loans

Loan Amount

up to $5,000
Benefits of First Choice Finance
Bad Credit Loans
Emergency Loans
PAYDAY Loans
SHORT-TERM Loans
UNSECURED Loans
Short-term loan calculator
First Choice Finance - We support responsible lending
Regardless of qualifying for a bigger amount, always borrow what you are going to use.
There is no reason to be in unnecessary debt you could have avoided simply by applying for a loan amount that is within your affordability scale. We will never encourage reckless spending.
We want our clients to be disciplined when it comes to how they spend their money to and how to maintain their quick cash loan.
We practice responsible lending
If we see that a client has quite a number of debts that he is already paying for and doesn't have any money in remainder to pay for an additional loan, we will not approve their loan application.
We will never give clients more than they can financially handle. However, if we see that regardless of the short-term loans that the customer has, he can still afford and maintain another one, we will have no problem approving such an application. Therefore, it depends on the individual and how their budget looks.
Do you have a complaint?
If we have mistreated you in any way, please don't hesitate to contact us. We are always striving to offer a great service to our customers but if we have little flaws you would like to share with us, please do so. We welcome constructive criticism diligently and we will see to it that we do right by our customers.
What are the criteria for a loan?
In order to meet the requirements of a short-term loan at First Choice Loan, the customer must be 18 years or older. The client must be employed and have a valid banking account. The client must be a New Zealand citizen or have permanent residency. If not all factors are met, the loan application cannot proceed as every requirement is of utmost significance.
Can I apply for another loan?
The customer has to ensure that the first payday loan has been settled before applying for a new one. The last thing we want is having our clients overwhelm their budgets with a lot of credit. After you have finished paying for the first loan, you can apply for the second one.
Customer Reviews & Testimonials
"
I would recommend their services to everyone.
Eli G
— Nelson —
Reasonable fees and easy application.
Asher M
— Masterton —
Friendly service, fast pay-outs. It is the best!
Julia B
— Timaru —
First Choice Finance Contact
Contact Number
E-Mail
Website