Short-term loans up to $5,000
Low-interest starting from 29.95%
Repayment up to 42 days
In-page navigation
---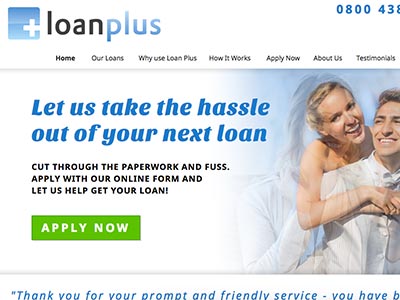 Author Loanplus. Screenshot of Loanplus website.


[Accessed April 17, 2018]
Loanplus - Affordable loan options
The year was 2011 when we decided it was time to break the financial ice and open our doors to society. Although there are a number of credit providers before us, we pride ourselves in being one of the few financial institutions that bring the lenders to the customers and not the other way around.
In most cases, it is the client who needs to find a lender that is affordable for his budget. However, at Loan Plus, we already have lenders waiting to assist you with credit be it a bad credit loan to a simple personal loan.
We have a number of brokers so it is impossible that we will not find a lender that meets your requirements.
Our loan rates are affordable
Due to the fact that we know not every New Zealand household is the same in a financial rank, we have made our short-term loans as affordable as possible.
We will never charge the community hefty amounts we know they won't be able to meet. Instead, we listen to what society wants and we try to meet their needs in the best way we know how.
Registered and New Zealand owned
With so many scams happening lately, it is not surprising why clients want some sense of security as far as the establishment and the legitimacy of a company is concerned.
Well, they can rest assured that Loan Plus is a registered and recognized financial services provider who can assist people to obtain online loans for a range of purposes. Every process, we do is strictly confidential and we will never share your information with anyone.
Loanplus Services
By completing the online loan application, clients will have the opportunity of telling us a bit about themselves.
They will include details such as their names, residential address, employment information as well as salary details. This is so we can get a clearer picture of the type of person that we are dealing us and also create a relationship with our client.
Reading your loan application
After submitting your loan application, we will assess it thoroughly. If there is any information that we will require, we will let you know.
Please understand that each and everything we do is part and parcel of ensuring that you are one step closer to getting your quick cash loan application approved.
Granting approval for your loan application
The next step is ensuring that the lenders have your application so that they can look into it and make a decision.
We have no right to make suggestions or give advice to lenders. The decision a broker takes is up to him, judging from his own assessments.
The money will be deposited in your bank account
Once the lender has assessed the short term loan application and is satisfied with all the details and information submitted, the money will then be making its way to your bank account.
Once the money has left the brokers, we have no control over how your banks operate. It may take a business day or two for the money to reflect in your nominal business bank account. It might be a shorter period.
Loanplus – Short-term loan
Loan Type

Short-term loans

Interest Rate

29.95 – 547.5% p/a

Loan Amount

up to $5,000

Repayment

7 days to 42 days
Benefits of Loanplus
PERSONAL Loans
CAR Loans
Consolidate Debt
Short-term loan calculator
Loanplus - quick short-term loans
Unlike some credit providers that charge you for paying your loan earlier than the scheduled date, we don't.
In fact, Loan Plus encourages clients to fulfil their financial obligations in time if they can. We didn't see the practicality of making our customers wait on a date while they have the funds right away to pay.
Therefore, we encourage our clients to pay before time if it is possible. This shows a great commitment on their side and we take note for future instant cash loan applications.
What if I can't make the payment?
If you can't pay your personal loan on time, you have to inform us in due course. By doing this, we will be able to make alterations on your direct debit. However, if you leave everything till the last minute, we will not be able to do much.
We will deem it as a missed payment and either way, you will be liable for penalties. Communication is very important especially when it has to do with a client skipping a payment. Clients need to inform us if they face any problems that will hinder them from maintaining their loan payment.
When will I know if my loan was approved?
After applying for your loan, we will see to it that you get your response by the end of the business. If you applied towards the end of the day, you will get an answer first thing the following day. We try to act as soon as we receive a loan application so that we don't have clients waiting on us to process their requests.
Adhering to the terms and conditions
By accepting the loan agreement, it means you are also accepting the terms and conditions that come with it. It is important that customers read the contract carefully before signing on the dotted line so that they may query if they have certain things they don't understand.
The money can't be deposited into your bank account if you haven't accepted the short-term loan agreement. Signing on the dotted line isn't enough sometimes, as a client, you also have to read your responsibility as a credit payer.
Customer Reviews & Testimonials
"
The reason I went with the company is that they make sure that the loan you have applied for is in your account with in the same day that has truly helped me out allot.
Christina M
— Auckland —
They let you loan small amounts to a large amount with them and when I needed the loan it was great to know that I was able to choose the amount that was right for me.
Annie L
— Auckland —
The service is excellent and that is why I will never be leaving the company.
Victor J
— Christchurch —
Loanplus Contact
Contact Number
E-Mail
Website
Physical Address
2/6 Cone St

Rangiora

Christchurch

7400

New Zealand
---
Postal Address
PO Box 509, Rangiora, 7440, New Zealand
Opening Hours
Monday

09:00 – 17:00

Tuesday

09:00 – 17:00

Wednesday

09:00 – 17:00

Thursday

09:00 – 17:00

Friday

09:00 – 17:00

Saturday

Closed –

Sunday

Closed –