Quick loans up to $3,500
Repayment up to 30 days
In-page navigation
---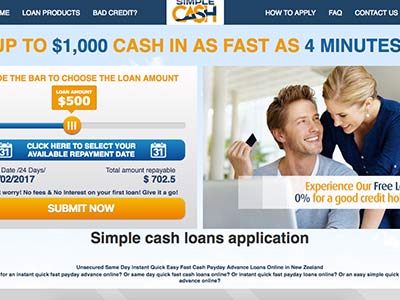 Author Simple Cash. Screenshot of Simple Cash website.


[Accessed April 17, 2018]
Simple Cash - Quick loan payouts
We believe that you don't need to wait in long queues at the bank in order to obtain a personal cash loan; we also don't believe that you need to pawn your things in order to get money and that it should not be a tiring experience.
With a Simply Cash payday advance, you are able to apply for a loan without stepping out of the office or even leave the comfort of your home.
We offer an online application where you can complete the information we need. Apply today so that you don't stress about the how or the when!
Easy quick cash loans
At times one can feel a bit intimidated when you want to borrow a small amount of cash, we go through a phase of being cash-strapped and an emergency pops out of nowhere.
Applying for a quick loan with Simply Cash could be easier than you think.
A payday loan can help you in many ways such as:
You can avoid dishonoured bank charges; a payday loan allows you to buy something on promotion which would otherwise cost a lot more, you could secure funds for an emergency such as a Doctor or Dentist and much more.
Simple Cash Services
You should know that we reserve the right to do a credit check as well making sure you work where you say you do. We also do our very best to make sure your online loan application is kept confidential at all times.
Simply Cash mainly looks at your affordability to see if you are able to make repayment, so if by chance you do have a not so good credit you dishonoured qualify for a payday loan.
Online applications
Once you have completed your online application and we have processed and approved it, we generally strive to process new applications within a period of 60 minutes. When or if you are approved, the fast loan will be deposited directly to your bank account either within 30 minutes after approval or worst case scenario overnight, but please note you will need to select the express payment option.
Choose your loan features
You choose your own loan amount as well as the period in which you would prefer to make the repayments; however you do need to be realistic in choosing the amount, so only borrow what you need.
Simply Cash has many years of experience and we have helped hundreds of Kiwis with short-term loans. We are transparent so with you can be sure that you won't find any hidden costs and since we are a responsible lender we won't lend you more than you can afford.
Simple Cash – Quick cash loan
Loan Type

Quick loans

Loan Amount

up to $3,500

Repayment

7 days to 30 days
Benefits of Simple Cash
Quick Cash Loans
Instant Loans
UNSECURED loans
PERSONAL loans
SHORT-TERM Loans
PAYDAY Loans
Quick cash loan calculator
Simple Cash - quick cash loan solutions
Payday loans are unsecured quick loans which have been designed for bridging gaps until you receive your salary or wages.
They are generally used for a few weeks or days of the month, we all know what the last week of the month is like before payday and then something unexpected happens, this is where a personal loan comes in handy offering that financial support when you need it.
Bad credit loan
If you're at wits end and tried to borrow money from everyone you can think of to no avail, then a bad credit loan could be your answer, although it does depend on the amount you need since this sort of loan only offer a couple of hundred dollars at a time to assist you until payday.
Home Cash Advance
Perhaps a small cash advance could be of assistance if your next payday is just around the corner and you need a couple of hundred dollars to see you through, maybe for an emergency or dental costs
When you have absolutely no one to turn to for assistance and your cash is low, we understand that things are stressful when you're facing a financial crisis. We also understand that sometimes a budget just doesn't work out the way you planned, since most of us don't or can't budget for the unforeseen or set up an emergency fund. Contact Simply Cash today if you need a little help till payday.
If you meet the below criteria, you could possibly qualify for a cash advance:
You will need to be over the age or older, you will also need to be a New Zealand citizen or a resident presently living in New Zealand, be employed in a permanent position and you should be with your current employer for at least a period of 3 months. If you are applying for our Need a Lift & Going Places Loan, you will need to earn at least $350 per week after deductions. Should you be interested in our Moving Forward Loan, your income should at least be $800 weekly after deductions. Please note that this option is only available to eligible clients that return.
Your bank needs to be in New Zealand and you will be required to provide 3 months bank statements.
Customer Reviews & Testimonials
"
Simple Cash is a financial service provider that clearly doesn't waste time. Within hours, you will know whether your loan application was approved or not.
Thomas H
— Westport —
Applying for the Simple Cash loan was not only convenient, it was also worth my time.
Oliver Q
— Cromwell —
I would have never been able to improve my financial lifestyle if it weren't of the loan I got with Simple Cash.
Daisy W
— Geraldine —
Simple Cash Contact
Contact Number
E-Mail
Website
Physical Address
132 Hurstmere Rd

Takapuna

Auckland Region

0622

New Zealand
---
Postal Address
PO Box 33-1009, Takapuna, 0740, New Zealand
Opening Hours
Monday

09:00 – 17:00

Tuesday

09:00 – 17:00

Wednesday

09:00 – 17:00

Thursday

09:00 – 17:00

Friday

09:00 – 17:00

Saturday

Closed –

Sunday

Closed –