Quick loans up to $20,000
Low-interest starting from 13.95%
In-page navigation
---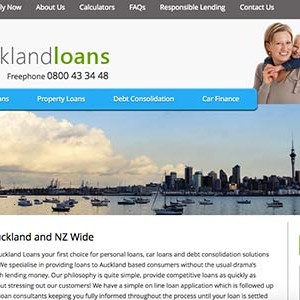 Author Auckland Loans. Screenshot of Auckland Loans website.


[Accessed July 3, 2019]
Auckland Loans - A trusted credit provider
The last thing you need when you applying for a quick loan is to feel like you are in a courtroom with a judge asking you a million questions at the same time. At Auckland Loans, we are familiar with that kind of process and we don't exactly approve of it. Instead, we do things a little bit different.
We don't ask our customers a number of unnecessary questions.
We ask what is relevant to their loan application and we fast-track the process.
We know that most of the clients that apply for credit usually want to use the money right away and so, we get to work as soon as we receive their online loan application.
Exceptional and dedicated workforce
We wouldn't be able to achieve such a highly recommended service if we didn't have such a strong team of experts.
Our agents are the changing force in our organization and there is not a day that goes by that we don't credit them for always ensuring that a customer is treated with respect and given the right resources.
Our clients come first
The last thing we want to see is an unhappy customer. We know we are not perfect and we may do blunders along the way, but our consultants are always available to ensure that a client has everything he needs in terms of information and other personal loan related resources.
In essence, we want to always keep our customers happy because they are the reason why our ship is still running.
Auckland Loans Services
If you are looking for a fast cash loan, all you have to do is go to our website and apply. The loan application is easy to follow and can be completed by everyone. We have accommodated people of all ages and made everything easy, simple and not too tricky.
The questions we generally ask vary from your personal details, employment information and salary details.
Everything is strictly confidential and won't be shared by anyone. To calm your nerves down, the only person who will know where your stay and how much you earn is the agent who is going to dealing with your loan application.
Choose a loan term you will be able to commit to
Although our long and short-term loan terms differ between 6 to 60 months, we have had previous cases where clients fail to meet their financial obligations regardless of the loan terms being chosen by them.
It is important that a customer chooses a period where he is absolutely certain he will fulfil his term. The last thing we want to see is a client being regarded a bad credit payer on the basis that he failed to pay his credit plan on time.
The interest rate varies from client to client
There are a number of factors we take into consideration before allocating interest to a customer.
It is important that clients understand that all the instant cash loan rates are calculated according to an individual's credit history and affordability. In short, your interest will not be the same as that of your friend.
Auckland Loans – Quick cash loan
Loan Type

Quick loans

Interest Rate

13.95 – 29.95% p/a

Loan Amount

up to $20,000
Benefits of Auckland Loans
Quick cash loan calculator
Auckland Loans - We also assist clients with bad credit
What security do you require?
The security we require will depend on the amount of money you have borrowed. Usually, if you have loaned a low amount, we don't require anything from your side to use as collateral.
However, if you have borrowed a large amount of money, this is where security comes in. the collateral taken is equivalent to the sum of the money borrowed.
In the event that you can't pay your quick loan, we will compensate your credit plan with the surety you have given to us. What we request is either a house or car.
We will not just accept the assets you are giving us, we still have to check if they are within the standard that we look for and if they cost as much as you say they do.
This doesn't mean we don't trust our clients, we are simply following our designed rules and procedures.
What if I have a poor credit rating or defaults?
We always assess the extent of poor credit a client says they have. We have discovered that it is usually not bad as they say it is.
However, in the event that your poor credit rating is too low, we may not be able to help you. We always encourage clients to apply regardless of their poor credit history and leave the decision making to us.
Who will see my application?
The person who is going to see your payday loan application is the consultant who is going to receive your online application.
We would never share your information with anyone else. We have a strict policy of Privacy at Auckland Loans and all our agents have signed this agreement when they were employed by us. Therefore, customers can rest assured their information is safe with us.
How do I send my documents to you?
Customers can decide to either fax or email us their documents and we will fast track their online loan application and revert back to them as soon as possible.
If you delay on submitting your documents, we will also take slightly longer to give you an answer on whether your loan application was approved or not.
Customer Reviews & Testimonials
"
The Auckland Loans website will give you an overview of all their loan offers so that you don't find yourself in a tricky financial situation.
Amelia J
— Wellington —
Thanks to Auckland Loans, I got my loan approved on the very same day I made the application.
Matthew A
— Russell —
There are always benefits for customers that have a credit plan with Auckland Loans.
Adam B
— Queenstown —
Auckland Loans Contact
Contact Number
E-Mail
Website
Physical Address
Level 4, 238 Broadway

Newmarket

Auckland

1023

New Zealand
---
Postal Address
P O Box 28 231 Remuera, Auckland, 1541, New Zealand
Opening Hours
Monday

08:00 – 17:00

Tuesday

08:00 – 17:00

Wednesday

08:00 – 17:00

Thursday

08:00 – 17:00

Friday

08:00 – 17:00

Saturday

– Closed

Sunday

– Closed