Quick loans up to $30,000
Low-interest starting from 15.95%
Repayment up to 5 years
In-page navigation
---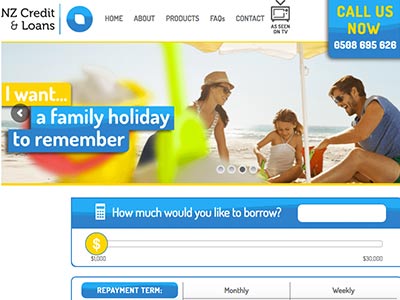 Author NZ Credit & Loans. Screenshot of NZ Credit & Loans website.


[Accessed April 17, 2018]
NZ Credit and Loans - A reliable lender
Taking nothing away from other successful credit facilities, NZ Credit and Loans want a simplified loan application.
While other financial service providers request a heap of paperwork that will take a few days to process, we normally request the important documents and take just about an hour to let you know if your loan application was approved or not.
High approval rate
While some people have made it look like this is impossible, we are approving loans every day in just an hour and all it takes it having an excellent workforce.
Furthermore, we know that the clients that apply for credit usually want to use the money right away and so, we will never delay the feedback process. One business day is all it takes for us to do the hard work.
All it takes is one loan application
We don't require our customers to make numerous credit applications to us. The first one they do is sufficient. We will take care of the rest. The loan application needs to be completed honestly and accurately. If you lie to us and think we will never know, you don't know what NZ Credit and Loans are capable of.
We verify every document that comes our way. Therefore, you need to ensure that you supply us with an honest and completed loan application because lying or submitting fraudulent documents will not only get you a rejected email and response, we will also take note of what you did and you will probably never get a quick loan at NZ Credit and Loans.
NZ Credit & Loans Services
All it takes is an online, telephonic or physical application. All three methods are accepted. are greater than the other.
As soon as an application gets to us, we get to work. We know that clients often need one of our quick loans immediately so we will not delay them.
After all, we promised a fast and reliable service and that is what we aim to give our customers. The only time we would delay giving you feedback is if you take long to send us your documents.
NZ Credit and Loans responsible lending
The short-term loans that we give our clients are calculated and well thought out. We will never give our customers more than they can handle in terms of credit finance.
In everything we do, we always put the financial needs of our clients first. It is, for this reason, we require your financial records prior to approving your loan. We need to determine how much you can afford and what your credit limits are.
The money will be available as soon as you submit your documents
We know that time is of the essence so we will never delay the process. As soon as we have been furnished with everything that we have requested and we are happy, we will deposit the personal loan into your nominated bank account.
After that process has been dealt with, the money will be at your disposal and can be used by the client for literally anything.
NZ Credit & Loans – Quick cash loan
Loan Type

Quick loans

Interest Rate

15.95 – 22.8% p/a

Loan Amount

up to $30,000

Repayment

36 months to 5 years
Benefits of NZ Credit & Loans
PERSONAL Loans
DEBT CONSOLIDATION
Wedding Loans
CAR Loans
HOME Reno's
Holiday Loans
Property Finance
Quick cash loan calculator
NZ Credit and Loans - A responsible lender
The amount of credit a client is liable for will depend on which credit type he takes.
However, with the secured loan, a customer can get a maximum amount of $1 million dollars.
We always encourage our clients to never borrow more than they need. There is no reason for repaying a fast cash loan that wasn't really necessary at the time.
What will be my weekly or monthly repayments?
The most accurate way of finding out how much you will be paying on your credit plan is to use the loan calculator. The calculator will give you a clearer picture of how much you need to pay each time your direct debit is due.
When will I get the funds?
One of the reasons why we offer a fast and professional service is because we know that customers often want to use the loan immediately after the money has reflected in their bank account.
Having said that, the money will be available within a few hours or the next business day if the loan was approved at a later stage. However, we try our level best to get you the loan within hours of approval.
How many applications will I have to complete?
There is no need of completing a number of applications at NZ Credit and Loans. With one loan application, we will be able to assist you provided the application is completed in full. Getting you the right broker and right online loan shouldn't prove to be difficult if everything has been clearly completed.
What if my credit rating is not so good?
Due to the fact that we want to help everyone, including people who have a bad credit history, we also welcome applications from them.
The only condition that we have for people with bad credit is that they give us some collateral that goes together with their bad credit loan application. It could be an asset a client chooses, as long as it will be equivalent to the amount borrowed.
Are there any other costs?
Everything that has to do with costs is stipulated in the loan agreement that a customer has to sign after we have approved their credit plan. There are no hidden costs.
Customer Reviews & Testimonials
"
I would like to personally thank the human resources team at NZ Credit and Loans for giving me the best credit loans.
Godfrey W
— Masterton —
I would recommend NZ Credit and Loans simply because they are a credit provider that seeks to ensure they give their customers affordable loans.
Catherine T
— Timaru —
The only reason why I prefer NZ Credit and Loans over all the other credit providers is that they offer the best interest rates on their loans.
Sydney M
— Hamilton —
NZ Credit & Loans Contact
Contact Number
E-Mail
Website
Physical Address
109 Lyndon Rd E

Hasting

Hawke's Bay

4122

New Zealand