Quick loans up to $50,000
Low-interest starting from 19.95%
In-page navigation
---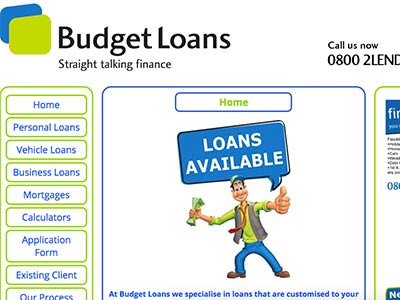 Author Budget Loans. Screenshot of Budget Loans website.


[Accessed April 17, 2018]
Budget Loans - Simple,fast loans
Well, we're a straight-shooting, easy going financial services provider. We've been providing quick loans for more than twenty years! Since our establishment some twenty years back we've made it our mission to supply our clients with honest, down to earth services, assisting with financial needs, and guidance.
Today, twenty years later, this is still the main objective. Taking all of this into consideration, it becomes quite apparent that we have a great capability of giving you, our client the best possible guidance. We don't play around, we here at Budget loans know how valuable your time is. ABC has now taken over our lending division, all loans will be linked, or directed straight to them.
Friendly, knowledgeable, and easy to talk to staff
Knowing how uneasy applying for a loan or finance can be we've made sure that we have a dedicated team to assist with all of your needs, to ease and guide you through the whole process without making this a stressful experience.
A friendly loan service
Our employees are equipped with a wide spectrum of knowledge, experience, and a vast set of skills. The Budget loans CEO has about fifty years experience in the industry, an excellent understanding of business ethics, and a very active role in the everyday operations of the company.
Our staff members are human. They too have certain financial needs, therefore they can easily relate to your financial circumstances, making it such an effortless process for them to assist you with a friendly attitude when you take out one of our short-term loans.
Budget Loans Services
Budget loans will not shut the door on your application based on your credit, or income history. We look at all of the factors, including your future potential.
We customize our personal loans based on your personal financial situation and affordability. We guide our clients through the whole process without taking up too much their valuable time.
The interest rates range from 19.95%-24.95% We can have your application approved within two hours. Yes! You read it right two hours. How awesome is that? No more time-consuming procedures.
Quick online calculations, and applications
Budget loans are always looking for ways to make life less complicated. Therefore, we have incorporated these easy to use functions to our list of services. These functions will provide our clients with a better idea, and understanding of what a quick loan may cost and how long the repayment period will be.
The online calculator is a quick, user-friendly feature. On our website, we offer different calculators for assistance with different loan types (rates are approximate only).
This is definitely another huge time saver, together with the online application. We love that we can offer tech-savvy online assistance!
After all the times have changed, technology is taking over, so of course, we have to keep up. The online application consists of a few quick, and easy to answer questions that shouldn't take more than a few minutes out of your schedule.
Budget Loans – Quick cash loan
Loan Type

Quick loans

Interest Rate

19.95 – 24.95% p/a

Loan Amount

up to $50,000
Benefits of Budget Loans
PERSONAL Loans
Vehicle Loans
BUSINESS Loans
Mortgages
Quick cash loan calculator
Budget Loans - Affordable loan options
The purpose is not to restrict our clients. Thus we've put in place different loan types for different people, to fit the needs of each and every unique client we serve.
The loan types we've made available will be processed once an online application has been approved. The information taken from the application will be used to determine which quick loan option will suit you, and your financial needs the best. Your personal affordability and financial circumstances will be taken into consideration whilst the application is being processed.
Existing clients can top up their loan
Budget loans also offer our existing clients an opportunity to top up or advance on current accounts. This once again is just another added bonus, we offer, it's a quick process with no time-consuming applications. It's pain-free.
As a financial services provider, we are very serious about what we do for our clients, we realize that financial hiccups pop up daily, and that time is not something that can be wasted
It's of great importance to us to save our clients as much time as possible and offer them the instant cash loan they need.
That being said, with such a vast selection of services would you really want to miss out on a great opportunity to better yourself by creating financial freedom? Apply today, become part of our family.
Customer Reviews & Testimonials
"
Applying for a Budget Loan was one of the best decisions I took for my credit lifestyle.
Oliver S
— Auckland —
Applying for a Budget Loans credit plan took me less than ten minutes to complete.
Sam S
— Wellington —
There is always something beneficial that's up for grabs when you apply for a Budget Loans credit plan.
Robbin P
— Christchurch —
Budget Loans Contact
Contact Number
E-Mail
Website
Physical Address
119 Carbine Rd

Mount Wellington

Auckland Region

1060

New Zealand