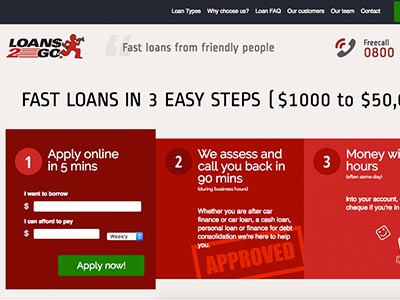 Author Loans 2 Go. Screenshot of Loans 2 Go website.


[Accessed July 3, 2019]
Loans 2 Go - You can have financial freedom
At Loans 2 Go, we firmly believe that everybody should be granted an equal opportunity for financial freedom. Although you will be paying for an instant loan, you will still have the option of living your life as you please.
We are not a company that wants their customers to solely be conditioned on thinking about our debt. Instead, we want our clients to go on about their business and carry on living life the best way they know how.
Fast and easy process
We usually are aware that customers usually need to utilize the money right away. Having said that, we will not prolong the process and get back to you days after you applied. We will be sure to respond within hours of receiving your application.
Furthermore, we want to ensure our clients that we are a reliable and reputable online loans provider and we are quick on our feet.
The last thing we want is to feel like we are letting our clients down by taking time to get back to them while they need the money immediately. We know how life can take the opposite direction and make you find it difficult to find a financial balance.
A loan for whatever you need
While other credit providers often want to know what you need the money for, we will not ask you why you need a quick cash loan. We believe that is not only private and confidential but quite frankly, it is not our business. Our business is to ensure you get a credit plan.
Loans 2 Go Services
The first step is applying for your short term loan. Our online application doesn't take more than 10 minutes to complete. All we require from you is that you let us know about your personal details, employment and salary information.
The information that you furnish us with is strictly confidential and won't be shared or used by anybody else. It is important that clients give us the right information.
If you lie about your credentials and financial standing, we may ban you from ever applying for credit at Loans 2 Go.
Documentation assessment and verification
After we have received your fast loan application, there will be certain documents that we may require you to send us.
These documentations form part of our verification purposes as we need to check if your information corresponds with the details you have completed on your loan application.
The sooner you send us these papers, the sooner we can start working on your application.
On the other hand, if you send them to us later, your online credit application will be slightly delayed.
The client will only receive the money after we have approved the loan
Once all the paperwork has been dealt with and out of the way, the money will be transferred into your nominated bank account.
Loans 2 Go – Quick cash loan
Quick cash loan calculator
Loans to Go - Applying for a loan is easy
There are a number of options that are available for applying for credit. For starters, clients can apply electronically, which is usually the easiest method as most people are either busy with operational requirements or other responsibilities. Customers can also give us a call or come to our offices. We will get to work as soon as we receive an application.
How much can I borrow?
Although most applications are based on affordability criteria, a customer can borrow a minimum of $1000 and a maximum of $50 000. We always encourage our clients to only borrow the amount that they need at that given and nothing more.
This is because we don't want our customers being under a lot of unnecessary debt. Essentially, we are trying to preach the gospel of managing your money well and this is one of the first steps to go about it. We will never agree to have customers under a credit they could have avoided.
How long does it take to have my loan approved?
We don't waste any time when we receive a loan application. We will let you within a matter of hours if your loan has been approved or not.
If we don't approve your credit request, we will valid reasons as to why we couldn't do it. Furthermore, we will help you and advise you on what you need to do better in order to have your application approved.
What are your lending criteria?
In order to be accepted for our quick loans at Loans 2 Go, the client must be 21 years, live in New Zealand or possess permanent residency to live there. He must be able to offer security for the amount he is borrowing.
The asset must be equivalent to the money he is lending. He must be employed and should earn a frequent salary. In essence, that is the only reasonable way he would be able to pay us back.
How do I make my loan repayments?
We have set up a direct debit system that will enable clients to pay their personal cash loans without having to go to the bank or come to our offices.
Customer Reviews & Testimonials
"
Using Loans 2 Go's website was quite easy. In fact, I finished faster since I was applying online.
Felix G
— Gisborne —
Making use of the benefits that Loans 2 Go give their customers has enabled me to save on my monthly budget.
John T
— Picton —
I would have never been able to attend to my financial emergency if it weren't for the last-minute loan I got from Loans 2 Go.
Ethan W
— Blenheim —
Loans 2 Go Contact
Contact Number
E-Mail
Website
Physical Address
43 Mandeville Street, Level 1, Riccarton

Christchurch

Canterbury

8011

New Zealand
---
Postal Address
PO Box 36, 606 Merivale, Christchurch, 8146, New Zealand