Quick loans up to $3,500
Low-interest up to 182.5%
Repayment up to 45 days
In-page navigation
---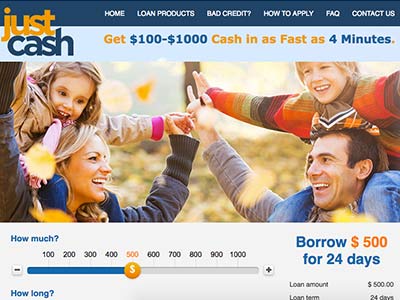 Author Just Cash. Screenshot of Just Cash website.


[Accessed April 17, 2018]
Just Cash - Hassle-free loans
If you are in need of a fast short-term loan, Just Cash offers cash loans with a competitive interest rate.
We understand that it's sometimes a bit daunting when you apply for a cash loan and you don't feel like going through the hassle or you're not sure how to go about it, the good news is that Just Cash takes the hassle out of applying for a loan.
Fast loan approvals
Just Cash is well aware that you need to receive the funds as soon as possible, we strive to get your quick cash loan approved and if you have not been approved you will be informed within no time at all. No time wasted and you don't need to sit around a worry whether you've been approved or not.
Our short-term loans are popular in New Zealand
We have made our short-term loan and credit options that are available easy and stress-free, plus these loans are quite popular, they include quick cash loans and payday loans are a perfect solution for when you have an emergency and need cash in a hurry.
Please take note of the following when applying for a payday loan; these loans were designed to assist Kiwis with a small amount of cash and only for a limited time frame. This means that the full amount will be due for settlement on your next payday.
Just Cash Services
Quick loans are approved to customers who in a time of need and require the funds fast without all the hassle and effort – these loans are a form of microloans.
Secured loans are what we like to call "cash to spend as you wish" the loans are secured since the lender sets up a direct debit on your banking account and the full amount will be deducted from your bank account in one easy repayment.
Short-term loans
These payday loans are typically secured by your salary/wages and if for some reason you default on payment, you'll be charged a penalty fee and the debit order will roll over until you have funds in your account.
Since a short-term loan requires no credit checks, if you do have a bad credit score it'll have no effect on your loan application.
However, this sort of bad credit loan has a higher interest rate and can become expensive if not managed. In other words, bad credit doesn't mean you won't get the loan.
Ensure that you use this sort of loan only if you have an emergency and only borrow what you need to ensure that you are able to make repayment comfortably and not get yourself into any financial difficulties or putting yourself under pressure.
Just Cash – Quick cash loan
Loan Type

Quick loans

Interest Rate

182.5%

Loan Amount

up to $3,500

Repayment

7 days to 45 days
Quick cash loan calculator
Short-term loans made easy with Just Cash
Need a loan fast? Just Cash can make it happen!
There is a high level of risk associated with instant cash loans and with good reason as this is the easiest loan to obtain. Since there is no need to do a credit check, individuals who are not making it financially are able to apply for a short-term loan without a problem.
This sort of loan is great for individuals who do have a not so good credit record to apply for a loan at any time they need to, however, it can become a problem when its time for repayment and they don't have sufficient funds. But on the other hand, there are times when we need such a loan so always ensure that you have the affordability.
If you work wisely you can make your short-term loan work for you
Just Cash is here to assist you in every way we can if you repay your personal loan within the required time, you can minimise the risk related to your loan and be in a position to qualify for better loan term going forward, and should you need to apply for another loan in the future.
Financial solutions and equal opportunity for all Kiwis
We aim to assist our clients with the best possible services and solution since they are the key to our business. And we strive to give the best assistance from the beginning of the process to the where the funds have been deposited into your account. Just Cash is a firm believer that everyone should.
If by any chance you have been blacklisted, you are welcome to apply for our blacklisted loans; our blacklisted loans have been designed to give all New Zealanders a second chance at managing their finances.
This option does allow you to borrow lessor amounts and in return, you will need to prove that you are in fact credit-worthy by making regular repayments until full settlement of the blacklisted loan. And once you've proved yourself you could possibly be able to qualify for a larger amount.
Customer Reviews & Testimonials
"
Just Cash ensured that I get a loan that I will afford to pay on a monthly basis.
Phillip A
— Queenstown —
I would like to commend Just Cash for always responding on time when I apply for credit.
Sam W
— Napier —
If you looking for really affordable credit plans, Just Cash is the way to go.
Charlie B
— Hamilton —
Just Cash Contact
Contact Number
E-Mail
Website
Physical Address
132 Hurstmere Rd

Takapuna

Auckland Region

0622

New Zealand
---
Postal Address
PO Box 33-1009, Takapuna, 0740, New Zealand
Opening Hours
Monday

09:00 – 17:00

Tuesday

09:00 – 17:00

Wednesday

09:00 – 17:00

Thursday

09:00 – 17:00

Friday

09:00 – 17:00

Saturday

Closed –

Sunday

Closed –