Quick loans up to $1,000
Low-interest up to 365%
Repayment up to 8 weeks
In-page navigation
---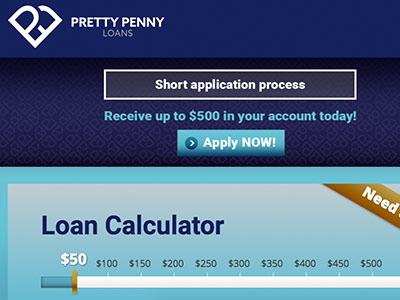 Author Pretty Penny Loans. Screenshot of Pretty Penny Loans website.


[Accessed April 17, 2018]
Pretty Penny Loans - A responsible lender
Pretty Penny Loans is a credit facility that understands that people make financial mistakes from time to time, but that doesn't mean they have to be punished.
The only people you can give a hard time are the people that haven't changed or seen the importance of changing their ways after having a bad credit history.
However, if you have seen the "light" and have started your financial discipline road to recovery, we have no problem helping you.
Loans for clients with bad credit
In essence, we are not looking for people with the perfect credit because there is either very few of those people or they don't exist at all.
Bad credit history shouldn't be the reason your quick loan gets a thumbs down if your financial situation has changed for the better and we not that strict to not give credit where it is due.
All applications will be taken into consideration
Each and every loan application that has been made for our attention is a credit request that needs to be looked into. Turning a blind eye on other loan applications is something Pretty Penny Loans does not do.
We will accept or decline an application according to our set rules and regulations. Should a potential client meets our requirements, we will accept their online loan application. Alternatively, if they don't, we will have no choice but to decline their request.
After turning their request down, we will further ensure that we advise the customer on how to improve their financial status so that future requests can be taken into positive consideration.
Pretty Penny Loans Services
The cost of our credit services is subjected to a client's affordability. Seeing that each request is different and the loan amount also differs, the costs also won't be the same.
There are many factors that we take into consideration when determining the cost of a Pretty Penny Loan. We always encourage our customers to make use of the personal loan calculator prior to applying for credit. Although the amounts are usually estimates, they usually don't differ much from the actual figures.
Simplified loan applications
After a client has got an idea of how much he can qualify for, at what intervals is he going to pay and how much does he need to pay in total, it will simplify the rest of the loan application process.
After all, we want our customers to have an easy and hassle-free payday loan application. If there are questions that you have or you need any clarity on anything, please don't hesitate to contact us.
What is Credit Sense?
Seeing that your bank statement is private and confidential, we have taken the liberty of employing a service provider that supplies us with your financial documents when you apply for one of our fast loans.
Customers don't have to worry because this is a registered company and your bank statements will never be shared with anybody else.
Can I renew or refinance a Pretty Penny Loan?
Unfortunately, we don't renew or refinance a Pretty Penny Loan. If you have financial difficulties, please contact us and we will try to help you out.
Pretty Penny Loans – Quick cash loan
Loan Type

Quick loans

Interest Rate

365%

Loan Amount

up to $1,000

Repayment

7 days to 8 weeks
Benefits of Pretty Penny Loans
PAYDAY Advance
Quick Cash Loans
SHORT-TERM Loans
Same Day Loans
Emergency Cash Loans
Quick cash loan calculator
Pretty Penny Loans - Simple fast loan applications
What are the implications of non-payment?
Should a client face difficult times that are stopping him from making payments due to unforeseen circumstances, he has to notify us in time. Failure to communicate with us will give us the impression that you don't take your loan seriously.
We must also emphasize the issue of incurring penalties for not paying. Although we understand that these things happen to the greatest credit payer, it will ruin your credit rating should you be looking for credit in the future.
Can I postpone or make changes to my loan?
We know that things don't always go as planned. Should you require to postpone or make alterations to your credit plan, you are welcome to do so.
All you need to do is contact us and we will make a plan for you. This way, we won't get insufficient funds in your bank account if you told us prior that there are certain changes to your loan.
How much can I borrow?
Clients can borrow a maximum of $1000. If they are not planning on using the entire $1000, they can always apply for the exact amount they are going to use.
A short-term loan seems like a practical idea when you are still looking for it, but when you have to pay for it, that is where the problem starts. Therefore, it is important that you ensure you only settle for the money that you are looking for and an amount you will be able to pay off without delaying any of your debts.
What documents will I need?
The documentation required when applying for one of our quick loans will always differ from one client to the other. However, the basics include a bank statement and completing your personal details. We need to determine whether you can afford to pay off the debts you have currently.
Pretty Penny Loans complaints policy
As much as we try our best to provide a great service, we know we won't always get it right. If you have any complaints about our service or our staff, please don't hesitate to contact us. We will see to it that your complaint is not only heard but dealt with.
Customer Reviews & Testimonials
"
Pretty Penny Loans will never give you a loan you can't afford to pay on a monthly basis.
Kenneth T
— Napier —
Applying for the Pretty Penny Loan took me less than 15 minutes to complete.
Rose A
— Auckland —
I would like to commend Pretty Penny Loans for always ensuring that I get an affordable loan package that won't be too costly to pay off.
William H
— Queenstown —
Pretty Penny Loans Contact
Contact Number
E-Mail
Website
Physical Address
---
Postal Address
PO Box 11360, Palm Beach, Papamoa, 3151, New Zealand