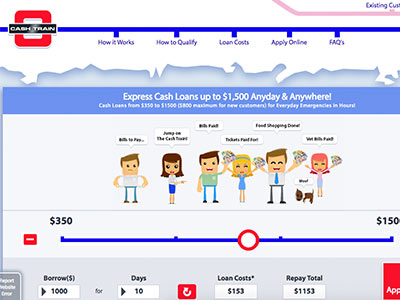 Author Cash Train. Screenshot of Cash Train website.


[Accessed April 17, 2018]
Cash Train - a 24-hour loan service
Cash Train was established in 2003, we have developed into an in dependable lending concern with a loyal customer base.
We have a team of specialised consultants who have more than 60 years of combined experience in the credit industry.
This is a great asset to our company and gives us the thumbs up when it comes to customer care; we provide an expert quick loan solution and give you the best advice and guidance we possibly can.
We specialise in short-term loans
We trade under the name of Cash Train which, if part of First Stop Pty Ltd, which is a registered financial provider.
Our company specialises in short-term loans.
We offer a speedy service and loans are not difficult to obtain, easy to understand, convenient and user-friendly.
We guarantee all our customers a 24-hour service since we're so bug on customer services means the funds will be transferred during this time period.
Cash Train Services
Cash Train offers an easy online payday loan solution which is designed to help Kiwis resolve any cash emergencies.
You didn't budget for a vehicle that needs a battery to be replaced? Perhaps you need an emergency visit to the dentist or your fridge may need repairs?
Maybe there's a birthday present you forgot and it's someone special which means it just cannot be ignored. Cash Train is here to assist!
Get the cash super-fast!
Our terms and conditions are clear and transparent so you don't need to worry about that, all you need to do is to select the loan amount and repayments according to your affordability.
Cash Train provides a complete range of information on the costs as well as the repayment amount of the loan which should be your deciding factor.
New Zealand residents must be over the age of 18 years and older and have a regular income higher than $1 300 in order to obtain one of our quick cash loans.
Cash Train – Quick cash loan
Benefits of Cash Train
PAYDAY Loans
SHORT-TERM Loans
INSTANT Loans
Quick cash loan calculator
Cash Train - 100% online loan application
We understand that it's easier said than done, since everybody says "you can trust us" we can by far say that we can be trusted since we have assisted hundreds of New Zealander since 2003, more than 5 000 people use Cash Train when he or she needs assistance with a payday quick cash loan.
Plus, we are an accredited money lending concern, we are qualified and experienced in the industry to assist customers.
The group has more than 60 years expertise plus we offer a 100% online application – we do consider ourselves the most experienced group in New Zealand payday loans.
We also have a code of conduct as far as privacy is concerned; your information is safe with us, we ensure that your personal details and so forth are intact.
Also bearing in mind that under no circumstances do you need to stand in queues, make an appointment or wait for days for an answer.
Straightforward and transparent loans
Our quick loans are easy and straightforward as well as transparent, so you need not worry that there may be hidden agenda's lurking in the background.
If you're not sure how much you can borrow or what your repayment will be, we welcome you to make use of our online calculator, this will give you some sort of idea how much you able to borrow and what your repayments will look like, you can then decide if you can afford it or not.
You are also welcome to take a look at our short-term loan page on loan charges should you require any further information.
Contact us
Cash Train would love to hear from you, so please contact us via email or give us a call; we're always willing to lend a hand or two!
And please don't hesitate to give us a call should you need any further information regarding personal loans or if you have any queries, we're sure to get right back to you in the shortest of time.
A simple online application which only takes a couple of minutes will get your first step in the door to debt relief.
We bid several loan options to our customers, through convenient and simple online loan application processes. Give us a call today! Your payday loan is only a couple of hours away from being deposited into your banking account.
Customer Reviews & Testimonials
"
I applied for a Cash Train loan in the morning and got my loan approved hours later.
Alex W
— Napier —
After getting a credit offer from Cash Train, I knew that there was no reason for me to look elsewhere in the future because they met all my advance requirements.
Zoe C
— Wanaka —
Applying for the Cash Train loan was fast, easy and convenient.
Ethan J
— Nelson —
Cash Train Contact
Contact Number
E-Mail
Website
Physical Address
147 Cameron Road

Tauranga

Bay of Plenty Region

7140

New Zealand
---
Postal Address
PO Box 22, Seventh Avenue Mail Centre, Tauranga, 3140, New Zealand
Opening Hours
Monday

11:30 – 20:00

Tuesday

11:30 – 20:00

Wednesday

11:30 – 20:00

Thursday

11:30 – 20:00

Friday

11:30 – 20:00

Saturday

Closed –

Sunday

Closed –