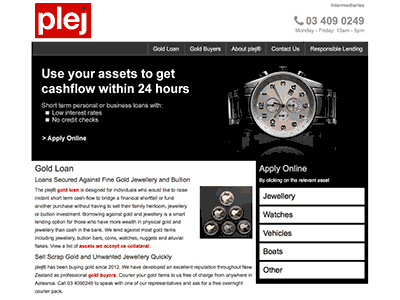 Author Plej. Screenshot of Plej website.


[Accessed July 3, 2019]
Plej - A professional loan service
If you're looking to unlock the essential value of your business or personal assets, then we are the lender you would want to work with. Our staff members are professional and friendly and you can be assured that you will receive the best possible service in New Zealand.
Our loans are secured personal loans and we offer them to New Zealanders across the country. You don't need to waste any time, apply from the comfort of your home or office if you so wish, what we're saying is that you don't need to come to an office as we are 100% online.
Effective micro-financing
Our loans are straightforward, transparent, simple and easy to use. Our lending criteria are not as long as many other lenders or major banks.
We offer effective quick loans to individuals who don't have time to meet with a lender or go and stand in a massive queue in the bank.
We are flexible with Kiwi's who would like to borrow from Plej!
Plej offers premium loans that are secured against valuable assets as well as short-term loans, these loans are secured against lower value assets such as jewelry that has value, laptops, work of art this also needs to have some value, sports equipment and smartphones.
Plej Services
We are leaders in providing fast cash loans in New Zealand to New Zealanders
Since we are the leading company in New Zealand, we provide short-term loans to Kiwis who have an emergency and need quick cash fast. Contact one of our friendly loan consultants today.
We deliver an excellent service offering a variety of products
With a payday loan, there is no need to do credit checks, individuals also don't need to have proof of income since you are securing a valuable item as a guarantee, and this means if you don't repay your loan you have no claim on the item or goods you offered as security.
Loan options
Our maximum term for repayment is 6 month, if you are able to settle your loan earlier a penalty fee will not be charged. A standard instant loan allows you to borrow between $500 and $999.
These amounts are secured against your assets that have a low value such as smartphones, laptops and sporting equipment.
We offer premium loansjewelleryand you are permitted to borrow between $1 000 and $20 000. These amounts are secured with assets that have a higher value such as artwork and jewellery
Quick cash loan calculator
Plej - Easy, quick cash loans
Getting cash instantly is easier & quicker than ever with Plej.
You have a period between three and six months to settle your loan.
Advanced credit loan is between $500 and $20 000.
Plej are flexible as far as fees and rates are concerned.
You do not need to pay any upfront charges.
Clients are required to pay the agreed monthly instalment every month and are not permitted to skip a repayment.
Simple online loans
Our quick loans have been simplified, we do all the paperwork for you, this means that you don't have to go to the bank and fill out reams of paper and provide proof of your salary proving that you are employed and able to make repayments and everything else that is associated with a loan from the bank just to get a short-term loan. No hassle, no fuss.
Once your online loan application has been received and approved, the funds will be in your bank account within a period of 24 hours.
All our loans are short-term; we do not offer long-term loans.
This is to enable our customers to easily afford their repayments and to assist them in getting their short-term loan settled within the agreed time; we would like to see that you still have some cash left during the month without having to use it all for repayments.
Should you not be in a position to make repayment on the loan, the items that you put down as a guarantee to secure your loan will be sold because we will need to recover the funds that you borrowed from Plej? Refer to your terms and conditions.
Payday loans
Consider a payday or quick cash loan when you run out of funds in the middle of the month or that last week before payday. These loans may come in quite handy, we all know the feeling of running out of cash before next payday. An emergency almost always comes around when we have no money left (Murphy's Law) right?
You could also apply for a payday loan or quick cash loan when you have a special someone's birthday coming up and you have no funds or perhaps you've seen something nice and it's on special which you would like to buy and have no more funds available. The grocery cupboard also seems to become empty just before payday comes along. We are here to assist you in the best possible way!
Should you require any further information regarding our payday or bad credit loans please contact Plej we will gladly be of assistance in any way we can your time of need!
Customer Reviews & Testimonials
"
I am a happy customer simply because Plej has never given me a loan that is above my affordability budget.
Chris A
— Nelson —
Applying for the Plej loan was simple, straight forward and convenient. I didn't encounter any technical difficulties.
Eva H
— Auckland —
Thanks to the fast consultants that work at Plej, I got my money on the very same day I applied for credit.
Natalie C
— Christchurch —
Plej Contact
Contact Number
E-Mail
Website
Physical Address
First Floor, 35 Shotover Street

Queenstown

Otago

9300

New Zealand
Opening Hours
Monday

10:00 – 17:00

Tuesday

10:00 – 17:00

Wednesday

10:00 – 17:00

Thursday

10:00 – 17:00

Friday

10:00 – 17:00

Saturday

– Closed

Sunday

– Closed