Quick loans up to $1,000
Repayment up to 6 weeks
In-page navigation
---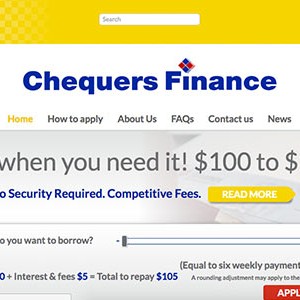 Author Chequers Finance. Screenshot of Chequers Finance website.


[Accessed July 3, 2019]
Chequers Finance - Affordable quick loans
It is very rare to find a financial services provider that offers quick loans without any security lately. Chequers Finance is one of the few credit facilities that assist customers without requiring some type of collateral.
The reason is we trust our clients and we know that the money that we are borrowing them is money they really need and they are going to pay us back. There are many reasons behind putting security on your credit plans, but we thought we would cut our customers some slack!
Our fees are affordable
While we don't require any security for our clients, the next thing people thought is that we would have high rates and fees to make up for the money we would lose.
Our motive is to provide affordable instant loans to our customers without prioritizing the fact that we have to get a huge profit from it.
As such, we have made our interest rates to be as low as possible so that everyone who needs a loan can apply.
The last thing we would like to see is that some customers are restricted due to the fact that they can't afford our interest rates and so we ensured that everybody is happy especially the client.
No credit checks needed
A lot of customers will be pleased to know that there are no credit checks performed during the online loan application process. A client will be granted a loan on the simple basis that he meets all our credit requirements.
Chequers Finance Services
In order to be considered for our credit services, you have to apply for it. There are a number of ways you can apply for a short term loan.
We will make sure that we work in your loan application quickly so you don't want too long.
We will never take more than a day to notify a customer if their credit application has been approved or not.
Although we would like to help everyone, if a client doesn't meet our requirements, we will have no choice but to decline their credit request.
Fast and reliable service
As soon as we get a loan application, we start working on it right away. We don't wait until we have many forms before we start getting down to business.
At the end of the day, we understand that most clients who apply for our fast cash loans usually want the money before the end of business so we try our best to ensure that they get the loan on the same day.
Chequers Finance verification and assessment
There are certain documents that we request before we can approve your payday loan. These documents vary from your ID to your latest proof of income.
We just want to see the correspondence between your loan application and the documents you have submitted.
Chequers Finance – Quick cash loan
Loan Type

Quick loans

Loan Amount

up to $1,000

Repayment

7 days to 6 weeks
Benefits of Chequers Finance
Quick cash loan calculator
Chequers Finance - Regain financial control with a quick cash loan
Clients can borrow a minimum of $100 and a maximum of $1000. We always advise our customers to only borrow the amount that they need at that moment and nothing more.
As tempting as money can be, it is not pleasant when you have to pay for the money you didn't really need at the time. After all, we try our level best to teach our customers to be financially disciplined. However, we can only do so much, at the end of the day, it is an individual who should take the initiative.
What documents will you need from me?
The documents will vary from one customer to the next. However, we normally require a bank statement that reflects the last three months, ID, proof of residence and authorized forms to utilize your bank account. It is imperative that clients furnish us with this documentation because, without them, we can't process their loan application.
Adhering to the terms and conditions
It is important that a customer reads everything on the loan agreement. Should you have any queries, you should notify us prior to signing on the dotted line. Although there isn't much we can alter on the contract, we will do our best to see if we can try and meet you halfway.
We have had a lot of situations where the client signs the personal loan contract without reading it and after some time realizes that there are certain clauses they aren't familiar with or to make matters worse, don't approve of. Therefore, before you sign, ensure that you agree with everything that has been jotted down there in black and white.
What if I miss a payment?
Should you not be able to pay your quick loan due to unforeseen circumstances, please notify us as soon as possible.
Failure to tell us or informing us late will give us very little room to try and help you out. The client, however, will be liable for extra charges and dishonesty fees. In the long run, failing to meet your financial obligations will give you a bad credit record.
Customer Reviews & Testimonials
"
I would recommend Chequers Finance to customers that are looking for a loan that won't cause too much financial damage on their budget.
Emily P
— Auckland —
The human resources team at Chequers Finance go out of their way to ensure that we get good value for money on our loans.
Ben T
— Napier —
The interest rates that I am paying on my Chequers Finance are the reason why I am still able to pay my other financial obligations.
Felix T
— Taihape —
Chequers Finance Contact
Contact Number
E-Mail
Website
Physical Address
137 Alexandra St

Hamilton

3204

New Zealand
---
Postal Address
PO Box 19140, Hamilton, 3204, New Zealand
Opening Hours
Monday

09:00 – 17:00

Tuesday

09:00 – 17:00

Wednesday

09:00 – 17:00

Thursday

09:00 – 17:00

Friday

09:00 – 17:00

Saturday

– Closed

Sunday

– Closed