Quick loans up to $50,000
In-page navigation
---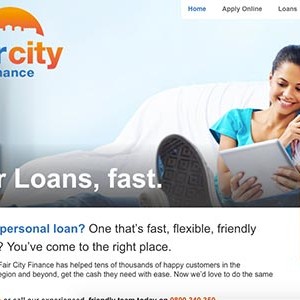 Author Fair Finance. Screenshot of Fair Finance website.


[Accessed July 3, 2019]
Fair Finance - Stress-free loans
At Fair Finance, we know how difficult it is to be in need of a fast loan and having nowhere to turn to. We have made our loan application to be quick and easy permitting everyone to apply.
We will never shut our door on you, all we need is certain documentation from you and the money will be as good as yours.
After all, we don't give our clients the run around by dragging the process for too long. The client usually knows if their loan has been approved or not in one day.
Seeing that you need money right away, we will be sure to either give you positive feedback or decline your personal loan application on the basis of the customer not meeting our criteria.
Experienced and passionate staff
One of the factors we pride ourselves in is having ambitious and friendly staff. Our employees are one of the reasons our clients keep coming back to Fair Finance.
Their positive attitude has changed a lot of customer's perspective as far as financial management is concerned.
In essence, our job is not to just give our clients short-term loans, we also educate them on what they can do better to ensure that their credit stays on the clean sheet.
We get overly excited when our customers take our advice because we know their credit profile will blossom and make more room for credit approvals in the future. Therefore, it is important that a client thinks of the future and not only the present.
Fair Finance Services
Clients are requested to complete the form. It is short and easy to complete. It is important to emphasize the fact that a pre-approval form is not a guaranteed approval.
It is mainly the first step a customer takes in order to apply for an instant loan at Fair Finance. However, we try our best to ensure that clients get the best credit packages and one they can afford without messing up their budget as well as their monthly expenses.
Submit documents for approval
We need your documents so we can see how you paying your expenses and how much can you afford. We don't want to give you a bad credit loan that will be too expensive for you to pay. \
We always make it a great deal of emphasis to give clients credit that is within their affordability streak and not above it.
The money will be transferred after your loan has been approved
As much as we would love to deposit the money right away after you have met our criteria and we have given you the green light, the client has to sign the agreement before we can transfer the loan into your bank account.
In essence, the customer has to read everything in the credit contract and what it entails. It is also important that the client adheres to the Terms and Conditions of our quick loans.
By doing so, he can preserve his credit profile and his chances of being granted a loan should he require one in the future.
Fair Finance – Quick cash loan
Loan Type

Quick loans

Loan Amount

up to $50,000
Quick cash loan calculator
Fair Finance - Get a second chance with a quick cash loan
What is pre-approval?
A pre-approval form is a document that all clients who would like to apply for a loan have to complete. The information that you have given us will indicate whether we can proceed to the next step of granting you a loan or not.
There is an eligibility criterion that needs to be met. Should it not be fulfilled, you will not be eligible for our quick cash loans.
We will advise you on what you can to ensure that you meet our requirements the next time you are interested. On the other hand, you can decide otherwise that you no longer need the loan. We will not hold you accountable, you are entitled to change your mind.
How much can I borrow?
This question excites a lot of clients on the basis that they often want to take a large amount. Regardless of you qualifying for a big amount, it is not wise to take it unless you are going to use it resourcefully. Money is nice when you are spending it but not very idea when you have to start paying it back. In essence, we wouldn't let our clients make silly financial mistakes.
Is there any way of getting my loan faster?
Although we try to make our payday loan process as quick as possible, we can't be held accountable if clients submit their documents late. Therefore, if you want us to fast track your loan, you have to ensure that you submit the documents we require as soon as possible.
That way, you will know our response before the end of the business. Furthermore, please ensure that you send us the correct documents. Incorrect or fraudulent papers don't only waste time you don't have, they make you look bad as a potential customer.
The last thing you want to do to get an online loan is send us documents that aren't authentic, we will have no choice but to ban you from Fair Finance database. There is no need to lie about your credit profile. After undergoing assessments, we will see for ourselves where you stand as far as your finances are concerned and whether you were truthful or not.
Customer Reviews & Testimonials
"
Fair Finance is exactly that, a credit provider that offers fair and effective credit plans.
Isabella H
— Wellington —
Applying for the Fair Finance loan was quick, easy and convenient.
Mateo L
— Gore —
After speaking to one of the consultants at Fair Finance, I knew which loan package I should opt for.
Charlotte J
— Levin —
Fair Finance Contact
Contact Number
E-Mail
Website
Physical Address
---
Postal Address
PO Box 272, Seventh Avenue, Tauranga, 3140, New Zealand