Quick loans up to $50,000
Low-interest starting from 13.95%
Repayment up to 5 years
In-page navigation
---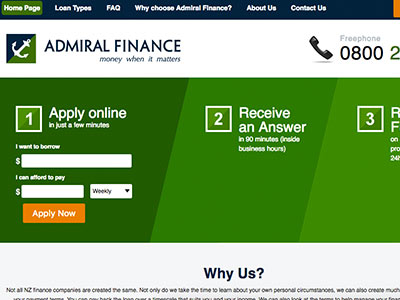 Author Admiral Finance. Screenshot of Admiral Finance website.


[Accessed April 17, 2018]
Admiral Finance - Expert loan services
Admiral Finance is a registered financial services provider that knows that the clients that apply for one of our quick loans often don't have the time of waiting for weeks before getting a response.
While banks may take a number of days to get back to you, we work tirelessly to ensure that you know where you stand before the end of the business day.
A loan for any given emergency
We don't ask our clients for the finer details of their online loan application. We believe we are working with adults and a customer would never ask for credit only to misuse the money. Each and every loan application is usually thought out and is one that requires immediate finances.
Having said that, a client can apply for a loan to do anything. If it is important to you, it is important to us. Instead of giving you the run-around, we will work with your application as soon as we receive it. The faster we work on your credit request, the quicker you will get feedback.
When a loan application gets rejected
Although the cases are rare, there have been times where we decline bad credit loan or incomplete applications. This is usually due to customers not meeting the Admiral Finance requirements.
Should this be the case, we often advise our clients on what steps they can take to further ensure that their future applications don't get rejected.
However, we must emphasize that some cases are impossible. For instance, there is nothing a potential client can do if he is not from New Zealand.
Admiral Finance Services
With so many scams and fraudulent activities happening lately, one can't help but wonder if they are dealing with legit financial services providers especially seeing that it involves money.
The last thing you need is to realize you have been scammed by people who have been claiming your documents for their own personal use.
At Admiral Finance, clients can have the absolute comfort of knowing that we are not only authorized but we are recognized.
This gives customers peace of mind in knowing that all their financial affairs are dealt with legally and professionally.
A loan suited for your budget
One of the reasons we require our customers to submit their documents during the short-term loan application is so that we can have a better idea of the number of debts they have to pay on a regular basis.
After this, we will know how much we can give them and how much they can pay. We don't want to give our clients more than they can handle. We have made our loan services to suit every need, budget and household.
Customers call the shots
At Admiral Finance, we want our customers to know that we are a company that cares about them and has their best interest at heart.
Having said that, we allow our clients to decide when they would like to pay for their quick loan as opposed to us taking the decision on their behalf. This way, the client has freedom of financial choice
Admiral Finance – Quick cash loan
Loan Type

Quick loans

Interest Rate

13.95 – 24.95% p/a

Loan Amount

up to $50,000

Repayment

6 months to 5 years
Benefits of Admiral Finance
Interest rates are competitive
Loan options are flexible
Simple loan application
Quick cash loan calculator
Admiral Finance - Quick cash loans
Clients can borrow a minimum of $1000 and a maximum of $50 000. We always urge our customers to not borrow more than they actually need.
Always borrow the exact amount that you need to carry out your affairs. The last thing you need is to realize that you are now paying for a personal loan that wasn't really necessary at the time.
Credit requires a lot of financial discipline and if you don't have it, you may end up having bad credit. The temptation will always come on your door knocking but if you have to bigger than it because, at the end of the day, it will be you and the credit that you have to pay.
Requirements you have to meet
In order to meet our instant loan criteria, the client has to be 18 years of age. Depending on the amount of loan you are looking for, you may need to secure it. We give the customer the option of choosing the asset as long as it will be equivalent to the amount taken on credit.
The client needs to be a New Zealand citizen or possess permanent residency in New Zealand. As far as the credit history is concerned, we know that it is impossible for one to have perfect credit but we are looking for customers with rational credit history. Furthermore, the client must not be currently cleared out.
For identification purposes, we may require a photo of your ID. If the client doesn't meet all the requirements, we will have no choice but to decline your loan application. Our criteria form part of our procedural requirements, there is no way of bypassing it if you are looking for credit at Admiral Finance.
How long it takes to get the money
After we have approved your quick cash loan, the money will be deposited into your bank account within one business day.
How to make Admiral Finance loan repayments
We have set up a direct debit system for our clients. This method is convenient for all parties concerned. It is imperative that the customer ensures that there is sufficient money on the day of the debt collection.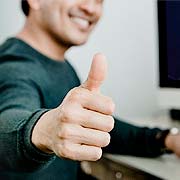 Admiral Finance is a trusted & reliable provider of quick loans
Customer Reviews & Testimonials
"
I would like to recommend Admiral Finance for going out of their way to ensure that I get an affordable loan offer.
Mary A
— Napier —
Thanks to Admiral Finance, I got my loan approved on the same day I made the application.
John L
— Nelson —
Applying for an Admiral Finance loan was an easy, convenient and certainly worth my time.
Amber C
— Palmerston North —
Admiral Finance Contact
Contact Number
E-Mail
Website
Physical Address
45 Mandeville St

Riccarton

Christchurch

8011

New Zealand
---
Postal Address
PO Box 36 606 Merivale, Christchurch, 8146, New Zealand
Opening Hours
Monday

08:00 – 18:00

Tuesday

08:00 – 18:00

Wednesday

08:00 – 18:00

Thursday

08:00 – 18:00

Friday

08:00 – 18:00

Saturday

Closed –

Sunday

Closed –