Quick loans up to $2,000
Low-interest up to 49.95%
Repayment up to 15 weeks
In-page navigation
---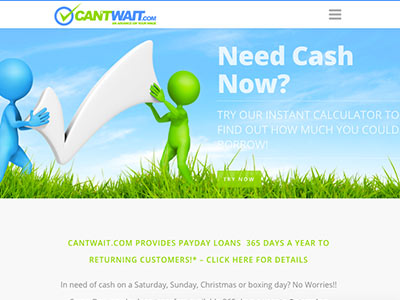 Author Cantwait.com. Screenshot of Cantwait.com website.


[Accessed April 17, 2018]
Cantwait.com - Stress-free loans
Let's just be honest here, life can be very unpredictable. Sometimes pushing you to your limits, throwing curve balls your way when you least expect it.
No one plans for these unfortunate events. We don't wake up every day expecting a broken down car, or a burst pipe in the kitchen.
These are unforeseen circumstances we all face from time to time and a quick loan can assist quickly and easily.
Stress-free loans
Life happens and yes, this is uncomfortable and disrupting, but when these unpleasant events take place you need a steadfast partner who can assist you.
We would love to be this partner.
Can't wait.com can help you get these hurdles out of the way so that you can get back to the normal course of life.
What we're trying to say here is that we're a financial services provider, who loves assisting our clients with quick short-term loans, whilst encouraging responsible lending.
Cantwait.com Services
Payday loans and advances are short-term loans against your wage paycheck. These types of loans are perfect for people who are in need of quick cash.
These types of loans don't bind you to long-term contracts and hidden fees. It's short, accessible, and will ultimately help you out of sticky situations.
The advances we offer range from $100-$1000. When these quick loans are approved, we activate the wage deduction authority to deduct payments from your account, which again makes your life a whole lot easier. Saving you time once again.
This is what makes us so special
Can't wait.com will not charge our clients any established fees, credit checking fees, nor will you be charged any admin Fees!
So not only will we assist with an instant loan for those very unpleasant, unforeseen hurdles, but we'll also save you a bunch of money. The goal is to assist without adding unwanted complications, and stress.
Cantwait.com – Quick cash loan
Loan Type

Quick loans

Interest Rate

49.95%

Loan Amount

up to $2,000

Repayment

1 week to 15 weeks
Benefits of Cantwait.com
Repayment terms are flexible
Easy and fast application
Affordable loans
Quick cash loan calculator
Cantwait.com - Financial relief when you need it
If you bank with BNZ, ASB, Kiwi bank, or ANZ we can make payments directly into your account the whole year round.
Can't wait.com will gladly welcome new clients, and assist existing clients looking for a personal loan with a smile. Whatever the financial need we would love to supply these services to better the lives of our new and existing clients. We want to be a part of your financial relief.
New to Can't wait.com
New clients are welcomed with pleasure. We invite you to apply.
We offer loans up to 40% of your net income (subjected to your personal financial circumstances, and affordability of course) We offer repayment terms of up to 10 weeks! To put you at ease, as you will have enough time to plan for your financial future. After all, we are here to help.
Part of our family already
This is brilliant! As a valued customer we would love to invite you back for further assistance. We offer quick, hassle-free services for you.
You can now apply for higher payday loans of up to $1500. Your approval will be fast, effortless, and guaranteed! Taking away the stress of having to wait for time-consuming approvals. With this option, we won't request any supporting documentation from you.
Thrifty online calculator&applications
We provide a fast way to obtain a quick cash advance by making these features available. We understand the urgency of a quick loan. We get that time is precious, therefore we're proud to say that our online application will take a mere few minutes out of your schedule. The applications are easy to understand and quick to complete.
Our online calculator will provide you with peace of mind as it will assist you in determining how much you can qualify for, and what your repayment installment would be. This is excellent for when those unplanned emergencies pop up in the middle of the month! Approvals take about 60 minutes once we've received your final acceptance response. Our interest rates are between 10-40% lower than most other payday loan companies!
Early repayments
We will also send out reminders, before each payment date. This will help with planning so that you don't ever get caught off guard (life is busy, and it's only human for all of us to let things slip our minds) Should you decide to make an early payment this is something we welcome gladly. As a matter of fact, we encourage this! You will then only pay interest for the actual days that you've had your loan for. We won't add any extra charges to this.
We are a proud financial services provider, with a passion for what we do. Payday loans can make the difficulties of life much easier to deal with, and we here at Can't wait.com are honored that we can create solutions for our clients.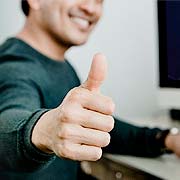 Cantwait.com is a trusted & reliable provider of quick loans
Customer Reviews & Testimonials
"
Thanks to Cantwait.com, I got my loan application approved on the same day I applied for credit.
John B
— Dunedin —
I would have never been able to pay my debt if it weren't of the loan I received at Cantwait.com.
Zoe K
— Queenstown —
I would like to commend Cantwait.com for always giving their customers affordable and reliable loans.
Peter L
— Rotorua —
Cantwait.com Contact
Contact Number
E-Mail
Website
Physical Address
120 Third Avenue

Tauranga

Bay of Plenty Region

3110

New Zealand
Opening Hours
Monday

08:00 – 17:00

Tuesday

08:00 – 17:00

Wednesday

08:00 – 17:00

Thursday

08:00 – 17:00

Friday

08:00 – 17:00

Saturday

Closed –

Sunday

Closed –