Quick loans up to $10,000
Low-interest starting from 39%
Repayment up to 36 months
In-page navigation
---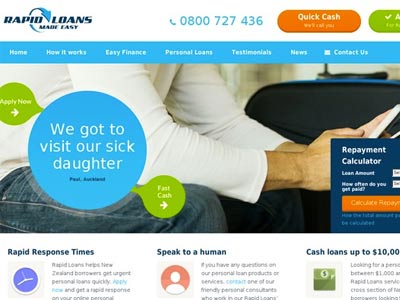 Author Rapid Loans. Screenshot of Rapid Loans website.


[Accessed April 17, 2018]
Rapid Loans - Fast loan payouts
At Rapid Loans, we help both New Zealand and Australian clients with quick loans. While other credit providers only help New Zealand citizens, we assist Australian customers with no difficulty.
Anybody from either New Zealand or Australia can apply. All we need is the necessary documentation that proves that the customer if from these countries and we good to go. We have helped a number of people for years and we are still at it!
Rapid Loans repayment calculator
The repayment calculator is useful when clients want to know how much they can qualify for, how much they would pay after the loan was approved and what the time frame is. It is important that customers know that the figures calculated from the repayment calculator are just estimates and not the actual amount.
It is usually after a personal loan has been approved that you will be certain of how much you have to pay. However, there isn't anything you have to worry about because we have ensured that our loans are credit plans you can afford.
Clients with benefits can also apply
Rapid Loans knows how difficult it is for people with benefits to apply for credit. In essence, they need to be considered just like any other citizen because they too, often have financial problems from time to time.
We accept online loan applications from such customers with absolute ease. The only reason people who receive government benefits would be rejected is because they don't meet our credit criteria.
Rapid Loans Services
It is important that clients understand that there are processes to a loan application. Applying doesn't guarantee an automatic approval.
There are certain verifications we have to check and ensure that they meet our credit criteria before we can give your short-term loan application a thumbs up.
Ensuring that your loan application gets approved
There isn't much a client can do to ensure that their loan gets approved.
Due to the fact that we assess each applicant differently, the only way you can see whether you will be granted a successful quick loan application is to apply.
Applying is the only time you will see whether you were approved or not. Everything else will be based on speculation.
Combining your loans
One of our services is debt consolidation.
This is the process where we combine all your loans into one loan and you just pay for one credit plan as opposed to all your credit plans separately.
Rapid Loans – Quick cash loan
Loan Type

Quick loans

Interest Rate

39 – 47.75% p/a

Loan Amount

up to $10,000

Repayment

6 months to 36 months
Benefits of Rapid Loans
Speedy approval
Flexible repayment terms
Affordable rates
Quick cash loan calculator
Rapid Loans – A highly experienced team with financial expertise
Our workforce consists of trained and skilled people who always put themselves in the client's shoes when they assist them with their credit applications.
When you work with someone who empathizes with your current financial struggle, you are at the right place. The Rapid Loans team is a group of sharp individuals we are proud to have on our side. Finding someone who is not only experienced, but has the right qualifications is a mission lately, but we are so grateful to have an exceptional staff at Rapid Loans.
How much you can borrow
The minimum instant loan amount you can borrow is $1000. The maximum amount is $10 000. Clients can then choose how they are going to pay such a loan. This could be on a weekly, fourth nightly, or monthly basis.
Furthermore, they will decide how long they intend on paying for this loan. It could be a year or months. Essentially, the faster you pay for your loan, the faster you will finish paying it off. We always encourage our customers to settle their quick loans if they have money.
How long it take for the loan to be approved
We work tirelessly to ensure that the money is in the client's bank account before the end of the business. However, we are also led by how quickly we receive your supporting documents. The faster you send us the paperwork we requested, the quicker we can start working on your loan application.
However, if you take your time, we will also be delayed in getting your loan approved on the same day. It is important that customers understand that just because a client may submit all the relevant documentation, that doesn't mean automatic approval. We still have to go according to our procedures and ensure that the correct protocol is followed.
Missing a payment
When you signed your loan contract agreement, you are certified that you will always pay your payday loans on time. Things may have changed, but you should inform our office as soon as you realize you aren't going to be able to pay your loan. Clients have a tendency of waiting until the last minutes before informing us and it is already too late at this stage.
Blogs and financial articles
We have a segment of articles on our website that have helped clients who are struggling to change their financial life but are willing. They are no more attentive to the amount of money they spend and they are able to differentiate between a "need" and a "want". Once a customer has matured to this stage, we are confident his financial life will take a positive turn.
Customer Reviews & Testimonials
"
Applying for Rapid Loans was one easy application. Their online application system was convenient and easy to follow through.
Olivia H
— Christchurch —
I would recommend Rapid Loans simply because they have the best human resources team in the whole of New Zealand.
Felix E
— Levin —
The interest rates that I am paying on my Rapid Loans are reasonably affordable.
Allistar W
— Dunedin —
Rapid Loans Contact
Contact Number
E-Mail
Website
Physical Address
48 Shortland St

Auckland

Auckland Region

1010

New Zealand