Quick loans up to $5,000
Low-interest up to 49.95%
Repayment up to 52 weeks
In-page navigation
---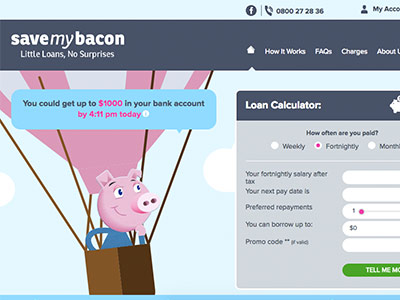 Author Save My Bacon. Screenshot of Save My Bacon website.


[Accessed April 17, 2018]
Save My Bacon - Convenient online loan services
Save My Bacon is a credit provider that aims at not only helping New Zealand citizens by giving them quick loans when they are in need but also ensuring that they never go beyond their financial means.
The last thing we need is to realize that you took a loan that you can't pay and this will put a dent on your credit profile.
As a customer who is never certain what tomorrow holds, you should never put yourself in a situation that could ruin the possibility of being considered for credit in the future.
In essence, the most important factor is ensuring that you pay your debts and they are always up to date.
Our service is 100% online
Thanks to technology, everything has been simplified for everybody's convenience.
Our online loan application is electronic which means everything is done online and doesn't require any paperwork or standing in long queues to hear about the outcome of your application.
This has made things easy for all the people that are looking to apply for credit but don't have time due to operational requirements or family responsibilities. By making everything accessible online, you can apply in the comfort of your own home.
Transparency at its best
Everything we do at Save My Bacon is clear as water. We would never sugarcoat certain figures or lie to you about our operation.
We lay all our cards on the table giving you the freedom to decide if you want to carry on and utilize our personal loan services or not.
Save My Bacon Services
Our short-term loan options are all created to suit any household in terms of affordability. We made a few options available because we know that families are not the same in terms of budget.
At Save My Bacon, we like to simplify things for our customers and give them the best available options to choose from without making things difficult. they all need is a loan without undergoing a lot of interrogations and that is what we aim to give them.
Reliable and professional staff
In essence, we want our customers to always feel welcome and at home when they require the services of any of the Save My Bacon staff. Having said that, we have made sure that we get the finest and experienced staff that will take you through the entire process without making you feel uncomfortable.
We know how awkward it must be for some people to ask for help, especially financial help such as requesting credit. However, they can rest assured that our staff isn't judgmental because there is nothing wrong with asking for a payday loan.
Our agents are always willing to help you and lend you an ear no matter what circumstance you are going through. After all, part and parcel of a consultant's job are to offer a shoulder to cry on when a client feels like it is the end of the world. Nobody is financially perfect.
When to access funds after approval
We work tirelessly to ensure that clients get their fast cash loan on the same day they applied for it. That speaks to say, the customer needs to submit the supporting documents we request as soon as possible to avoid being delayed. There generally isn't much we can do if we haven't received the documents we asked for as part of our verification process.
Save My Bacon – Quick cash loan
Loan Type

Quick loans

Interest Rate

49.95%

Loan Amount

up to $5,000

Repayment

6 weeks to 52 weeks
Benefits of Save My Bacon
Loans affordable
Repayment terms flexible
Loan top-up
Quick cash loan calculator
Save My Bacon - Quick cash loans
We always encourage our clients to pay off their loans earlier than the scheduled date if they can.
This way, they will have one less debt to worry about. There also isn't a fee that they have to pay so if they are able to pay sooner rather than later, they are more than welcome to do so.
When you can't make your payments
Should you not be able to fulfill your financial obligations due to unforeseen circumstances, please let us know as soon as possible. We also urge you to not wait until it is too late for us to step in. Notify us as soon as you realize there may be a possibility that you can't pay your quick loan.
Adhering to the terms and conditions
When we approve your loan, there is a contractual agreement between us and you that you don't only have to sign but you also have to abide by it.
In the event of you not adhering to the rules and regulations that we have stipulated on the fine print, you may not only be charged for additional fees but you might also be banned from taking a loan from Save My Bacon in the future.
We always encourage our customers that they need to think carefully before they take up a loan because the repercussions of late and skipped payments are a bit cutthroat.
In essence, if you aren't too that you will always have the funds available to pay for your credit plan, it is best to not apply for an instant cash loan in the first place. This saves your credit profile and ultimately, your reputation.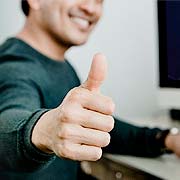 Save My Bacon is a trusted & reliable provider of quick loans
Customer Reviews & Testimonials
"
I would recommend Save My Bacon to clients that are seeking good credit plans offered at the lowest price.
Robert T
— Queenstown —
One thing I like about Save My Bacon is the fact that the consultants will not stop until the customer gets an affordable credit plan.
Peter L
— Napier —
Applying for the Save My Bacon loan was the best decision I ever made.
Olivia P
— Taupo —
Save My Bacon Contact
Contact Number
E-Mail
Website
Physical Address
150 Lichfield Street, Christchurch Central City,

Christchurch

8011

New Zealand
---
Postal Address
PO Box 8496, Riccarton, Christchurch, 8440, New Zealand
Opening Hours
Monday

08:00 – 17:00

Tuesday

08:00 – 17:00

Wednesday

08:00 – 17:00

Thursday

08:00 – 17:00

Friday

08:00 – 17:00

Saturday

Closed –

Sunday

Closed –