Home loans up to $250,000
Low-interest starting from 5.0%
Repayment up to 30 years
In-page navigation
---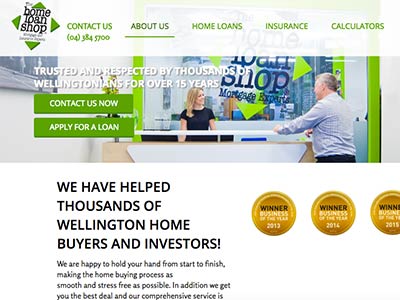 Author The Home Loan Shop. Screenshot of The Home Loan Shop website.


[Accessed April 17, 2018]
The Home Loan Shop - We will find the best home loan to suit your needs
The Home Shop has been serving New Zealanders in Wellington with property finance and insurance since 1999.
We have assisted thousands of clients through the home buying process, refinancing and investment process.
Not only do we secure the best deals on the market for our client we also offer a hand's on approach.
Let us find the perfect home loan for you
All our Mortgage and Insurance Specialists are from within the industry and have approximately 10 years' experience, meaning we know what a great deal is plus we personally mould our deals according to every individual's requirements.
Since the bank or insurer pays us, our service is free to you. By no means does this affect your deal, in fact, we get the best package available, and because we deal with multiple suppliers we are well informed of the best rates and products on the market.
We build long-term relationships
Our reputation is built entirely on the services we provide and the long-term relationships we've had the pleasure of building with our clients.
We assist them to secure a great interest rate on an on-going basis. We would love to touch base with you and have a no obligation chat.
The Home Loan Shop Services
The Home Loan Shop has a committed team of professionals who have assisted thousands of home buyers to acquire their dream home over the past ten years.
We have grasped what properties, consumers are looking for and our obligation to them is to recognise and deliver what they want.
The benefits of our service:
Saving time – Our team of experts do all the running around for you by helping you compare loans, we also do the research of a loan that is best fitted to your situation.
Saving Money – We negotiate the mortgage repayments, fees and interest on your behalf in order to get you the best package possible.
We offer a free service - The Home Loan Shop's service will not cost you a dime, since we are paid by the bank, insures as well as other financial entities. This doesn't only save you time and money it also takes away the hassle by allowing us to negotiate with several parties on your behalf.
Makes home buying an absolute breeze – We offer our assistance from the beginning to the end of the process! We speak with all the realty agents and lenders, we also communicate with your lawyer so that you can experience a no-fuss home buying experience. We aim to make a point of organising LIM reports and building inspector's reports and keep you updated with all signs of progress.
You have a choice - We have a group of the top investors in New Zealand, whether they are main banks, credit unions or second tier financiers who bid some of the best loan options available. This guarantees you get the most fitting loan package for your circumstances.
Communicate with someone you trust - The Home Loan Shop is Wellington's most reliable experienced mortgage broker. We successfully help home buyers in obtaining the property they want without the bother.
The Home Loan Shop – Home loan
Loan Type

Home loans

Interest Rate

5.0 – 29.99% p/a

Loan Amount

up to $250,000

Repayment

1 year to 30 years
Benefits of The Home Loan Shop
Fast online application
Loans are affordable
Option to refinance
---
The Home Loan Shop - An expert home loans team
We have a team of mortgage and insurance professionals that can assist you with the entire home loan process from A to Z, we'll even still be there for you after you've moved into your new home.
Admission to a wide range of industry experts
We have a broad understanding of the property market and we are linked with a wide network of investors who offer several home loans – it's our business to ensure you get the best one! We offer a number of similar services we endorse along the way – whether it is organising an estimate, advocating legal advice or arranging a building inspection.
The most inspiring part is that purchasing a home through our service is free of charge.
Loan applications
Online loan applications are simple, we do complete this with you (in case of any questions). The preliminary meeting will embroil a basic rundown of your earnings, chattels and liabilities. Once we have an understanding of your present situation, together with the necessary documentation, we can recommend who will be the best bank or financier for you and present your application.
Pre Approvals
Pre-approvals are great because you can go house hunting with confidence, knowing exactly how much you have to spend. Pre-approvals are usually valid for a period of 6 months which allows you sufficient time to peruse the real estate market. Our specialists will be in contact before your pre-approval terminates to find out how your house hunting is going, we can always find a way to extend your existing pre-approval if you need more time
Approval
Once you've found your dream home and you've signed your sale and purchase agreement we assist you to tick all of the correct boxes in order to get your final approval. We leave no stone unturned from valuations to home insurance is dealt with to assist you in getting your approval unconditional.
Schedule a meeting with The Loan Home Loan Shop so that we can assist with the home of your dreams!!
Customer Reviews & Testimonials
"
Today I own my own house because of The Home Loan Shop and their outstanding team. Special shout out to Sloan- absolute champ! You were so helpful and made the entire experience less complicated....
James L
— Wellington —
Hands-on consultants who assisted me every step of the way. Great service!
Billie A
— Lower Hutt —
With The Home Loan Shop you have a team on your side that works tirelessly to get you the loan that's most ideal for you. Thank you for going the extra mile.
Tammie W
— Porirua —
The Home Loan Shop Contact
Contact Number
E-Mail
Website
Physical Address
34 Manners Street, Te Aro,

Wellington

6011

New Zealand
---
Postal Address
PO Box 24305, Wellington, 5010, New Zealand
Opening Hours
Monday

08:30 – 17:30

Tuesday

08:30 – 17:30

Wednesday

08:30 – 17:30

Thursday

08:30 – 17:30

Friday

08:30 – 17:30

Saturday

Closed –

Sunday

Closed –