Home loans up to $2,000,000
Interest rates are competitive
Repayment up to 30 years
In-page navigation
---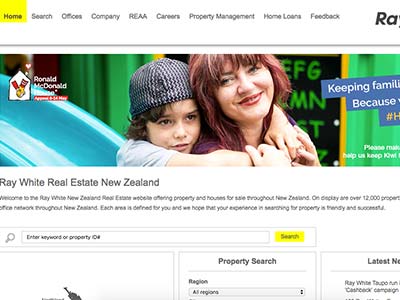 Author Ray White. Screenshot of Ray White website.


[Accessed April 17, 2018]
Ray White - Reliable home loan products
Ray White is a family-owned business; you will notice that we have a lot to be proud of!
We provide a wide range of real estate services to more than 1 000 single offices across New Zealand, Indonesia, and Australia. We can assist in comparing loans online and will advise you on all property-related matters.
We have an expert team who assist about 220 000 homeowners as well as individuals who want to purchase a home and those that want to sell property successfully every year.
Who Ray White is
Ray White founded in 1902 in Crows Nest Queensland. We are an international establishment, successfully operated with offices also operational in India, Malaysia, China, Papua New Guinea, Atlanta USA, and the Middle East.
We employ more than 13 000 staff members, we run approximately 230 000 property rentals across the group that has assisted 29 000 tenants to move and we have more than 1 900 professional property managers.
These are but a few facts that we would like to share with you so that you can get to know who we are and what we stand for in order for you, to feel secure about getting property finance at any one of our Ray White offices across the board for your next property transaction.
Ray White Services
You should know when choosing Ray White you are choosing a name you can trust with over 100 years of experience. This is our guarantee to you!
Contact one of our offices in New Zealand, Indonesia or Australia to find out how we can be of assistance and how we can be of assistance when it comes to property finance.
We would love to hear from you. Our network is consistent at approximately one thousand individually owned and operated offices
Our achievements
Annual property sales – We have a surplus of $27 billion in sales.
Loan Market - Our loan market consists of about 740 mortgage brokers and staff members across every state in New Zealand and Australia; securing an excess of AUD $6 billion per year in financing homes.
Ray White Concierge - This is a complimentary service we offer to vendors and purchasers which enables them in settling in with greater support, quicker and more easily with the least possible hassle.
Ray White Rural – We started the Ray White Rural in 1994 and are proud today that we have grown to include about 94 franchises selling a property, stud stock, livestock as well as machinery.
Ray White Commercial – We now have over 60 operational offices across New Zealand and Australia who specialise in sales management and leasing of Commercial property assets.
Ray White – Home loan
Loan Type

Home loans

Loan Amount

up to $2,000,000

Repayment

6 months to 30 years
Benefits of Ray White
Split loan into fixed and variable portions
Get affordable home loans
Compare home loans
---
Ray White - We are committed to helping you
Ray White has round 1,150 members of have been with us for over 10 years. And we have 77 620 new properties that are listed by us every year.
Our outstanding loan market brings you an extensive range of major commercial and business bank as well as residential secure lenders. Loan market also has an expert team of 100 advisers in New Zealand which is part of a network of 1 000 advisers across New Zealand and Australia.
We understand the real estate market
Ray White secures more than $150 million in home finances every month in NZ, Our mortgage advisers have a great understanding of the real estate market. Since we have the largest panel of lenders in the country and loan market advisers have access to a huge range of home loans. In fact, it's extremely hard to imagine a loan, we have not yet seen.
Our advisers can be trusted and they'll make you feel right at home with confidence that you'll be getting the best possible home loan from our lenders because we put your needs first and understand what it is you need.
Below are the reasons why we are the best
Our home loan market welcomes attentive mortgage advisers from across New Zealand who has a passion for finance and the ability to offer excellent services. Ray White offers flexible conditions with exceptional peer and management support. We aim to always encourage professional and personal development, alongside real interest and understanding as well as taking part in our broader business.
We can proudly say that our advisers are among the most experienced in the industry. Our standards are high so we hold them to customer service standards as well as educational standards and this creates excellent customer experiences.
It's all about our service commitment to you
Ray White is committed to the provision of first-class services that exceed your expectations, but at the same time meets your every need as far as personal finance and mortgages go.
Every one of our loan market mortgage advisers strives to make your home finance a memorable experience and support loan market service commitment to every individual
Our loan market mortgage advisers are undoubtedly bounded to a code of conduct and the highest ethical standards. In order to become a loan mortgage adviser, means that it is essential to be committed to meet our standards and ideas and to be a qualified adviser.
Ray White is not owned by a bank, we are a family run establishment and we have an extensive panel of lenders to choose from.
Customer Reviews & Testimonials
"
You can be proud of your team. I was treated so well and with so much respect when I applied for a home loan. They were very efficient, very helpful and made my experience a great one.
Moana H
— Hastings —
Their experience in the industry was evident in how quickly they found a loan that matched what I needed. It was an easy process and I would definitely make use of their services again.
Rebecca F
— Christchurch —
Ray White is super convenient for people looking for home loans. They saved me time and simplified the whole process for me.
Benjamin F
— Wellington —
Ray White Contact
Contact Number
E-Mail
Website
Physical Address
12 Viaduct Harbour Avenue, Auckland CBD,

Auckland

1010

New Zealand
Opening Hours
Monday

08:00 – 17:00

Tuesday

08:00 – 17:00

Wednesday

08:00 – 17:00

Thursday

08:00 – 17:00

Friday

08:00 – 17:00

Saturday

– Closed

Sunday

– Closed