Home loans up to $30,000
Low-interest starting from 14.5%
Repayment up to 5 years
In-page navigation
---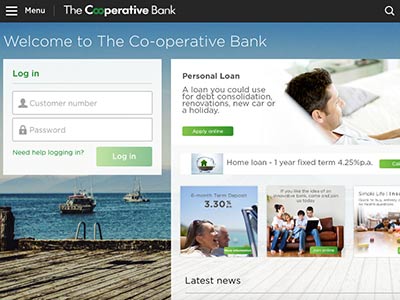 Author The Co-operative Bank. Screenshot of The Co-operative Bank website.


[Accessed April 17, 2018]
The Co-operative bank - Straightforward loans
The Co-operative Bank was founded in 1928 to provide loans to the community, we have grown in providing personal financial products to clients countrywide, this includes personal loans and our application process is straightforward making it easy
Look and see the options we have to offer at the Co-operative Bank, we have great benefits and our rates are rather attractive, we do not charge extra fees for early repayments across our personal loans and car financing.
Flexible lending solutions
We have a range of flexible lending options, our personal loans offer up to $30 000 and can be repaid over a period of 60 months.
Loans are suitable for vehicle purchases and debt consolidation and much more, we also offer an overdraft facility to assist should you have any unexpected expenses.
Revolving credit
Your home loan and an everyday account can be combined, this means your salary will top up the account and will save you money on interest.
The Co-operative Bank Services
We cover a wide range of borrowing requirements which offers from $3 000 and more. See below what sort of types of personal loans you are able to apply for with Co-operative Bank.
The bank covers a wide range of borrowing requirements, with quick loans starting from $3,000. Take a look at what types of personal loans you can apply for at the Co-operative Bank that is best suited for you.
Fixed rate home loans
You are able to lock in your interest and pay for a fixed term from between 6 months and 5 years pay and you'll pay only for the duration of the loan.
Floating rate home loan
Your interest rate will fluctuate along with the market meaning month repayments will vary as the rise and fall of the interest rates.
Make use of our calculators to give you some sort of an indication that's based on our owner-occupied home loans interest rate, limited information provided by yourself with a minimum of 20 per cent equity. However, our calculator does not constitute an offer of finance from the Co-operative bank.
The Co-operative Bank – Home loan
Loan Type

Home loans

Interest Rate

14.5 – 19.5% p/a

Loan Amount

up to $30,000

Repayment

12 months to 5 years
Benefits of The Co-operative Bank
Competitive rates
Flexible to make extra payments
Online application
---
The Co-operative Bank - Superior banking products
Personal overdraft facility
You are able to arrange for additional funds when you need to, a personal overdraft is linked to your bank account, permitting you to cover any unexpected emergencies.
Debt consolidation loan
This option permits you to consolidate all your current debt into one single loan and only one repayment when refinancing or consolidating your debt with Co-operative Bank. The will be no extra charge should you wish to settle your loan earlier.
Unsecured personal loan
Unsecured loans suit any personal need, should it be to go travelling, renovations or to pay for education.
Vehicle loan
With a vehicle loan, you can borrow up to $80 000 so that you can finance the purchase of a vehicle. You are able to request a pre-approval which allows you to shop for a vehicle as if you were a cash buyer
Qualities of a Co-operative Bank personal loan
Tailored interest rates
We offer a range of rates that are based on your credit eligibility, the amount and term of your loan. With floating rates that are adjusted as interest rates fluctuate from time to time.
No-fee early repayment
You are permitted to repay you Co-operative personal loan earlier, without having to worry about penalties for either paying a larger amount or settling your loan account.
Quick online application
Our online loan applications forms take about 5 to 10 min to complete stipulating the amount that you would like to borrow as well as other personal details. The approval process is fast, though specific applications may take a bit longer because they may require further checking.
Special discounts
You can enjoy the reduced interest rates we have to offer if you are a current member of Co-operative Bank. We also offer a larger discount if your salary is paid into your every-day banking account, whilst a lesser discount is offered should you hold two or more of our selected insurance policies.
Flexible repayment period
We offer personal loans that you are able to repay across a period of 6 to 60 months and if you wish to settle earlier you can.
Large or small loans
It doesn't matter if you need a large or small loan since you have a wide range to choose from at the Co-operative Bank. Although the minimum amount you can borrow is $3 000 up to the amount of $30 000, however, vehicle loans amounts of $80 000 are available.
You may go to our website if you'd like to know more about interest rates which include standard rates and low equity premiums which may apply.
All interest and repayment statistics are based on repaid scheduled repayments with a constant rate of interest for the term of the loan. Co-operative's terms and conditions for home loan products and solutions are available on our website.
Customer Reviews & Testimonials
"
I think their interest rates for home loans are fantastic!
Sanjeev N
— Nelson —
The Co-operative Bank was very understanding of my needs when I contacted them for a home loan. I like that they were happy to listen to me and provide me with options. Their ability to be flexib...
Yeong W
— New Plymouth —
Although buying a house is an intimidating process, The Co-operative Bank certainly made it easier thanks to how supportive, available and transparent they were.
Emma H
— Tauranga —
The Co-operative Bank Contact
Contact Number
E-Mail
Website
Physical Address
155 Onehunga Mall, Onehunga

,Auckland

1061

New Zealand
---
Postal Address
P O Box 54, , Wellington , 6140, New Zealand
Opening Hours
Monday

10:00 – 15:00

Tuesday

10:00 – 15:00

Wednesday

10:00 – 15:00

Thursday

10:00 – 15:00

Friday

10:00 – 15:00

Saturday

– Closed

Sunday

– Closed