Personal loans up to $20,000
Low-interest starting from 29.95%
Repayment up to 2 years
In-page navigation
---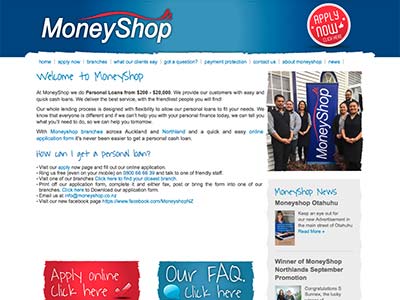 Author MoneyShop. Screenshot of MoneyShop website.


[Accessed April 17, 2018]
Money Shop - Quick and easy loan solutions
MoneyShop is privately owned by a New Zealand Finance Company. We opened our first branches in 1993. We now have four branches across Auckland and we have one in Northland.
After establishing our first branch in 1993, we have since expanded our branch offices in five different places throughout the Upper North Island, so that you can get the assistance you need when you need it.
Quick and easy finance
We deliver you with quick and easy finance possibilities because we focus on personal loans. We are designed with flexibility allowing the loan to fit your requirements. So this makes MoneyShop very unique among other New Zealand Finance Companies because of our whole money lending process.
Our vision is to be the friendly face of finance and we make it our mission to make our clients' situation better, our values are to respect our customers and employees and our goals are to attract more satisfied customers
Personal finance made easy with quick cash loans
Life has this tendency to throw curve balls in our way and we're not always prepared. It could be anything from a speeding ticket, medical emergency bill or maybe a burst geyser.
These are things we don't budget for and thus leaves in a bit of a pickle at times. Should you find yourself looking a different borrowing option? MoneyShop offers same day loans, quick loans and more we are here to assist in any way possible.
MoneyShop Services
We only charge a setup fee of $65 with zero interest. There are no interest charges on small payday loans, so stick to your payment schedule and you'll steer clear of any extra charges.
MoneyShop is superior for the simple reason that we have been designed by Kiwis for Kiwis.
Unsecured personal loans
We offer fantastic unsecured short-term personal loans, but that's not where it ends, we also offer secured personal loans for individuals who require larger loan amounts, but have a poor credit rating and would prefer to secure a lower interest rate.
With our flexible personal loan amount and loan option put us head and shoulders above the rest!!
Loans terms make budgeting easy
We offer much longer loan terms making sure that our customers have no worries about month end budgets by not having enough money left for their day to day living expenses.
And our APR is evidently lower than our online competitors.
MoneyShop work at improving the lives of our customers; meaning that there are no hidden costs and that we are totally transparent, no microscopic fine print or standing in long queues when dealing with us.
MoneyShop offers instant cash loans online. We are a responsible lender so we'll only allow you to borrow as much as you can afford to pay back.
MoneyShop – Personal loan
Loan Type

Personal loans

Interest Rate

29.95 – 34.95% p/a

Loan Amount

up to $20,000

Repayment

12 months to 2 years
Benefits of MoneyShop
Loan application only takes 2 minutes
Funds available in 2 hours
Affordable loans
Money Shop - Fast convenient loans
We make it our goal to help your situation by means of offering you the assistance needed in order for you to meet your personal financial obligations with our speedy quick cash loans.
You'll find our online loan application easy and straightforward, we offer flexible loan products that are tailored to suit your needs.
Should you have any questions about our same day instant loans give us a call on 0800 66 6639 we'll be happy to answer any of your concern. You are also welcome to pop into one of our local branches.
Fast loan processing times
We can process your loan application in less than two hours should all your required documents be in order to support your personal loan application. You are able to borrow between $200 and $20 000
Loan interest rate
Your interest rate will depend on two factors, one being the security offered for the loan and the other will be the duration of the loan. Once this has been determined, the interest rate is fixed for the term of the personal loan.
Repayment terms - Period for repayments can be from three months to 36 months.
Bad credit rating - This will depend on the circumstances, call one of our consultants to do a credit check and we will see if we can assist with a bad credit loan.
Security - You can borrow and use your car, furniture or property as security but note that there must be no outstanding balances on your security. However, if you do have remaining balances we do sometimes settle it for you and then build the cost onto your personal loan.
Non-Security Loan - If you are not able to provide security, depending on your situation you could borrow up to the value of $1 500 or you could arrange for a Guarantor. The same procedure will be followed if you do have a guarantor meaning that suitable security will be necessary.
Extremely priced personal loans and loads of information to be found
You are able to refinance your loan depending on your repayment history with MoneyShop, good credit record, and affordability.
Early settlement of your personal loan is accepted, but there may be an early repayment fee.
Not only do we offer fantastically priced personal loans, but you can also find a range of information on our website offering financial articles which you can use to assist in managing your money and improve your financial status on the whole.
Customer Reviews & Testimonials
"
Thank you to everyone who made the whole process so easy.
Kevin T
— Auckland —
The staff is very friendly and very helpful so getting a personal loan was a really smooth experience.
Nadiya R
— Whangarei —
MoneyShop is reliable and trustworthy. I'd recommend them on any day.
Daniel R
— Auckland —
MoneyShop Contact
Contact Number
E-Mail
Website
Physical Address
593 Great South Rd, Otahuhu

Auckland

Auckland Region

1062

New Zealand
---
Postal Address
PO Box 76566, Manukau, Auckland, 2241, New Zealand
Opening Hours
Monday

08:30 – 17:30

Tuesday

08:30 – 17:30

Wednesday

08:30 – 17:30

Thursday

09:00 – 17:30

Friday

08:30 – 17:30

Saturday

08:00 – 15:00

Sunday

Closed –