Personal loans starting from $2,000
Low-interest starting from 16.95%
Repayment up to 7 years
In-page navigation
---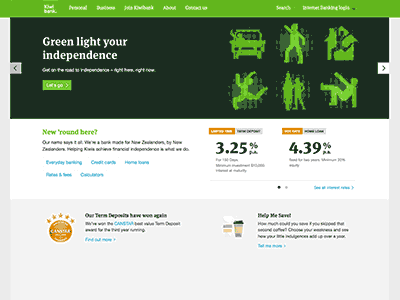 Author Kiwibank. Screenshot of Kiwibank website.


[Accessed April 17, 2018]
Kiwi Bank - sustainability and corporate responsibility
Kiwi Bank is a proud New Zealand establishment; our belief is that we have an obligation to operate sustainably and that we have the opportunity to create positive social influence.
Our fives areas of focus are; Community and Environment, Wealth, Lifestyle and Enterprise. These are our guidelines for what we aim to accomplish, each area of our focus is so that we can assist our customers, communities, and employees, and this is heading us into the future.
A reliable finance partner
Our purpose is to be a reliable financial partner and carry on disrupting the banking industry to benefit Kiwis to gain financially.
We also believe that financial organizations exist to benefit customer wealth, to allow clients to recognize the power their financial choices have on their lives.
Our program of initiatives:
Ever since 2011, we've been in partnership with Nga Tangata Microfinance Trust to offer small, zero-interest and no-fee personal loans to support people on low proceeds purchase essentials or lessen the burden of high-interest debt.
We also involved with Aviva in Christchurch offering zero-interest short-term loans under a similar scheme.
We partnered with Banqer in 2015 so that we could get their financial ability tool into a number of Kiwi schools as possible, which is free of charge to the school and we aim to reach as many as 2100 schools by 2018.
Kiwibank Services
Kiwi Bank is focused on being of assistance to real Kiwis and thus we use our client's deposits to fund mortgages instead of investing in shares or equities.
We offer a range of online financial capability tools, including the Roadmap to Independence, which aims to help Kiwis take steps to financial independence.
We are market leaders
Our goal is to continue so that we can evolve our products, tools, and advice so that we're able to anticipate and respond to changing ways people live and work.
Our role has always been to assist individuals to accomplish independently, in answer to what this means to individuals, the answers are virtually to live a better life, housing, and security, to be able to spend more time with family and friend and to secure retirement.
Our role is to support organizations to thrive financially in order to create value.
We aim to assist every New Zealander with a service second to none
Ensure that you supply the correct information required so that there is no delay with your loan approval, you could possibly have the funds as early as the next business day.
We offer personal loans of $2000 which you could use for unexpected expenses.
With assistance, we have made it possible for you to make repayments either by Monthly, Weekly of every Fortnight depending on when you receive your salary.
Kiwibank – Personal loan
Loan Type

Personal loans

Interest Rate

16.95 – 18.95% p/a

Loan Amount

from $2,000

Repayment

6 months to 7 years
Benefits of Kiwibank
Fixed interest rate
Clear your debt faster with additional payments
Fast funds
Kiwibank - Quick reliable personal loans
A personal loan with fixed interest rates and a set amount is great if you need to budget because you'll know exactly what your repayments will be.
Should you find yourself in a position to make extra repayment so that you can settle your personal loan faster, Kiwi Bank does permit you to do so.
Make use our personal loan calculator to get an idea of what your repayment might be, how long it will take to settle your personal loan and an indication of total interest charged.
What might a personal loan cost?
Below is an example of what your personal could possibly cost:
Should you borrow $10 000 over a four year period at 16.95% per annum and you make a weekly payment of $66.28, your total interest cost will be approximately $3 785. This omits changes to any extra payments you may choose to make, establishment fee or personal loan insurance premium. $240 establishment fee will be required; however, Kiwibank Graduate Pack clients will not be charged an establishment fee.
What you need in order to apply
Our online loan application process has been streamlined which allows you to save time; save your progress as you go and it's easier and faster. It's handy to have the specific information at hand it'll speed up your process.
Consolidate your debt into one loan
If you feel that you are not coping with all the different credit cards, store cards and retail debts then you should consider debt consolidation.
This is one of the reasons we have structured our personal loans in order for you to work towards paying off all your debt because our personal loan offers a fixed regular repayment.
Sort your debts out – It's difficult to keep track of multiple hire purchase, overdrafts and credit cards and debts and can possibly cost you more than you need to pay.
Reorganise – With one fixed payment there is less confusion, we can assist in reorganising your debts into one manageable account.
We can help – Have a chat to one of our expert consultants – our consultants are experienced and they are able to guide you through the process of consolidating your debts into one personal loan account we are also able to assist you in creating a payment plan as well as assisting you with possible savings.
What you'll need – Speak to a lender who can assist you with information such as outstanding amounts and what your regular payments on interest rates currently are.
Customer Reviews & Testimonials
"
Kiwibank has an exceptional staff. I applied for a personal loan and was treated with respect throughout the entire process. They were so welcoming and friendly.
Bailey S
— Napier —
After applying for a personal loan, my application was processed so quickly and I got the money the following day after being approved- that's what I call efficiency.
Ross W
— Dunedin —
They are very transparent and their service is impeccable.
Paige S
— Rotorua —
Kiwibank Contact
Contact Number
E-Mail
Website
Physical Address
7 Waterloo Quay, Pipitea

Wellington

Wellington Region

6011

New Zealand
---
Postal Address
Private Bag 39888, Wellington Mail Centre, Lower Hutt, 5045, New Zealand
Opening Hours
Monday

07:00 – 21:00

Tuesday

07:00 – 21:00

Wednesday

07:00 – 21:00

Thursday

07:00 – 21:00

Friday

07:00 – 21:00

Saturday

08:00 – 16:00

Sunday

08:00 – 16:00