Personal loans up to $5,000
Low-interest starting from 149.65%
Repayment up to 368 days
In-page navigation
---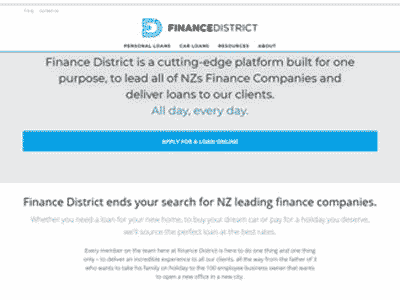 Author Finance District. Screenshot of Finance District website.


[Accessed July 3, 2019]
Finance District assisting you to reach your dreams
We have one single goal in mind and that is to ensure that you have access to funds when and where you need it.
Its determination that calls for complex systems to make things work, but here at Finance district, we have a team that has a huge obsession about fixing this single goal, they work tirelessly to ensure that barriers are removed and do their utmost best for you to receive your personal loan in no time at all.
Learn about all the loan packages we have on offer
It's difficult to get a loan in today's age its rather tricky, normally your lender will look at your credit record, and some even look if you have a criminal record.
In ways of how technology stands today, it's difficult to get anything past a loan company, concerning your finance now or in the past.
We are the middleman between you and the banks
We are here to assist our customers to solve financial problems and to find a lender that is willing to lend even if you do have a bad credit history and need a bad credit loan.
This just means that the interest rate is a bit higher should you have a bad credit history; the lenders will see you as a higher risk.
Finance District Services
Finance Direct offers a bad credit package that was specially built for customers who may have a blemish or two on their credit report.
We are not magicians and we can't erase your credit history, but if you do have some defaults our team will get straight to work and try to source a lender that is willing to offer you a quick cash loan.
Personal loans
It's good and perfectly okay to take a well-deserved vacation, it's always nice to go on a shopping spree, but you may not always have the funds to do so.
Our personal loans generally offer between $1000 and $15 000, our team of experts typically spend a little more time on this loan package because of the higher requested funds and we need to find the right lender to cater for your needs.
A personal loan requires collateral because of the large amounts being borrowed our lenders a bit stricter collateral, in the case of you not being able to make repayments. But this is not always the case as not all lenders requirements are the same.
Cash loans
Talk to us and tell us how much cash you need, that's what online loans are for right? We'll get busy and find you a cash loan package from one of several partners because we like to have the funds in your account within 24 hours.
Finance District – Personal loan
Loan Type

Personal loans

Interest Rate

149.65 – 620.5% p/a

Loan Amount

up to $5,000

Repayment

48 hours to 368 days
Benefits of Finance District
Finance District - Reliable and transparent loans
The people of Finance district like to think of ourselves as finance, science and data nerds!
We have a team member who found it difficult to find a personal loan, vehicle finance and a home loan so we know exactly how it feels.
Fast and easy loan:
A fast easy loan is similar to the above except with a fast easy loan; our customers want the funds in their account on the same day. Finance Direct will make this happen, however, the interest rates are slightly higher.
Instant cash:
A client who applies for an instant loan typically needs the funds right away. Make sure all the information required is correct and we could have the funds in your account within an hour.
Low-interest rate:
If by any chance you need a vacation or you need a new car. You could apply for a larger than normal amount with a low-interest loan which generally caters for amounts from $4 000 up.
This loan is exactly what it says low-interest loan the interest rates are lower and you can make repayments spread over a period of 5 years.
No credit check loan:
Is your credit score is lower than 500? If so, then a no credit check loan package is what you're looking for. We are able to find you a no credit check loan, but note that they do come at a higher interest rate.
Payday advance loan:
This has to be one of our most popular loan packages because it allows you to have cash in the bank for any emergency and you make repayments with your next pay-check.
Short term loans
Our short-term loan normally gets settled within a period of 3 months, once again if your credit score is below 500 we will require collateral, the collateral used will need to be double the amount in value of the amount being borrowed.
Quick loan
This fast personal loan option allows you to have the funds within 24 hours and you only need to answer a few important questions so that we are sure you have the affordability to make repayments comfortably, perhaps in full with your next payment cycle.
Customer Reviews & Testimonials
"
Very professional and a pleasure to deal with. Getting my personal loan from them was a breeze.
Terina S
— Tauranga —
Thanks to Finance District, I got a really good personal loan even with bad credit. I recommend them to anyone.
Bruce A
— Timaru —
Finance District was a lifesaver when they helped me with a quick personal loan. I needed the cash to buy some household appliances and Finance District helped me get it really fast.
Zoe W
— Hamilton —
Finance District Contact
Contact Number
E-Mail
Website
Physical Address
Grey Lynn

Auckland

1021

New Zealand
Opening Hours
Monday

06:30 – 21:30

Tuesday

06:30 – 21:30

Wednesday

06:30 – 21:30

Thursday

06:30 – 21:30

Friday

06:30 – 21:30

Saturday

06:30 – 21:30

Sunday

06:30 – 21:30