Personal loans up to $50,000
Low-interest starting from 9.95%
Repayment up to 5 years
In-page navigation
---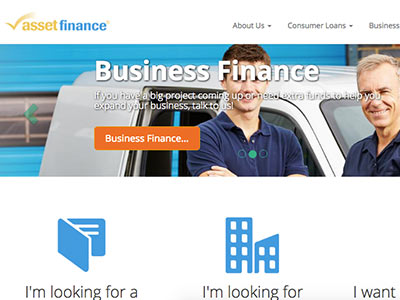 Author Asset Loans. Screenshot of Asset Loans website.


[Accessed August 10, 2021]
Make the right choice today, choose Asset Finance
We are a 100% New Zealand owned establishment, we've grown from a small local firm to a national business, we employ more than 20 full-time staff members with a loan book totalling just on $20 million.
Asset Finance is extremely customer-focused as well as transparent and flexible. Each quick loan application is reviewed on merit as we look for the best possible solution according to each customer's unique situation.
Our customer care makes us unique
We agree there are several finance companies you're able to choose from in New Zealand; but we work with a different approach, we have a great team who put a lot of effort into how our customer care is taken of and that makes us unique.
Applying for a loan can become very stressful and sometimes confusing, the time and effort one goes through when you could be spending your time on more constructive things in your life.
Access Finance has a trained team to make the process clear and fast, plus we make it smooth sailing not wanting you worry about a single thing.
Affordable and fast loan
Our Mission is to deliver short and medium-term financial products and services offering our assistance to Kiwis as well as their businesses so that they can achieve their goals.
We strive in providing quality services, ensuring that it is friendly, affordable and fast, we also aim to provide individual customer care and will continue to go the extra mile to make certain that our personal loan services are convenient and pleasant at any given time.
Asset Loans Services
We work hand in hand with our customers, assisting them in resolving any difficulty they may be facing by means of delivering a fast online loan solution.
Our trained team members will explain the terms so that you understand them and feel comfortable knowing how our process works and how it will work for you. We would love to meet you so feel free to drop on in at any branch nearest to you or call us; we have a friendly team that is ready to assist you.
Personal loans and services explained
In order for Access finance to approve a maximum personal loan amount will be determined on your affordability to make repayments, as well as the collateral, offered to secure your loan
Personal loans be used for anything you would like to purchase or perhaps you can get a better deal on something you would really like by being in a position to pay cash.
Our loans are tailored to your requirements. A Personal loan typically offers a fixed interest rate for the duration of the loan so you won't have any unexpected changes or extra fees.
You are able to make repayment in alignment with when you get paid, meaning monthly, weekly or every fortnight
If a personal loan doesn't fit your requirements, Asset Finance has alternative instant loans available that could possibly be better suited to your circumstances.
Make use of our calculator, it allows you to see more or less how much you can borrow and what your repayment may be.
Should you by any chance not have any collateral to use and you don't have a guarantor to sign as surety (for a secured loan) you may apply for an unsecured loan
If you feel a bit stressed because you're not able to meet the repayments on your store accounts, credit cards or any other debt you may have or perhaps you would like to purchase a new vehicle you could consider a personal loan for these purposes.
For larger amounts like $10 000 or more, Asset Finance also offers second Mortgages.
Asset Loans – Personal loan
Loan Type

Personal loans

Interest Rate

9.95 – 29.85% p/a

Loan Amount

up to $50,000

Repayment

9 months to 5 years
Benefits of Asset Loans
Same day payout
Fast approval
Apply in only 10 minutes
Asset Loans - Reliable transparent loans
Clive George started Asset Finance in 1997 after he realized that there was a lack of options available for many New Zealanders who were in need of a payday loan for unforeseen circumstances such as unexpected bills or expenses like perhaps a medical bill.
Asset Finance has grown expressively since we first started and in order to meet the demand, we registered our first brochure in 2004 so that we could raise further funds from the public.
During the years between 2006 and 2010 there were a few well-publicized finance companies that didn't make it and so we tried to avoid this through a savvy lending strategy and strong governance which would protect our borrowers as well as lenders alike.
We carry a sense of pride because we were able to survive the global financial crisis while being able to provide a service to businesses and individuals during tough times.
We are willing to consider a personal loan for you if:
You should be at least 18 years of age or older, you are to be a New Zealand citizen or be a permanent resident and you need to earn a regular income.
We will request that you (or your guarantor) will have a tenure, car or perhaps a home or land with adequate equity.
Should you be unsure in any way of whether a personal loan is right for you, whether we can help you or not, please don't hesitate to contact us, we will gladly be of assistance.
Customer Reviews & Testimonials
"
I think their customer service is just excellent! I'm extremely impressed.
Sonny O
— New Plymouth —
My husband and I are renovating our kitchen so we approached Asset Loans for a personal loan. We got in touch with a consultant who talked us through the process and everything else we needed to ...
Jade H
— Hastings —
Asset Loans was very accommodating. The rate was affordable and the term flexible enough for me to repay my personal loan comfortably within my means.
Will S
— Auckland —
Asset Loans Contact
Contact Number
E-Mail
Website
Physical Address
38 Richardson St

Whakatane

North Island

3120

New Zealand
---
Postal Address
38 Richardson St, Whakatane, 3120, New Zealand
Opening Hours
Monday

08:30 – 17:00

Tuesday

08:30 – 17:00

Wednesday

08:30 – 17:00

Thursday

08:30 – 17:00

Friday

08:30 – 17:00

Saturday

–

Sunday

–