Personal loans up to $70,000
Low-interest starting from 8.95%
Repayment up to 7 years
In-page navigation
---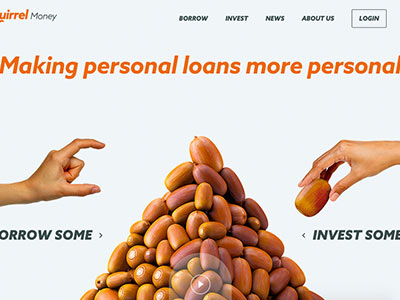 Author Squirrel Money. Screenshot of Squirrel Money website.


[Accessed April 17, 2018]
Squirrel Money success is the name of our game
We think differently because we are different, and we offer a different service.
We treat all our customers with a personal touch, it is our intention to make you feel important because you are important, we offer a one on one service so when you apply for a loan with Squirrel you won't feel that you're just another number, we want the very best for every Kiwi.
Loan solutions
Our highlight at Squirrel Money is to provide a financial solution in New Zealand. We find complete success in our peer to peer lending structure, and strive to find the perfect loaning solution for our customers. Squirrel has partnered with some of the greatest investors in New Zealand; they are able to provide funding.
Our delivery service has sustained our ability in this industry as we continue to offer our clients with the best deals and have assisted in getting financial assistance from well-represented organizations around the country, all offer a better rate.
You will get outstanding services
Not only is our service flawless, but our vision is also centred on our clients and put to the test on a daily basis within our company, our philosophy is to maintain an ongoing passion for all New Zealanders, and we believe that we think a little broader than the norm. Our understanding of the field determines our goals and maintains our outstanding services to our new and current clients.
We use innovative technology
We are innovative and we are continually finding ways to better our technology so that we can improve our personal loan service as well as product availability. By doing this we can ensure that you're getting the most updated financial products. You can rest assured that you will only receive the best from a team that is passionate and well experienced in what they do.
Allow us to help you! Squirrel has the power to get you that quick cash loan you badly need.
Squirrel Money Services
We strive to provide the best personal loan solutions that are tailored to every situation and need, not forgetting that your wallet also needs to stay happy.
Our repayments are flexible, and this allows you affordability on monthly repayments which will assist you in taking back the control of your finances.
Great personal loan products - affordable rates
In order not to inconvenience you we have a simple online loan application platform, our turnaround period is fast and convenient.
The process is quick and straightforward! All you do is apply online, get your credit checked, wait for your approval and get your money as easy as that.
Personal loan - You can use the funds of your personal loan for anything you set your heart on; there is no limit as to what you can do.
Feeling tired and you need a vacation - no problem – those renovations that have been staring at you for some time, and you just haven't had the funds to get started – no problem, perhaps you have unpaid bills and the stress levels are high – no problem.
Other loan solutions
Consolidate your debt – Are you battling to keep your creditors at bay and you feel like there is no way out for you?
Well, the good news is, is the Squirrel offer debt consolidation loans, this allows you to roll all your debt into one single loan account, meaning that you only have one repayment to worry about plus this option typically offers a lower interest rate than any of the other loans.
Fixed low rates – Our rates are flexible, fair and affordable, you get a fixed rate for the entire term of your short-term loan.
Not only do you get to choose a payment method; you can make repayments monthly, weekly or every fortnight, but you also tell us how much you can afford, depending on the amount of money and type of loan you require.
Squirrel Money – Personal loan
Loan Type

Personal loans

Interest Rate

8.95 – 18.95% p/a

Loan Amount

up to $70,000

Repayment

2 years to 7 years
Benefits of Squirrel Money
No penalties for early payment
Approval is fast
Low-interest rate
Squirrel Money - 24 hour turnaround time frame
Our transparency makes us different because there are no hidden agendas, what you see is what you get. Our quick and easy online loan allows you to borrow anything between $3 000 and $70 000.
This is a fine amount of money to get your hands on when you have a whole lot of things to need to pay and/or purchase.
Loans with a personal touch
We are real-life borrowers, we don't hide behind the screen of a computer; we have a team of specialized and experienced staff members dealing with your application because we would like to still maintain that personal touch.
If the opportunity arises and you would like to settle your personal loan in full earlier than anticipated you can do so with the worry of paying extra fees as there are zero penalties.
Another unique service! Don't you think? Paperless applications are just so easy and hassle-free, we always ensure that the processes are possible through an advanced online platform process.
Squirrel Money would love to hear from you, we'd also like to show you what we are about.
Customer Reviews & Testimonials
"
You want to deal with people who are kind and able to show compassion towards you when you need to borrow money. Thankfully, Squirrel Money has a team that is just so friendly and warm; they make...
Ella H
— Upper Hutt —
They've made applying for a loan to be so simple. Applying for a personal loan was very easy.
Sanjay P
— Hamilton —
You get your money quickly and the service is exceptional.
Mark H
— Palmerston North —
Squirrel Money Contact
Contact Number
E-Mail
Website
Physical Address
Level 2, 20 Beaumont St

Freemans Bay

Auckland Region

1011

New Zealand
---
Postal Address
PO Box 911254 Victoria Street, West Auckland, 1142, New Zealand
Opening Hours
Monday

09:00 – 17:00

Tuesday

09:00 – 17:00

Wednesday

09:00 – 17:00

Thursday

09:00 – 17:00

Friday

09:00 – 17:00

Saturday

Closed –

Sunday

Closed –