Personal loans up to $3,000
Low-interest starting from 19.95%
Repayment up to 6 months
In-page navigation
---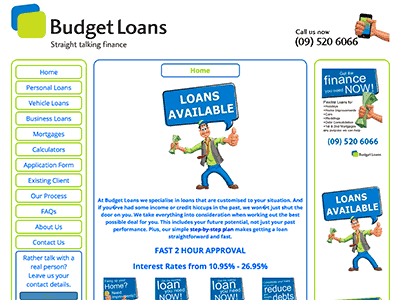 Author Budget Loans. Screenshot of Budget Loans website.


[Accessed April 17, 2018]
Budget loans - Fast and reliable personal loans
We are 100% New Zealand Owned and Operated; we have been providing a great personal loans service to all of our everyday New Zealanders for over 20 years.
When we were first established our main goal was to help Kiwi's reach their financial goals and dreams by means of assisting with finance for a vehicle, home improvements, personal finance or even a wedding only to mention a few. 20 years down the line our focus is still the same and we aim to keep it that way.
Fast loan solutions
It's not always easy applying for finance from a stranger and we understand that it can become quite uncomfortable and that's the reason why we employed down to earth, confident and understanding Kiwis, who appreciate the stresses and financial strains of life, our staff member is not judgmental and so we try and make your application for a loan as quickly as possible.
Our CEO at Budget Loans has more than 50 years' experience in the finance industry, he is also involved in our company on a daily basis and thus our team is knowledgeable and will assist in any way that we can.
Any purpose, we can help!
No matter what you want or what your needs are, perhaps you would like to purchase a motorbike or boat or you would like the plumbing in your kitchen done, we are able to assist you with a private long or short term loan; there is no need to wait too long.
Budget Loans Services
Tell us what your desires are; maybe you would love a bigger sound-system or would you prefer the sound of a bigger engine on your motorboat or idling in your driveway, could it be the sound of waves you hear lapping on some tropical beach.
It doesn't matter what your desire is, you don't need to yearn for days or years on end
Budget Loans make things happen with no hassle and just buy the buy in case you're interested we also offer debt consolidation meaning you could sort out all those credit cards and only have one loan repayment.
Online and on target for your personal loan
Okay, so the first thing you need to do to follow your heart is to apply for a personal loan online.
The information we require is to assist us in working out the very best deal for you.
A few suggestions for your personal loan
Holiday - Take a holiday, go to the beach or take a skiing trip, go to Europe or a Buddhist retreat, perhaps you would prefer the Big Apple – it doesn't matter what it is you want to do; Budget Loan will make it a cruise by means of a personal loan.
Budget Loans – Personal loan
Loan Type

Personal loans

Interest Rate

19.95 – 24.95% p/a

Loan Amount

up to $3,000

Repayment

14 days to 6 months
Benefits of Budget Loans
Quick Personal Loans
HOME Improvements Loans
DEBT CONSOLIDATION Loans
BUSINESS Loans
Holiday Loans
Wedding Loans
Vehicle Loans
Budget Loans - Affordable personal loans
We are offering you the chance to get away, don't waste it!
Home improvements
There are always little jobs around the house and know all about putting them off because you don't have the funds – Budget loan will hit this one on the head. Have you been living a Handyman's dream too long? Well, you need not despair any longer apply for a Budget personal loan.
Wedding finance
Just in case the bride would like to arrive in a twirl of satin with a train that flows with style or you would like all your close family and friends to be there to witness a special day, Budget Loans wants you to smile from sunrise to sunrise plus we want to ensure that your honeymoon will last a lifetime.
Debt consolidation
Have you put too much on your plate with Hire Purchase and you are losing sleep because you have spent too much on credit cards? If you feel you are drowning Budget Loan can assist you by consolidating all your debt, well help you organise one manageable low-interest loan so that can get back on your feet and enjoy what life has to offer by having only one account and one repayment.
Do you feel the need for speed we have put a go-faster stripe on this one for you! A no deposit term, low rate limits, our approval time is speedy, spacious warranty packages and lastly, your dream car will come with matching car finance.
Performance - One-hour approvals
Comfort - Apply for a personal cash loan online from the comfort of your own home or perhaps your office if need be.
Economy - There is no obligation or establishment fee
Handling – An easy to understand document with interest rates that will suit you as well as flexible terms.
Optional extras – Budget Loans will make several options available so that you get the best deal not to mention the best car.
Qualifying time – You are able to pre-qualify before going in search of your dream car.
The required amount of funds you need to borrow will depend on several factors like your income, stability, deposit or trade (if Applicable), Credit history. Your whole profile will be taken into consideration as fast as possible.
Get going on that simple online loan application, you may notice Buddy lurking around our website but Buddy and the team are there to guide you through the approval process.
Customer Reviews & Testimonials
"
The process of getting my personal loan with Budget Loans was the easiest borrowing experience I have had to date. They are very professional and deliver great service.
Hannah L
— Auckland —
I had a consultant help me throughout my personal loan application. That was really nice because it made things go faster.
Rosie H
— Timaru —
Wonderful staff. Got my personal loan without any hassle.
Tom M
— Napier —
Budget Loans Contact
Contact Number
E-Mail
Website
Physical Address
119 Carbine Road, Mount Wellington

Auckland

Auckland Region

1062

New Zealand